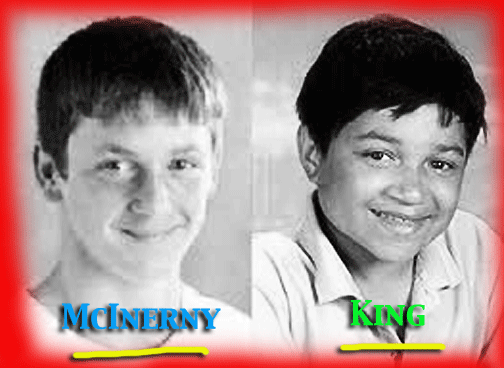 BRANDON MC INERNEY, 17, TAKES A 21-YEAR DEAL FOR THE FATAL SHOOTING OF CLASSMATE LARRY KING
As you may remember, Brandon McInerney shot and killed 14 year-old Larry King when both were in computer lab at an Oxnard middle school. McInerney, who was just past his 14th birthday, shot King, also 14, twice in the head at point-blank range, reportedly because King, who was gay, had been flirting with him.
Given that McInerney was being tried as an adult, and that the prosecutor originally wanted to charge him with a hate crime, which could have meant 53 years to life, the deal is likely not a bad one. But, when one pulls apart this murder, the case, and the personal circumstances of both the dead boy and the killer, one sees tragedy all the way around.
The LA Times' Catherine Saillant has consistently done a very good job reporting on this bad, sad case. Here's a clip from her report on the plea deal.
Brandon McInerney, who was 14 when he pulled a gun out of his backpack and shot Larry King two times at point-blank range, will be kept behind bars until he is 38 under the terms of the deal struck by Ventura County prosecutors.

In an unusual arrangement, the 17-year-old pleaded guilty to second-degree and voluntary manslaughter. In return, prosecutors agreed not to go forward with a second trial, which could have resulted in a life sentence.

The family of the victim, Larry King, broke their silence on the case outside court Monday, saying that they supported the sentence but believed school officials hold deep responsibility for what happened.

"Larry had a complicated life, but he did not deserve to be murdered," said the youth's father, Greg King.

McInerney's first trial ended in a hung jury in early September, with jurors torn between murder and manslaughter. Some jurors said they believed the district attorney's office was being overly harsh in trying McInerney as an adult and several showed up Monday wearing "Save Brandon" bracelets….
Also read this piece about the issue of McInerney being tried as an adult, a choice that was solely made by the prosecutors, who didn't have to justify their actions, but could simply make that choice without any kind of due process, or consideration of the actual kid involved.
McInerney was reportedly badly abused by his brutal, homophobic father, according to his older bother and his aunt. He also may have been sexually abused as a younger child.
King also had a troubled background. Born to a crack-addicted mother, he was adopted, then later removed from his adoptive home and put into foster care.

By the way, an interesting blog that has kept track of the McInerney case is Stolen Boy, which has interviews with attorneys and links to documents.
---
[NOTE: Light-ish posting this Thanksgiving week. A large story coming next week.]