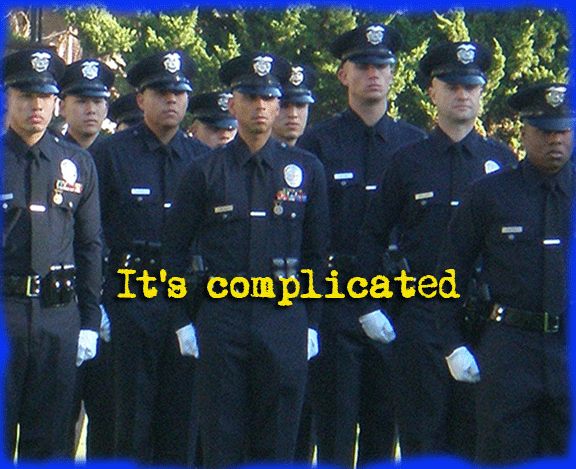 EDITOR'S NOTE:

In his State of the Union address on Tuesday night, President Barak Obama said of the events of Ferguson and New York: "…Surely we can understand a father who fears his son can't walk home without being harassed. Surely we can understand the wife who won't rest until the police officer she married walks through the front door at the end of his shift."

Let us hope so.

In Los Angeles as we talk about those issues, the worried father Obama mentioned is not necessarily African American. He is just as likely to be Latino. More likely, really.

And the police officers working patrol whose husbands and wives are fearful for their safety are widely diverse when it comes to race, ethnicity and gender.

So, yes, the conversation we need to have is, in part, about race—but it is also a lot more complicated than that.

In the story below—which originally appeared in TruthDig—columnist Bill Boyarsky explores the complexity of law enforcement reform with members of the Youth Justice Collation, civil rights attorney Connie Rice, journalist/author Joe Dominick and others.

In the end, Boyarsky admits he finds no quick answers. But he brings up some worthwhile questions.

Happy reading.
---
---
BLUE IS THE NEW WHITE
Why Talking About Law Enforcement Reform in LA is Not a Simple Matter
by Bill Boyarsky
---
This story originally ran in TruthDig, which has generously allowed WitnessLA to reproduce it in full.
---
---
"It's not the person that fills the uniform, it's what the uniform does to the person," said Kim McGill, an organizer for the Youth Justice Coalition. "Blue is the new white."
"We have to change the culture of law enforcement and create real community authority over police if we want to address system violence and transform the treatment of black and brown communities," she added.
Or, as another Youth Justice Coalition member, Abraham Colunga, told me, "It's cop versus black and brown, any minority. It's more a matter of cop versus us, no matter what the cop is, black, brown, Filipino."
I visited the coalition headquarters, at the western edge of South Los Angeles, in search of an answer to a question raised by the Los Angeles Police Department's fatal shooting of Ezell Ford, 25, a mentally ill African-American, in a poor black and Latino neighborhood of South L.A. on Aug. 11.
He was killed two days after Michael Brown, a young black man, was shot to death by a white police officer in Ferguson, Mo., and a month after Eric Garner, another African-American man, died after a white New York cop subdued him with an illegal chokehold. Then, in Cleveland in November, a white officer shot and killed Tamir Rice, 12, who was holding a replica gun. The officer and another cop threw Rice's 14-year-old sister to the ground, handcuffed her and forcibly put her into a patrol car when she ran to her fatally wounded brother's aid.
But Ford's death in Los Angeles did not follow the black-white narrative that has framed news coverage of these police shootings. One of the cops who shot Ford, Sharlton Wampler, is Asian-American. The other, Antonio Villegas, is Latino.
White law enforcers have been killing black men since slavery. A study by ProPublica, the investigative journalism organization, analyzed federal data from 2010 to 2012 and found that young black males were at a 21 times greater risk of being shot to death by police than young white men.
ProPublica's black-white analysis, however, seemed incomplete for Los Angeles. Its multiethnic population—49.6 percent white, 48.5 percent Latino, 11.3 percent Asian, 9.6 percent black—is now policed by a multiethnic department. Latinos, numbering 3,547, are the largest ethnic group in the LAPD, followed by whites, 2,756, blacks, 861, and Asian Americans, 634.
The analysis by McGill, who is white, and Colunga, who is Latino, seemed more to the point.
The coalition, which knows what's going on with the police and communities, was organized by youths of color who have been arrested, served time behind bars, subjected to stop and frisks and police abuse, and threatened with deportation. Coalition members have helped lobby local and state lawmakers to reform laws and to increase civilian supervision of the police. They also keep statistics on the number of people killed by police in Los Angeles County.
From their close contact with crime-heavy neighborhoods, they see that police shootings of young men go beyond the black-white way journalism frames the issue.
For example, McGill said a cause of the shootings is the war on gangs being waged by the Los Angeles Police Department and other agencies around the country.
Gang suppression cops, operating in neighborhoods prevalent with gangs, "treat all like criminals," McGill said. "People are going to be roughed up and hurt."
The two officers who killed Ford were members of a gang suppression detail operating in a high crime part of South Los Angeles, where four African-Americans and two Latinos have been slain by cops since 2000.
The victim was well known in the neighborhood. Brandy Brown, another member of the Youth Justice Coalition, lived in an apartment above where Ford was shot. Brown, who is African-American, told me that she and others around 65th Street and Broadway knew him as a pleasant, longtime resident who, as his teens turned into his 20s, became severely disturbed. He wandered through the neighborhood, cadging cigarettes and meals from people who had known him for years. Her mother occasionally fed him and let him use the shower. The two police officers, she said, should have known him too.
Brown was working in her kitchen when she heard the gunshots. She ran downstairs to where her 4-year-old nephew was playing and saw people gathered around Ford.
The autopsy report showed he was shot three times. One bullet hit him in the right side, another in the back and a third in the right arm. The wound in the back had a "muzzle imprint," the autopsy report said, suggesting the shot was fired at close range.
Police said Ford was walking on 65th Street when the two officers got out of their car and tried to talk to him. Why they did this is unknown so far.
Police Chief Charlie Beck said Ford walked away. The two officers followed him to a nearby driveway. Ford, the chief said, crouched between a car and some bushes. When one of the officers reached toward Ford, Beck said, he grabbed the officer and forced him to the ground. The policeman shouted to his partner that Ford had his gun, Beck said. The partner fired two rounds, which hit Ford. The officer on the ground pulled out his backup weapon, reached around Ford and shot him in the back at close range.
Ford joined the long list of those who have been killed by the police in Los Angeles County, which contains 88 cities, Los Angeles being the largest by far.
The Los Angeles Times painstakingly reports all these deaths in its invaluable Homicide Report, which compiles and analyzes coroner's figures. A total of 594 gunshot victims have died in officer-involved shootings from 2000 through 2014. Of these, 114 were white, 300 Latino, 159 black, and 16 Asian.
With African-Americans a much smaller part of the population, the black toll is disproportionately high. The Youth Justice Coalition reports a slightly higher total of deaths, probably because it supplements coroner's reports with information gleaned from neighborhoods.
In any case, ethnic minorities comprise the largest number of victims by a huge number. David R. Ayon, senior strategist at Latino Decisions and senior fellow at the Center for the Study of Los Angeles at Loyola Marymount University, said: "Latinos are underrepresented in a lot of positions of authority, but not when it comes to being shot by the police in Los Angeles.
"African-Americans are underrepresented in a lot of areas of society, but are overrepresented in being shot by the police. The group that is underrepresented [in police shootings] is whites."
I talked to two criminal justice experts about the complex racial dimension to these police shootings.
Connie Rice is an attorney long active in civil rights who heads the Advancement Project, a national organization that fights for criminal justice reform and voting rights, among other issues. She was a leader in the reform of the Los Angeles Police Department after major scandals and the 1992 riots.
Rice said she found that police officers are more apt to shoot in violent crime areas. "Do I think the cops are too quick to shoot in South L.A.? Yes, I do. They give themselves permission to shoot in South L.A. where they don't anywhere else."
She added, "The biggest common denominator [in police shootings] is [neighborhood] income and class. It is compounded by race."
Neighborhood figures compiled by the Los Angeles Times Homicide Report support this.
Some examples: The Florence neighborhood in South Los Angeles is listed by the report as the ninth most deadly area in Los Angeles. Nine blacks and four Latinos were shot and killed by police there between 2000 and 2014. The count was four blacks and two Latinos in impoverished South Central Los Angeles. In Boyle Heights, a poor Latino area, eight Latinos and one black died. But in middle-class Leimert Park, a largely black neighborhood, there were no police-caused shooting deaths in those 14 years.
Joe Domanick is a senior fellow at the John Jay College of Criminal Justice's Center on Media, Crime and Justice and the author of "Blue: The Ruin and Redemption of the LAPD," to be published by Simon & Schuster this summer.
Domanick also believes police attitudes in high crime areas influence behavior. "The explosion of guns and the lack of any kind of gun control make cops very edgy," he said. He added, "I think there is also racism on the part of white, Asian and Latino cops that is endemic in our society, which doesn't value black lives unless they are Denzel Washington."
For those seeking quick answers, this column may leave you unsatisfied. Solutions glibly floated from New York and Ferguson have been tried to some extent in Los Angeles, a city that may be the picture of the nation's urban future.
The police department has been integrated. Its all-white occupying army tactics in poor black and Latino areas were moderated after the riots and federal supervision. Bill Bratton, now New York police commissioner, and his successor, Beck, forced the cops to interact with communities, at least much more than in the past. "Charlie Beck did a superlative job in implementing community policing, especially in African-American communities and he built up a big stack of goodwill when he was chief of the South Bureau [covering South Los Angeles]," Domanick said. "He has continued that as police chief. He has deep relationships with people. They like him."
Friday, Beck met with representatives of demonstrators who have been camping in front of police headquarters, demanding that he fire the cops who killed Ford. He didn't do that, insisting that he has to follow department procedures on discipline. "It's a first step," Youth Justice Coalition's McGill said. "It opened communications."
Beck and other police chiefs and mayors can do more: Give communities more of a say in policing, which cops hate. Take every complaint seriously. Investigate police killings quickly and openly without relying on bureaucratic or legalistic barriers created to protect police officers. Let the community know what's going on. And show respect to the residents. Be as polite to people in poor neighborhoods as the police are in more affluent neighborhoods that are nearly free of violent crime. Economic class shouldn't determine whether you get an even chance with the law.
None of these small steps would make a headline or a mention on the Internet or in cable news. But they're important in a country that is so racially divided and resistant to change.
---
Bill Boyarsky is a political correspondent for Truthdig, a lecturer in journalism at the University of Southern California's Annenberg School for Journalism, and a columnist for LA Observed.
---
---
Photo of LAPD academy graduation from LAPD Blog
---
---
---
AND AS A REMINDER OF ONE MORE FACET OF THE POLICE REFORM ISSUE…THE STORY OF A COP DEALING WITH THE AFTERMATH OF A FATAL SHOOTING
If by some chance you haven't been following the account of Billings, MT, police officer Grant Morrison who was involved in a fatal shooting in the Spring of 2014, this nuanced story by Zach Benoit of the Billings Gazette, shows the grief and self-doubt Morrison has struggled with since the shooting, which was recorded by a dashboard video.
A later widely-destributed video shows Morrison sobbing after the incident after realizing he had fatally shot an unarmed man.
Both videos make for harrowing viewing.
Morrison was cleared of all wrongdoing in the matter by a coroner's jury after a two day inquest.