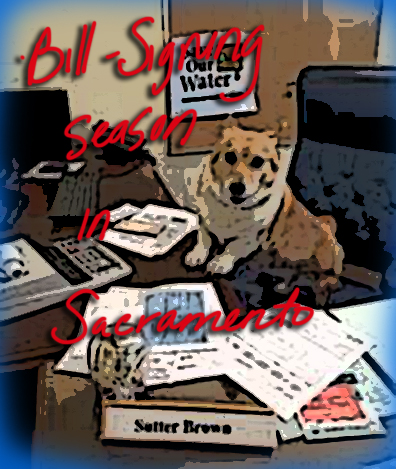 CIVIL ASSET FORFEITURE BILL THAT HAD POTENTIAL TO RIGHT SERIOUS WRONGS HAS BEEN WATERED DOWN, AND LIKELY WON'T PASS OVER THE LAST HURDLE BEFORE GOV. BROWN'S DESK
A bill to block police agencies from abusing civil asset forfeiture has come up against major opposition from law enforcement. Asset forfeiture laws allow government entities to keep money, cars, real estate, and other property that may be associated with a crime (usually a drug crime). Across the nation, local agencies are abusing the tool, using it as a cash cow, by taking money and property from people who have not been convicted of a crime. SB 443, introduced by and Holly Mitchell (D-Los Angeles), would have only allowed law enforcement agencies to seize assets post-conviction, even after legislators weakened the bill to give it a better chance of passing.
But law enforcement groups went to battle against the bill this week, storming the capitol and urging legislators to pull their support or further amend the legislation, which they say will result in an annual budgetary loss in upwards of $80 million for CA law enforcement. And the US Department of Justice has stepped in to say that if the bill passes into law, CA may lose out on federal funding from an asset forfeiture program.
Today, legislators will take a final vote on SB 443 before it either heads to Gov. Jerry Brown's desk, or more likely, the garbage bin.
In his column, San Diego Union Tribune's Steven Greenhut preemptively laments the bill's demise. Greenhut says that if the bill dies, "California police agencies and district attorneys don't care about justice. They're just about the money." Here's how it opens:
…When police agencies use "civil asset forfeiture" to take private property, they are not allowed to build their budgets around such takings. The funds are supposed to support extra programs – not supplant current dollars. That's so agencies don't replace the pursuit of justice with the pursuit of cash.

Unfortunately, forfeiture has become a widely abused practice. Instead of targeting drug kingpins as intended, police sometimes target average citizens who haven't been convicted or even accused of a crime. For instance, officials tried to take a $1.5 million Anaheim office building because one of the owners' tenants was accused of illegally selling a $37 in marijuana.

There are many cases of police pulling over a driver and finding a large sum of cash – and they often keep the cash even if there's no evidence it was tied to a crime. It's clear why this happens. A recent report shows a number of Southern California cities rely on forfeiture cases to fund their budgets. If they can take it, they will. And to avoid California's tougher restrictions on these takings, police partner with the feds and split the loot.

SB 443 is a bipartisan effort to rein in the abuses. Mainly, it required a conviction before police can take property. It also was designed to stop police from bringing in the feds to circumvent state law and make it easier for people to contest a taking. It forces police to use this fearsome tool as intended – to target criminal enterprises – rather than to grab the cars of people caught in a minor offense.

The bill is scheduled for a final vote on Thursday, but law-enforcement lobbies are swarming the Capitol. Police chiefs are calling legislators. Some legislators from both parties are reportedly getting wobbly.
---
ADVOCATES HOPE A BILL PROTECTING THE PRIVACY OF UNDOCUMENTED MINORS WILL SERVE AS A MODEL FOR THE NATION
Gov. Jerry Brown signed an important bill to protect juvenile justice system-involved immigrant children from being deported by banning the unauthorized disclosure of kids' records to US Immigration and Customs Enforcement without a court order.
The Voice of OC's YVette Cabrera (whose recent series explored the hardships of undocumented boys navigating the juvenile justice system) has more on the bill and its implications. Here's a clip:
In short, the new law makes it clear that the long-standing practice by some probation agencies in California of referring juveniles suspected of being undocumented to immigration authorities is illegal.

The controversial practice was contested for years by legal scholars, attorneys and immigrant youth advocates who said the referrals violated the state's existing law protecting juvenile confidentiality as well as the constitutional rights of vulnerable youth in the juvenile justice system, including those with mental health and developmental issues.

Probation officials across the state — from Orange County to Santa Barbara to San Mateo — have disputed these assertions. They've claimed the referrals are legally sound, citing a federal law that not only protects their right to communicate and cooperate with immigration authorities, but which they said also supersedes state law.

San Francisco attorney Angie Junck with the Immigrant Legal Resource Center, which helped draft AB 899, said she was relieved with the outcome.

"We are extremely happy and grateful for the leadership in Sacramento that understood that we need to uphold the law for everybody in the state regardless of immigration status," Junck said. "We understand that there's a lot of work ahead, but this is an important milestone in upholding due process and equal protection for all minors in our state."

Junck said she plans to share the legislation with national legal and immigration networks and hopes that California's efforts will be replicated in other states.
---
BILLS TO PROTECT THE STATE'S MOST VULNERABLE POPULATION
When foster kids are transferred out of their home counties, they face months-long interruptions in much-needed mental health services. The problem is that, under current law, instead of following the kids, the responsibility (and funding) to provide mental health treatment remains with their home county.
AB 1299, introduced by Assemblymember Sebastian Ridley-Thomas (D-Los Angeles), which would have ensured foster kids transferred outside of their home counties received continued mental health services in their new counties, was tabled until next year.
Writing for the Chronicle of Social Change, Patrick Gardner, director of the Young Minds Advocacy Project, has more on why AB 1299 failed to make it into the governor's hands. Here's a clip:
What is clear is that lobbyists for three county-centered entities — the California State Association of Counties, the California Behavioral Health Directors Association and the California Welfare Directors Association — opposed two critical parts of the solution. They opposed having funding follow the child to the child's county of residence. Instead, the counties proposed giving half of the cost of services (the federal reimbursement half) to the county that provides treatment.

They also opposed having the foster parent, or the person who is responsible for making mental health decisions for the child, decide whether to transfer mental health care responsibility. Instead, the counties wanted social workers and probation officers to be gatekeepers.

It's absurd to think that a system fix that covers only half the cost of care would work. It is also unreasonable to put responsibility for making system-wide mental health policy on individual social workers or probation officers, something that is clearly outside of their wheelhouse.

In short, it appears that the county lobbyists opposed the bill because it would have changed business as usual to ensure that foster youth who are sent to live in another county are no longer discriminated against when seeking mental health care. It's a classic case of taking care of the system instead of taking care of the kids.

When one talks to individual social workers and probation officers, or even directors of children's services or mental health care programs, they universally favor shifting responsibility for care to the county that can best deliver treatment and making sure full funding is there to pay for the services provided.
A package of three weakened, but still important, bills to curb doctors over-prescribing of dangerous psychotropic medications to vulnerable foster kids, has passed through the Assembly and is headed to the Senate for a final vote. (If you haven't, read Karen De Sá's powerful five-part series on the excessive and unchecked over-drugging of California's foster children.)
California Healthline has more on the individual bills.
Another noteworthy foster care bill, SB 731, would give guidance to social workers placing transgender foster kids to ensure they are placed in safe, welcoming homes. The bill, by Sens. Mark Leno (D-San Francisco) and Jim Beall (D-San Jose), has been passed by both houses and awaits the governor's signature.
The bill "provides critical guidance to child welfare professionals by making clear that all children in foster care have the right to placements that are consistent with their gender identity," said Shannan Wilber, the National Center for Lesbian Rights' Youth Policy Director.
A bill by Sen. Carol Liu (D-La Cañada Flintridge), SB 445, which is also on Gov. Jerry Brown's desk, would ensure children who become homeless can continue to attend their schools of origin.