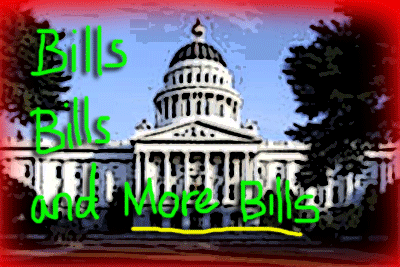 A bunch of notable bills advanced in the CA legislature this week. Below is a round-up of the ones that most caught our eye.
---
STATE LAWMAKERS PASS GUN CONTROL BILLS AND MAKE MOVES TO REVOKE BOY SCOUTS TAX EXEMPTION
Twelve gun-control bills advanced through either the senate or the assembly, as did a bill to remove tax-exempt status from the Boy Scouts of America and other organizations that discriminate based on sexual orientation or religion all advanced in either once house or the other.
LA Times' Patrick McGreevy and Chris Megerian have a good run down on the main gun control measures. Here are some clips:
**Californians who want to buy ammunition would have to submit personal information and a $50 fee for a background check by the state, under a bill passed by the Senate. The state Department of Justice would determine whether buyers have a criminal record, severe mental illness or a restraining order that would disqualify them from owning guns.

Ammo shops would check the name on buyers' driver's licenses against a state list of qualified purchasers.

The goal of the bill is "to ensure that criminals and other dangerous individuals cannot purchase ammunition in the state of California," said Sen. Kevin De Leon (D-Los Angeles), author of SB 53.

[SNIP]

The Senate also OK'd a bill that would outlaw the sale, purchase and manufacture in California of semiautomatic rifles that can accommodate detachable magazines. The measure, SB 374 by Steinberg, also would require those who own such weapons to register them with the state.

The Assembly joined the action on guns by passing a measure to require the state Department of Justice to notify local law enforcement agencies when someone buys more than 3,000 rounds of ammunition.,,
---
BOY SCOUTS COULD GET TAX-EXEMPT STATUS YANKED
Here's a clip from the same story regarding the measure passed by the state senate that would kill the Boy Scouts of America's tax free status:
Senators on Wednesday voted to strip tax-exempt status from nonprofit groups, including the Boy Scouts of America, that deny participation based on sexual orientation or religion.

Sen. Ricardo Lara (D-Bell Gardens) said he was glad the Boy Scouts' national council recently decided to allow openly gay minors to serve as scouts. But he said it was unacceptable that the organization did not also lift its ban on gays serving as adult leaders.

"We've given the Boy Scouts ample time to solve their discrimination problem, and they have chosen a path that still leads to discrimination," Lara told his colleagues.
---
YOUTH SOLITARY CONFINEMENT BILL PASSES THROUGH CA SENATE
As you may remember, we've been tracking SB 61, a bill authored by Sen. Leland Yee ((D-San Francisco/San Mateo) that will both define and limit solitary confinement for kids in state and county lock-ups. The bill made it through the CA Senate on Wednesday.
Here's a clip from a statement from Yee's office:
…..While the United Nations has called on all countries to prohibit solitary confinement in juvenile cases, the harsh measure is commonly used in juvenile facilities throughout California. Six states – Connecticut, Arizona, Maine, Oklahoma, West Virginia and Alaska – ban solitary confinement for "punitive reasons."

"The use of solitary confinement on a child is highly damaging and makes young people more dangerous and anti-social," said Yee, a child psychologist. "Subjecting juveniles to solitary makes them more likely to reoffend, and more likely to suffer a lifetime mental illness."
We'll, of course, continue to track the bill's progress.
---
A STRING FOSTER CARE BILLS MAKES IN THROUGH THE STATE SENATE
Several important foster care bills, also authored by Sen. Yee made it through the state Senate on Wednesday. The first bill fills in gaps in prenatal care for pregnant foster youth, gives priority housing, and provides other necessary services to young parents.
Another bill mandates that social workers actually see a foster child in his or her foster home on a regular basis—not just in meetings outside the home. (What a concept!)
Here're some clips from Yee's statement on the group of bills:
Young parents in the foster care system face the challenges of being in foster care as well as being a young, usually single, parent. Studies of both groups have found that they will experience higher than average rates of poverty, unemployment and low educational attainment. Senate Bill (SB) 528 seeks to provide assistance to these parents so both they and their child can have a better chance of success.

[SNIP]

"SB 528 will help pregnant youth in foster care prepare for parenthood by requiring local child welfare agencies refer pregnant youth to existing child and maternal health resources, including prenatal care and information about how to prevent subsequent pregnancies. This change is desperately needed," said Amy Lemley, Policy Director for the John Burton Foundation, SB 528's sponsor. "Currently, 20 percent of youth in foster care don't access prenatal care until their sixth month of pregnancy, which has a range of negative outcomes include low birth weight. Los Angeles has started to take this approach and is seeing better birth outcomes among our state's most vulnerable children."

[SNIP]

"Parenting and pregnant youth are twice as likely to drop out of high school as to graduate," said Yee. "It is imperative that we provide basic resources and assistance for pregnant and parenting teens who are in foster care. SB 528 will assist these foster youth and their children at the most critical time in their lives, and will save taxpayer dollars in the long run."
And about another of Lee's foster care bills;
SB 342 will ensure that monthly social worker visits of foster youth happen in the home of the child, ensuring that social workers have a more complete picture of the child's home life and welfare and are better able to support the child and the family. Data from the Department of Social Services shows that nearly 24 percent of all case worker visits occur outside the child's home leading to instances where some placements were not been visited by a social worker for an extended period of time.

"Far too often, foster children are being placed in substandard group homes and foster homes because no one has visited the placement home for months," said Yee. "When the state removes a child from their home, we have a responsibility to ensure that the home in which they are placed meets basic standards.
One would certainly hope so.
---
IN OTHER NEWS….STUDY SHOWS DISCRIMINATORY SUSPENSION AND ARREST RATES IN NYC SCHOOLS
The shockingly disproportionate application of school discipline to black and learning disabled kids that his been shown to plague states like Texas and Mississippi (and, to some extent, LAUSD) turns out to be very present in NYC according to a new study conducted by the New York City School-Justice Partnership Task Force.
The Crime Report has the story. Here's a clip:
Black students account for almost 63 percent of all arrests in New York City schools, even though they make up only 28 percent of the city's student body, and are more than four times as likely to be suspended than their white peers, according to a report released today.

And the rate at which students are suspended in the city's public schools has increased by about 40 percent since 2006, according to researchers for The New York City School-Justice Partnership Task Force, which was led by former New York Chief Judge Judith Kaye.

The 45-member task force — which includes city officials, education and justice system experts — spent the last two years examining disciplinary issues in New York City's public schools.
And Here's a clip from the report itself:
Most worrisome are patterns of suspensions for students with disabilities and students of color in New York City and across the nation. In New York City alone during SY2012, students receiving special education services were almost four times more likely to be suspended compared to their peers not receiving special education services; Black students were four times more likely and Hispanic students were almost twice as likely to be suspended compared to White students. New York City Black students were also 14 times more likely, and Hispanic students were five times more likely, to be arrested for school-based incidents compared to White students.

Studies have shown that it is not the violent and egregious misbehavior that drives the disparities. For example, the Texas study showed that Black students had a lower rate of mandatory suspensions (suspensions for violence, weapons and other equally serious offenses) than White students. Black students exceeded White students only in the rates of suspensions for discretionary offenses.