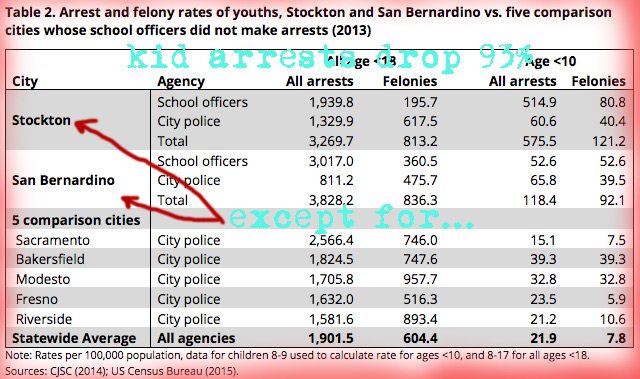 CALIFORNIA ARRESTS 93% FEWER KIDS AND PRE-TEENS THAN 30 YEARS AGO, BUT TWO CITIES DO NOT LINE UP WITH THE TREND
Arrest rates for California's kids under the age of twelve have experienced a steep decline over the last 30 years, according to a new report from the Center on Juvenile and Criminal Justice. The number of young arrestees dropped a whopping 93%. The decrease appears to be due, in part, to a drop in child crime between the late 70's and now, but it may also be attributable to local efforts to decriminalize kids. Two cities, however, have not gotten their act together with regard to child and pre-teen arrests.
Statewide, almost 14,000 kids under twelve were arrested in 1978, nearly a third of whom were younger than ten. Thirty-five years later, in 2013, when the number of kids under twelve had risen by 40%, just under 1,400 kids younger than twelve (219 under ten) were arrested.
Most of California's 58 counties mirrored the state trend, but eleven did not. Nine of those counties were tiny. No kids were arrested in those counties spanning the three decades. But two small counties experienced higher arrest rates, but those counties' only arrested between zero and four kids. Stockton and the city of San Bernardino broke from the pack. In both cities, school district officers are allowed to arrest young kids, and they do arrest them—a lot. Stockton only has 1% of the state's total number of kids under ten, those kids account for 26% of the state's total arrests of kids in that age group.
---
NON-BUDGET JAIL SPENDING NOT CALCULATED BY COUNTIES, COULD HAVE AN IMPACT ON CRIMINAL JUSTICE REFORM IF COUNTIES WOULD TRACK THE $$$
The US spent $22.2 billion on jails in 2011. And that price tag is much lower than if it included costs not covered in the official jail budgets—for example, employee benefits, inmate health care, capital costs, administrative costs, legal costs, and inmate services—, according to a new survey and study from the Vera Institute of Justice.
Vera researchers surveyed 35 jail systems (including Alameda County) in 18 states, holding 9% of the US jail population. The study found that many jail systems had difficulty calculating the total cost (incurred by taxpayers) of running their jails. And if jails don't track those costs, and taxpayers do not know how much they are truly spending on locking people up in local jails, and neither do the policymakers pushing criminal justice reform.
According to the Vera survey, eight of the jail systems spent non-budget dollars equaling more than 20% of their budget. Twelve of jail systems surveyed could not come up with their non-budget costs.
Here's a clip from the study:
…in addition to the $1.1 billion spent by the City of New York Department of Correction in 2014, other city agencies spent an additional $1.3 billion for jail employee benefits, health care and education programs for incarcerated people, and administration, bringing the total cost to $2.4 billion.

Because reported jail costs are too often incomplete, policymakers and the public are seldom aware of the full extent of their community's financial commitment to the jail. As policymakers focus on justice reform at the local level, they need to understand how much the community is actually spending. To this end, researchers at the Vera Institute of Justice developed a survey to help counties tally the actual price of their jails.

The only way to safely reduce the cost of jail is to limit the number of people in the jail, because the cost largely comprises expenses for staff and the number of staff is dictated by the population of incarcerated people. In fact, the inmate population is such a key cost driver that it is possible for "expensive" jails (meaning those with a high average per-inmate cost) to be the least costly to taxpayers.

Consider the example of two counties of similar size: Johnson County, Kansas, and Bernalillo, New Mexico. By comparing the average cost per inmate, the jail in Johnson County appears to be more than twice as expensive as the jail in Bernalillo County ($191.95 per day versus $85.63 per day in 2014). But taxpayers in Johnson County actually spend less on the jail than taxpayers in Bernalillo County do, because the incarceration rate in 2014 was more than three times lower (121 per 100,000 versus 369 per 100,000). As a result, the annual cost of jail in Johnson County is $49 million ($82 per county resident), versus $78 million ($113 per county resident) in Bernalillo County.
---
PELL GRANTS MAY BE EXTENDED TO SOME INMATES…US DEPT. OF EDUCATION, MAY OVERTURN A PORTION OF A SHORT-SIGHTED 1994 BILL
The US Department of Education is expected to lift a portion of a punitive 1994 ban on inmate eligibility for Pell Grants to attend college while they are behind bars.
A RAND study found that for every dollar spent on education for inmates, the state would save $5, and greatly reduce recidivism rates.
PBS' Paul Fain has more on the issue, including what ending the Pell Grant ban would look like from a financial standpoint. Here's a clip:
If the project is successful, it would add to momentum for the U.S. Congress to consider overturning the ban it passed on the use of Pell for prisoners in 1994.

"The idea is under consideration," a department spokesperson said.

Sources said the Obama administration backs the experiment, and that it would be unveiled this summer.

A likely scenario would be for state and federal prison education programs from a handful of colleges to become eligible for Pell Grants. Various restrictions might apply, such as for participating students to be eligible only if they are scheduled for release within a specific number of years.

Even a limited experiment will provoke controversy. Spending government money on college programs for convicted criminals is an easy target for conservative pundits and for some lawmakers from both political parties.

For example, last year New York Gov. Andrew Cuomo dropped his proposal to use state funds for prison education programs after the plan received immediate and fierce opposition.

Yet advocates for removing the federal ban point to evidence that supporting educational opportunities for prisoners pays off for students, for government coffers and for society on the whole.

[SNIP]

Some Republican state lawmakers support prison education programs, experts said, because they like the clear return on investment.

"It is financially wise," said John Dowdell, coeditor of The Journal of Correctional Education. "It's time to get over the emotional bias and do what the data says."
---
LAW ENFORCEMENT AGENCIES GRAPPLE WITH HOW MUCH ACCESS PUBLIC SHOULD HAVE TO BODY CAM FOOTAGE
In LA and around the country, law enforcement agencies are purchasing and implementing police body cameras as a means of increasing accountability to the public. But so far, police forces (including the LAPD) have argued that privacy for both officers and the people they come in contact with, and maintaining investigation integrity, outweigh the public's desire for department transparency.
In April, LAPD Chief Charlie Beck said that officers could review their body cam footage before writing reports. Chief Beck also said that for the most part, captured video will be treated as evidence, and will not be made public. (The LA County Sheriff's Dept. requires the officers to provide statements before viewing footage.)
The LA Times' Richard Winton sheds some light on the controversy and the difficulty in finding a middle ground. Here's how it opens:
Cameras mounted inside patrol cars captured every moment.

With their guns drawn, Gardena police officers screamed instructions at three men on the sidewalk. The officers warned them to keep their hands above their heads, mistakenly believing that they had been involved in a robbery.

Exactly what happened next is in dispute, but what is undisputed is that the men were unarmed when police opened fire, killing one and seriously wounding another.

Afterward, the Gardena Police Department allowed the officers — over the objection of a sheriff's investigator — to review video of the incident. But the department has refused to make the videos public, even after the city agreed to pay $4.7 million to settle a civil rights lawsuit over the shooting.

Across the country, law enforcement agencies are equipping police and patrol cars with cameras to capture interactions between officers and the public. But many of those police forces, like Gardena's, do not release the recordings to the public, citing concerns about violating the privacy of officers and others shown in the recordings and the possibility of interfering with investigations.

That approach has drawn criticism from some civil rights activists who say that the public release of recordings is crucial to holding police accountable — especially if the officers involved in the incidents are allowed to view the videos.

Gardena Police Chief Ed Medrano defended his department's position as consistent with that of other law enforcement organizations around the country. He added that it was intended to protect the integrity of investigations as well as the privacy of officers and those who come into contact with police.

"The general public does not have an unfettered right to see every video that is taken by law enforcement," Medrano said in an email. "Thus, absent a court order to the contrary, many agencies across the country, including Gardena, do not intend to release videos to the public."
---
FREDDIE GRAY UPDATE: FED. GRAND JURY INDICTS OFFICERS
On Thursday, a grand jury chose to indict six officers allegedly connected to the death of Freddie Gray in Baltimore.
The Baltimore Sun has the story. Here's how it opens:
Baltimore grand jury returned indictments against the six officers charged earlier this month in the in-custody death of Freddie Gray, State's Attorney Marilyn J. Mosby announced Thursday.

Prosecutors presented evidence to the grand jury over the course of two weeks, Mosby said. Reckless endangerment charges were added against all six officers, while false imprisonment charges against three were removed. The remaining charges are largely the same ones her office filed May 1, following an independent investigation.

"As our investigation continued, additional information has been discovered, and as is often the case during an ongoing investigation, charges can and should be revised based upon the evidence," Mosby said at a news conference.

The case now moves to Baltimore Circuit Court, where the officers will be arraigned July 2. All remain free on bail.

Gray, 25, was arrested April 12 after running from officers patrolling the Gilmor Homes area of West Baltimore. His death seven days later led to widespread protests that gave way to citywide rioting, deployment of the National Guard and institution of a curfew.

Thrust into a national debate over cases of police brutality, Mosby stunned many when she moved swiftly to bring charges against the officers that included second-degree murder and involuntary manslaughter.