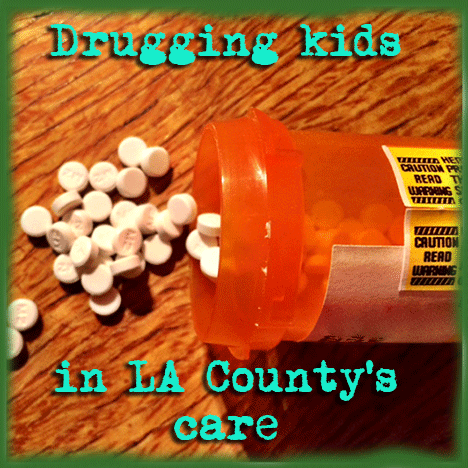 As you know, we've been following San Jose Mercury News reporter Karen de Sá's important series on over drugging in California foster care system.
Then, late on Tuesday, the LA Times' Garrett Therolf reported that the kids overseen by LA County's juvenile probation system plus LA County's foster care children are being drugged in greater numbers than was originally thought.
Here's are some clips from Therolf's story:
Los Angeles County officials are allowing the use of powerful psychiatric drugs on far more children in the juvenile delinquency and foster care systems than they had previously acknowledged, according to data obtained by The Times through a Public Records Act request.

The newly unearthed figures show that Los Angeles County's 2013 accounting failed to report almost one in three cases of children on the drugs while in foster care or the custody of the delinquency system.

The data show that along with the 2,300 previously acknowledged cases, an additional 540 foster children and 516 children in the delinquency system were given the drugs. There are 18,000 foster children and 1,000 youth in the juvenile delinquency* system altogether.
If we are reading this right, that means that more than half of LA County's kids in the juvenile justice system are being given psychotropic medications. Is that possible?
State law requires a judge's approval before the medication can be administered to children under the custody of the courts, but a preliminary review showed no such approval in the newly discovered cases.

Child advocates and state lawmakers have long argued that such medications are routinely overprescribed, often because caretakers are eager to make children more docile and easy to manage — even when there's no medical need.
We'll get back to you as we know more on this disturbing issue.
---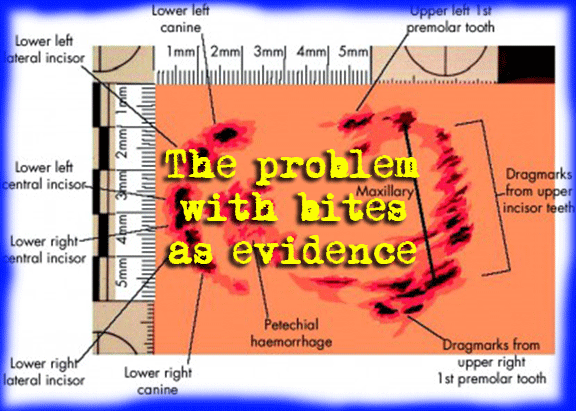 NEW CALIFORNIA LAW HELPS IN CASES WHEN EXPERTS REVERSE TESTIMONY
A new California law, which took affect in January, makes it easier to get a case overturned when experts recant. But will it help the man whose case inspired the law?
Sudhin Thanawala of the AP has the story.
Here's a clip:
This much is not in dispute. William Richards' wife, Pamela, was strangled and her skull smashed in the summer of 1993. A California jury convicted Richards of the slaying after hearing now-recanted bite-mark testimony.

But California judges have disagreed about whether that change in testimony was grounds for tossing Richards' conviction. Now, almost two decades after Richards was sentenced to 25 years to life in prison, his attorneys are hopeful a new state law inspired by his case will set him free.

The law, which took effect in January, makes it easier for a defendant to get a conviction overturned when experts recant their testimony. It prompted attorneys for the 65-year-old Richards, who has always maintained his innocence, to again ask the California Supreme Court to throw out a jury's guilty verdict.

Legal experts say the law will impact a wide variety of cases where experts later have second thoughts about their testimony. And it gives attorneys fighting to exonerate their clients an important new tool.

"More and more, experts are reconsidering their opinion not because they have pangs of guilt, but because in fact the science changes," said Laurie Levenson, a criminal law professor at Loyola Law School. "You want a legal system that recognizes that reality."

A San Bernardino County jury convicted Richards in 1997 of first-degree murder following expert testimony that a mark on his wife's hand was consistent with a unique feature of Richards' teeth. That expert, a forensic dentist, later recanted, saying he was no longer sure the injury was even a bite mark.
---
AND WHILE WE'RE ON THE SUBJECT OF THE SCIENCE OF BITE MARK MATCHING….
According to the Innocence Project, 24 people have been exonerated after they were either convicted or arrested because of the analysis of a bite mark analyst.
Director of special litigation for the Innocence Project, Chris Fabricant, who specializes in bite mark evidence, estimates that there are still hundreds of people in prison today due to bite mark testimony, including at least 15 awaiting execution, writes the Washington Post's Radley Balko.
Balko's story on the flawed "science" of bite-mark matching, and those who still go to great lengths to defend it, is both important and alarming.
Here's how it opens:
Before he left the courtroom, Gerard Richardson made his mother a promise. "I told her that one day she'd see me walk out of that building a free man," he says.

Her response nearly broke him. "She said, 'Gerard, I'll be dead by then.'"

Richardson, then 30, had just been convicted for the murder of 19-year-old Monica Reyes, whose half-naked body was found in a roadside ditch in Bernards Township, N.J. The year was 1995, and Richardson had just been sentenced to 30 years in prison.

There were only two pieces of evidence implicating him. One was a statement from Reyes's boyfriend, who claimed to have heard Richardson threaten to kill her. But that statement was made only after police had shown the boyfriend the second piece of evidence: a finding from a forensic odontologist that a bite mark found on Reyes's body was a match to Richardson's teeth. Dr. Ira Titunik, the bite mark expert for the prosecution, would later tell jurors there was "no question in my mind" that Richardson had bitten Reyes.

"I thought it was crazy," Richardson says. "There was no way it was possible. The FBI looked at hairs, fibers, blood, everything the police found at the crime scene. None of it came from me. Just this bite mark."
Two decades later, DNA technology was good enough to test the tiny amount of saliva in the bite found on Monica Reyes body, resulting in the overturning of Richardson's conviction.
Here's Part 2 of Balko's series on bite mark evidence telling how the bite mark matchers went on the attack when subjected to scientific scrutiny as American courts across the country welcomed bite mark evidence
---
THIS AMERICAN LIFE TAKES ON THE DIVIDE IN AMERICA ABOUT POLICING AND RACE
After the conflicts caused by events in Ferguson, along with the death of Eric Garner in New York, and other controversial shootings by police, Ira Glass and the producers of This American Life noted that there seemed to be a huge divide in the nation about how people view the issue of race and policing.
The TAL producers originally intended to a single show on the issue of these intense differences in views. But they ran across so many relevant stories, that they devoted two shows to the complex tales that they found.
In the first episode This American Life looks at one police department—in Milwaukee-–which had a long history of tension with black residents, and a chief of police committed to changing things. But although some things change, others do not. And nothing is simple. When an unarmed black man is killed by police in controversial circumstances, the battle lines form, and the two groups opposing groups agree on only one thing: they want the chief out.
By the show's end, we glimpse change in Milwaukee, yet it comes not in steps, but in inches.
A week later, in the second hour of stories about policing and race, This American Life reporters tell about one city where relations between police and black residents went terribly, and another city where they seem to be improving remarkably.
We highly recommend both programs. They are designed to start conversations.