No one knows for sure if the Jails Commission will matter at all. It is entirely possible it will issue a fat and earnest report that generates a few news stories, and some congratulatory action on the part of the Board of Supervisors, and then for all practical purposes vanishes.
Yet, having obsessively monitored their meetings for the past five months, I can report that at least some of the seven commissioners—maybe all, if we're lucky—do not intend to be irrelevant, not if they can possibly help it. Furthermore, even the most conservative members of the commission are beginning to apprehend, to their evident surprise, the severity of the problem in the jails. It also appears they are starting to suspect that its real causes don't lie with an old jail facility that needs to be shut down, and/or a few out of control deputies that need better training or whatever, that the issue is far more entrenched and complex and may very well have much to do with those at the very top of the department.
How this will all play out, and whether the commission will ultimately step up forcefully enough to shove itself into relevance, remains very much to be seen. Still the gradual unfolding of the commission"s nascent determination to be make a genuine difference, which means first getting to the bottom of this mess, is a drama fraught with intriguing characters, and very much worth watching. And, it may possibly, in the end, be a drama of consequence.
Or not.
Whatever the case, we'll be following it. And we'll bring to you what we see.
---
---
HOW WE GOT HERE
On Monday, May 14, 2012, the members of the Los Angeles County Citizens' Commission on Jail Violence heard testimony for the third month in a row, but this time some of what they heard appeared to genuinely startle the commission members in attendance.
The jails commission, if you'll remember, is the seven-member body that was appointed by the LA County supervisors last fall to investigate the problems in the County's violence-plagued jail system, and then to make recommendations about how to fix the mess.
In this particular commission meeting, three former Sheriff's Department supervisors, plus two former inmates, painted a picture for the commissioners of a climate of dysfunction and violence at Men's Central Jail involving groups of out-of-control deputies whose names turned up on force reports over and over.
Yet what truly got the commissioners' attention was not so much the stories of abuse, which they'd heard about in testimony at earlier meetings, but what they were told regarding how Sheriff Baca repeatedly dodged and ignored warnings about deputy cliques and dangerous levels of violence at Men's Central Jail, and how Baca's second in command, Paul Tanaka, actively subverted any attempt to rein in the deputies who were perpetrating the violence.
The full commission has been meeting monthly since the first of the year. In the beginning, the meetings were mostly procedural in nature. A method of working and a timeline was agreed upon. An executive director, Miriam Krinsky, and General Counsel, Richard Drooyan, were hired and approved, and so on.
It is only in the last three months—March, April and now May—that the commissioners have heard testimony from a little more than a dozen of the approximately 60 witnesses that Richard Drooyan, the Commission's general counsel, and his five teams of pro bono lawyer/investigators have been interviewing and vetting on an ongoing basis.
In the March witness meeting, the commissioners heard reports from Michael Gennaco, the head of the Office of Independent Review, and Merrick Bobb, the Special Counsel who has for years monitored the Sheriff's Department for the Board of Supervisors.
Both men gave the commission a sort of overview of the jails' functioning and some of its problems. However, Bobb, in particular, expressed his frustration at the fact that, after years of reports and recommendations, the real problems at the jails had changed very little.
This served to suddenly bring the commissioners face to face with the fact that their efforts too could easily come to nothing. After all, they had zero legal power to enforce anything.
The seven commission members, all heavy hitters in their fields, were not at all cheered by the fact that they could end up becoming so much window dressing, and appeared determined to do something to change all that.
In April, the commission heard from civilians who had witnessed abuse—or the aftermath of abuse— in the jails. This included two ACLU monitors, the ACLU's national jail and prison expert, and three veteran jail chaplains, all of whom told of multiple incidents of abuse that they'd either personally witnessed or had seen the direct aftermath of. The stories were intense enough that the two ACLU monitors and one of the chaplains choked up while relating them.
In particular the commissioners appeared glued to the testimony of Deacon Paulino Juarez-Ramirez, a soft-spoken, diminutive man whose sense of terror and shock at the three horrific incidents of abuse he'd seen, one of them inside a jail chapel, visibly washed over him as he spoke.
Which brings us to last Monday's meeting:
On Monday, although two former inmates spoke during the day in chilling and convincing detail of the abuse they'd allegedly experienced and observed, it was the three former LASD jail supervisors that most held the commissioners' collective attention.
Yet, out of the three months of meetings, the witness whose testimony had the commissioners the most riveted of all was retired LASD Commander Robert Olmsted. But we'll get to Olmsted later in this 3-part series.
First we have the sergeant.
---
THE CLIQUES VS. THE SUPERVISORS
The opening witness at last Monday's meeting was retired LASD Sergeant Daniel Pollaro.
Pollaro is a compact man of medium height whose appearance and contained demeanor suggests a career in accounting, more than law enforcement. Although he'd agreed to give testimony before the commission, he looked jittery, and as if he'd prefer to be nearly anywhere else instead.
Pollaro worked in the jails from 2000 to 2007, in CJ from 2002 on. In response to Richard Drooyan's questioning, he talked about how when he was first assigned to Men's Central Jail, he found a work environment in which certain deputies, not their superior officers, ran much of the show.
Pollaro told how the cadres of rule-ignoring deputies would switch around work assignments at will to make sure that only certain people worked on the second and third floors of the jail—AKA the 2000 and 3000 floors that gave rise to the now-infamous deputy cliques, the 2000 Boys and the 3000 Boys. Similarly, when the deputies or their friends were assigned elsewhere in the jail than on their floor of choice, they simply declined to take those postings and rewrote the "in-service reports" to reassign themselves to the postings they preferred, pressuring deputies whom they thought that they could manipulate, to take the assignments they disliked—all with seemingly no consequence.
(In-service reports are the posted list of assignments designating, on any given day, who is working where and at what time, to make sure that all the posts in all the jail modules are adequately covered.)
"When I would get on the floor in the morning," Pollaro said, "I would check the in-service report, but then I'd see that people who had been assigned to work on other floors, had just changed the report and were now back on my floor. Two or three times a week, I had that problem."
The same thing was true, said Pollaro, when a deputy whom the 3rd or 2nd floor cliques didn't like was assigned to what they considered their territory. The deputy cliques seemed to think they had the right, and evidently the power, to approve whomever was assigned to their floor.
Pollaro repeatedly countermanded the ad-hoc assignments, "but it was always a struggle," he said. When he spoke to other sergeants, he found they were experiencing the same issues with deputies, which they battled with greater and lesser degrees of success.
Despite the efforts of Pollaro and others, the acts of insubordination increased over time. When rebuked, some deputies went so far as to say that they didn't have to listen to supervisors. Instead, they openly gave their allegiance to what they referred to as the floor's OGs—gang parlance for Original Gangsters. In the case of the jails, the term referred to veteran deputies who'd been at CJ for four years or more. "These guys had all the answers in the eyes of the younger deputies," Pollaro said. And their influence was not always a positive one.
Another symptom of the rule-ignoring phenomenon was chronic deputy tardiness, again only among certain deputies. Yet it was a kind of lapse that ordinarily in the sections of a policing agency that involves shifts, is rarely if ever tolerated. Certain deputies would drift in late, and then leave their shifts as much as an hour early, meaning that some posts on the jail floor were inadequately covered, or not covered at all during those times.
(To give you an idea of how unusual this is, I spoke to two other sources on the matter, one from the LASD, and one from the LAPD. They both said in essence the same thing. This was highly unusual and inappropriate behavior. The LAPD source who is very knowledgeable about department policy, said he was stunned at the notion that this had become a pattern. "That's outrageous," he said. "It's 100% unusual. If you did that more than two times, you'd be written up or worse.")
The we-get-it-and-you-don't-so-we can-do-what-we-want-when-we-want group attitude that produced the tardiness in some deputies, also got acted out by other deputies in ways that had far graver consequences than being late for a shift:
During this same period, Pollaro noticed that the incidents of "significant force"—-the term meaning that an injury was involved, an inmate's bone had been broken, or sutures were required—were high and getting higher. Some of it he said he chalked up as an artifact of jail overcrowding, and the fact that the prison gangs had been reaching down from the state institutions to cause trouble. But a great deal of the force he was seeing , he told the commissioners cautiously, "was the problem of deputies doing their own thing. You had deputies who were going to run the floor as they wanted it. That means somebody might have done something a little bit outa line, they'd 'tune them up.'"
And what did "tune them up" mean? the commissioners wanted to know.
"Used some type of force because they didn't like the way it was going." In other words, a "tune-up" didn't designate force used to control an inmate, but as a punitive measure. A message.
When asked to illustrate, Pollaro told of incident in which three deputies walked an inmate from the 4000 floor into the discipline module—the "hole" at 2500—on the 2000 floor. Once the group got the inmate in the module, "one of the deputies told the other two deputies that they could leave, that he could handle it from there." The other two complied and left. "The deputy then took inmate down the row, then he tuned 'im up," said Pollaro. "After that, he put him in the cell and then left without notifying anyone." Pollaro learned about the incident the next day when a new shift came in and discovered the bloody and injured inmate, untreated in his cell.
"He was beaten up?" asked Richard Drooyan.
"Yes."
(Although Pollaro didn't specify, another LASD source said the inmate would have been handcuffed when he was walked down to the disciplinary unit, thus handcuffed when he was allegedly beaten.)
The matter was referred to Internal Affairs, and Pollaro said he believed the deputy was relieved of duty for some days. He wasn't sure for how long.
(Editor's Note: This after the deputy reportedly beat up an inmate who was under control when the other deputies left, failed to call a supervisor, failed to report the inmate's injuries, or that force had been used, as protocol demands, but instead simply left the bloody inmate in a cell for others to find.)
To combat the rising force incidents, Pollaro, other sergeants, and their lieutenant at the time, Lt. Gonzales, regularly reviewed use of force policies at meetings.
Richard Drooyan asked if the policy reviews had an effect.
"Not really," he said, his voice weary. "These deputies were their own little group that was going to do what they were going to do, without any discipline…or instruction."
(NOTE: This WitnessLA article refers to some of the high profile incidents in which deputies failed to adequately supervise and inmate injuries and several deaths occurred during the period Pollaro is describing.)
Pollaro told how two different captains, one after the other,—Captain Ray Leyva and Captain John Clark—tried additional strategies to deal with the problems, but that they continued to grow. He described how, in February of 2006, Captain Clark finally decided to put in place a system of job rotation that would keep deputies from guarding too long on a single floor, but rather would rotate people between modules. (WitnessLA reported on this previously.)
Clark sent out a memo to all personnel at Men's Central Jail about the job rotation strategy, that he explained would "assure all personnel are trained and prepared to address situations you face in all areas of the jail."
(You can find the memo here.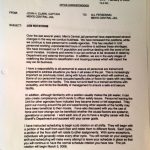 <— Click to enlarge.)
Cliqued-up deputies were predictably unhappy about the rotation mandate as it meant some of them would soon rotated away from their 2000 or 3000 floors. "They didn't want any part of it," Pollaro said. In response, the groups began an email campaign urging all CJ deputies to send complaints about the Clark policy to then Assistant Sheriff Paul Tanaka.
First an anonymous email went out to all deputies from an unnamed source, presumably from one of the deputy OGs.
It began as follows:
"We are different than other units and we know it. We have a responsibility to those who have come before us and to those who will follow. We are CJ deputies….."
Attached to the email, was a prewritten letter to Paul Tanaka that the deputies were told to copy and send.
The suggested letter to Paul Tanaka began:
"You told us at a briefing that if there were any problems involving the leadership of Men's Central Jail to contact you.

Sir we have a problem at Men's Central Jail….."
The commissioners were provided with a copy of the email and the boilerplate letter. WitnessLA has also acquired the two documents, which you will find below. (Be sure to click to enlarge.)
---
PAUL TANAKA STEPS IN
The interesting part of this sequence of events is not so much that the deputies were unhappy, but the fact that these deputies felt the solution to their problem was to leap frog over Captain Clark, and over his boss the commander, and over his boss, the chief overseeing all of custody—-to the Assistant Sheriff, Paul Tanaka. Moreover, they felt they had reason to believe there was a good possibility that Tanaka might intervene in their behalf and countermand his captain.
They turned out to be right. Nearly immediately, Tanaka scheduled a meeting with all CJ's deputies, a meeting to which none of the supervisors were allowed entrance.
"We were all excluded," said Pollaro.
At this juncture, Judge Robert Bonner broke in, all this leap-frogging of rank having snagged his attention.
(A short side note on Commissioner Robert Bonner. In addition to being a former U.S. District Court Judge, he was also the former head of the U.S. Customs and Border Protection, and the former head of the DEA, for god's sake, and more after that. In the first meeting or two, Bonner came off—at least to some of us commission watchers—as the commission member most likely to be the roadblock to any deep reform. But two months ago, right in the middle of Merrick Bobb's testimony he suddenly seemed to snap fully awake and come to inhabit a far broader and more hawk-eyed perspective, and he has never again retreated. Now, along with Alex Busansky, he is the most interesting of the commissioners to watch, and assuredly one of the smartest.)
Bonner asked the sergeant if Captain Clark was notified in any way that the Assistant Sheriff was going to meet with all of the deputies within his command.
Pollaro paused. "He was not. I know he was not."
However, within a few days after the deputy meeting, Tanaka did schedule a separate meeting with all the CJ supervisors and Captain Clark, said Pollaro.
According to Pollaro, the meeting was a one-way lecture by Tanaka to the supervisors, telling them all they were doing wrong.
"Mr. Tanaka said we had to treat these deputies in a different way and coddle them.
After the "coddle the deputies" lecture had gone on for a while, Pollaro raised his hand, and stood. "At the sheriffs department," he said, "we've always had a tradition. You work hard, you follow the rules, you take all the opportunities that are afforded to you….."
Tanaka interrupted. "He said, 'You know what? You sound just like my father.'"
Pollaro tried to lighten the tone. "Well you must have listened to him, cause look where you are now."
At that, Tanaka told him to sit down.
"People like you are a dinosaur. You're a dying breed." Tanaka reportedly told Pollaro.
With Captain Clark he was even harsher, said Pollaro. "He was told to be quiet, and that if he wanted to talk to him he'd say so."
Pollaro said he was stunned by the almost sneering dismissal of everything the jail supervisors had to say.
"After the meeting I felt like I might as well take my stripes off," Pollaro said, his expression grim.
When Pollaro finished talking, several commissioners seemed more eager than usual to question him.
Judge Bonner wanted to know what Tanaka's actions "…say about the chain of command at the LA County sheriffs department. "
Pollaro was, by this time, getting worked up. "For the deputy to be able to reach up to the assistant sheriff, without going through a sergeant, a lieutenant, a captain, a commander, a chief…….It's unheard of. Unheard of."
Judge Dickran Tevrizian spoke next. In past meetings, Tevrizian, another former U.S. District Court Judge who was also the first Armenian appointed to the federal bench in U.S. history, has often seemed more protective of the department than the others, and his queries to the witnesses frequently veered toward the rhetorical. However, Pollaro's testimony appeared to shake something loose in Tevrizian—especially the chain-of-command issue.
"I understand that the sheriff's department is a paramilitary organization," he began. "There's a structure in place. When Assistant Chief Tanaka met with the deputies…was it very difficult for you as a sergeant to get any respect from these deputies that you sought to supervise? "
"Yes."
"Do you think the breakdown in the command chain of command contributed to the problems that we're here today looking at in terms of the issues that have come out of the Men's Central Jail?"
"Very much so."
"Tell me," said Tevrizian.
And so Pollaro filled him in. "Well, when you're not worried about repercussions for your behavior because you have the ear of the Assistant Sheriff, why would you change?" If you're told what you're doing is right, and what I tell you, you're not going to listen to, you're not going to have a good outcome. You're going to have the outcome of these guys acting the way they wanted to act.
"And that's the way it was. When I walked out of that meeting, I felt like my career was done. I had no more supervisory power."
Tavrezian took this in gravely. Then he had one more question.
"The sheriff…..How many times did you actually see him at Men's Central Jail in the time that you were there?"
Pollaro paused to give the question full consideration. Even he seemed surprised by the answer.
"I don't think I ever saw him."
---
---
PART 2: THE SERGEANT AND PART 3: THE COMMANDER…. TO COME NEXT WEEK.
---
EDITOR'S NOTE: To access the audio for this meeting so that you may listen to the whole thing yourself, (it's long but fascinating) go here.