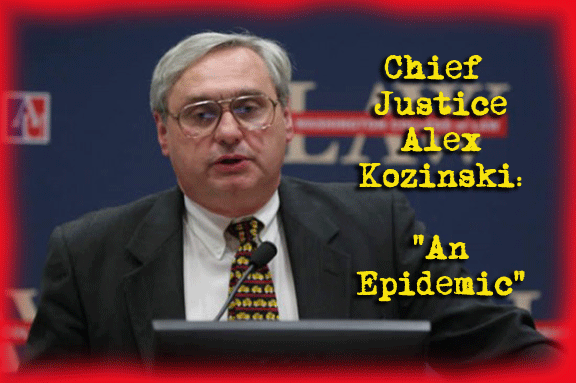 CHIEF JUDGE KOZINSKI FOR THE 9TH CIRCUIT SEZ THERE IS AN EPIDEMIC OF PROSECUTORIAL MISCONDUCT
The Huffington Post's Radley Balko (one of our favorite criminal justice journalists and the author of The Rise of the Warrior Cop) reports on the series of statements by 9th Circuit Court of Appeals Chief Justice Alex Kozinski—and what is behind Kozenski's blistering fury. Here's a clip:
The dissent by Alex Kozinski, chief judge of the U.S. Court of Appeals for the 9th Circuit, from a decision not to rehear U.S. v. Olsen starts off with a bang:

"There is an epidemic of Brady violations abroad in the land. Only judges can put a stop to it."

Brady, of course, is shorthand for the Supreme Court decision that requires prosecutors to turn over exculpatory evidence to defense attorneys. In Olsen, a ruling from a three-judge 9th Circuit panel in January detailed extensive questionable conduct on the part of the prosecutor, Assistant U.S. Attorney Earl Hicks (*see clarification below), who works for the Office of the U.S. Attorney for the Eastern District of Washington. (Kozinski's opinion this week doesn't name Hicks, nor do most press accounts of the decision, but I will. These prosecutors need to be identified by name.)

[BIG SNIP]

The U.S. Department of Justice is stingy when it comes to releasing information about disciplining federal prosecutors for misconduct, but it seems unlikely Hicks will face any real sanction. Recent media investigations have found that such discipline is rare. Even in cases involving high-profile, egregious misconduct, like the prosecution of the late U.S. Sen. Ted Stevens, prosecutors can usually duck any serious sanction. In the Stevens case, the DOJ imposed light suspensions on the offending prosecutors, and even those were later overturned by an administrative law judge. (You could make a strong argument that federal prosecutors have more protections against professional sanction than criminal defendants do against violations of their constitutional rights by federal prosecutors.)

Offenbecher says it's unlikely that he'll file a complaint against Hicks. That isn't uncommon, either. Defense attorneys have to work with prosecutors on behalf of other clients, including negotiating favorable plea bargains. Putting yourself in the cross-hairs of a U.S. attorney's office can make it very difficult to be an effective advocate. That's a lot of risk to take on, especially if it's unlikely that anything will actually come of the complaint.
---
FEDERAL ATF AGENTS PAY TROUBLED 19 YEAR OLD TO GET JOINT SMOKING SQUID TATTOO….AND WORSE
This story falls into the please-tell-us-you're-kidding category.
The Atlantic Monthly's Coner Friedersdorf and Andrew Cohen draw attention to an astonishing, and largely ignored story broken by the Milwaukee Journal Sentinel about the U.S. Bureau of Alcohol, Tobacco and Firearms's alleged use of a string of mentally disabled locals in a number of US cities to drum up business for their various stings, later arresting the people they'd used.
And then the ATF's behavior really got crazy.
Here's a clip:
Lately infamous for the "Fast and Furious" gun-walking scandal, the ATF now has the dubious distinction of bankrolling even-more-questionable behavior, which my colleague Andrew Cohen details here. The newspaper leads its latest investigative article with a headline-friendly anecdote about Aaron Key, a mentally disabled 19-year-old who started hanging out with the guys who ran a smoke shop near his house, taking them for friends. As it turns out, they were undercover ATF agents. And they paid the troubled teen and a friend $150 apiece to tattoo the fake shop's emblem on their necks.

But digging into the story, it's evident that undercover employees were engaged in far more objectionable behavior.

In cities around the United States, the ATF set up fake stores—often but not always pawn shops—set up surveillance cameras, conducted lots of illegal business over many months, and arrested various customers at the end of the sting. Normally federal law-enforcement agencies don't set up operations guaranteed to mostly snare low-level individual criminals operating at the local level.

Questionable resource allocation aside, the really shocking parts of this scandal involve what happened at the neighborhood level as several of these stores were being operated. Just take a look at the newspaper's bullet-point summary….
To find the summary, click here. And for the whole series, go here.
---
FEDERAL JUDGES ADD THE ISSUE OF SOLITARY CONFINEMENT TO THE CALIFORNIA PRISON NEGOTIATIONS
As the mandated negotiations continue to try to nail down a long-term plan that will lower California's prison population, as ordered by the US Supremes, a new element has found its way into the talks, reports the LA Times' Paige St. John. Here's a clip from St. John's story:
Federal judges considering California's request for more time to reduce prison crowding have asked the state in turn to limit how long some mentally ill prisoners spend in solitary confinement.

U.S. District Judge Lawrence Karlton on Wednesday said he had accepted a state offer to limit the time severely mentally ill prisoners who have committed no rules violations can be held in isolation to 30 days. Hours later, he and the other two judges issued an order extending negotiations to Jan. 10, and pushing the state's deadline to reduce crowding to April 18.

Karlton is holding hearings on the treatment of mentally ill inmates and also sits on the federal three-judge panel that ordered California to reduce prison overcrowding.

California has been ordered to remove 7,000 inmates from state prisons, reductions that judges say are needed to remedy unconstitutionally dangerous conditions, including inadequate medical and mental health care. In Wednesday's order, the judges said they expect no further extension in the talks, "absent extraordinary circumstances," but that does not preclude additional delays in the actual crowding deadline.

[SNIP]

Transcripts of courtroom hearings show the talks took a twist after Thanksgiving, when Karlton said he was concerned about some 230 mentally ill prisoners currently housed in isolation cells, though they have committed no infraction. State prison officials say they are there for their own protection, or while awaiting space in a mental health unit.

Karlton said he told the other federal judges "that as far as I was concerned" the state's request for an extension to reduce prison overcrowding should not be granted as long as those mentally ill inmates were being held in isolation units.

Lawyers for California made it clear that the state is eager to address the judge's concerns about solitary confinement. Transcripts show that at one point last week, state officials were rushing documents to the judge for review. At another, they offered to produce Corrections Secretary Jeffrey Beard to speak with Karlton. The judge said he was told Brown's office responded that it "understood the nature of the problem" and promised a quick remedy….