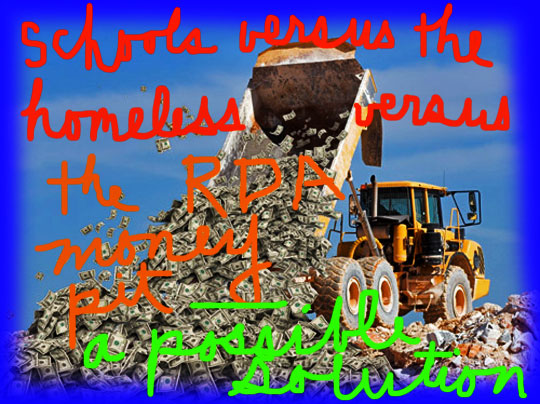 EDITOR'S NOTE: The newest and bloodiest front in Sacramento's ongoing budget battle is around the issue of redevelopment agencies or RDAs—and whether to abolish them, at least for the time being.
In essence, RDA's redirect local property taxes toward a variety of economic development programs. The state makes up the $$ difference for each city. This is known as "backfilling"
Given the severity of the state's money problems, Jerry Brown wants to yank back the $5 billion that the state backfills to the various city redevelopment agencies, effectively doing away with the RDAs.
For the last month, cities have been howling that this will have a crippling effect on jobs and business and the various cities' ability to, you know, build football stadiums.
Brown's office has countered that, given the choice between cutting another gazillion out of the state's already slashed educational budget, and delaying the construction of a new football stadium in Escondido or San Diego, well, dudes, the schools are going to win that little moral battle without breaking a sweat.
The RDA's case was not helped when, this Monday, State Controller John Chiang issued a report revealing that redevelopment agencies all over California had illegally shortchanged schools by at least $40 million last year.
To make matters worse, the agencies failed to track jobs that they had supposedly created, AND with the money the RDAs were supposed to spend to improve "blighted areas," many cities' agencies routinely redefined "blighted" in a manner that was not altogether …..honest.
For instance Palm Desert dedicated almost $17 million in redevelopment dollars to improve a "blighted" luxury golf resort.
But like many issues, the matter of the RDAs is far more complex than the politicians and the pundits would have us believe. And by cutting the agencies wholesale, the state may end up throwing the baby out with the RDA bathwater—since about 20% of the RDA $$$ are supposed to go to build low and moderate income housing—-not freaking football stadiums.
To help us make sense of this mess, Shashi Hanuman, the Public Counsel's directing attorney for community development, has kindly agreed to explain more about the collateral damage that vaporizing the RDAs completely will cause for some of the state's most vulnerable residents—and what we ought to do about it.
Take it away, Shashi:
IN THE REDEVELOPMENT SLUGFEST, CALIFORNIA STILL NEEDS AFFORDABLE HOUSING

By Shashi Hanuman

The tug of war between Gov. Brown and cities over redevelopment dollars is all over the news. The Governor's current budget eliminates redevelopment agencies, except for projects already in the pipeline.

But what's getting lost in that debate is that if redevelopment goes away, so will millions of dollars that help build housing for Californians who are chronically homeless or on the brink of homelessness.

People like Jim (not his real name), who was homeless and suffering from drug addiction and alcoholism when he moved into Selby Hotel, which was built by nonprofit developer, A Community of Friends, and funded in part by redevelopment. At Selby, where the rent was affordable, he took advantage of the services offered to rebuild his life. Now he's working full-time and has reconnected with his family.

Affordable housing developers like A Community of Friends count on redevelopment funds to build quality housing where people can have access to medical care and other services nearby. They're saving taxpayers money in stop-gap services and emergency room costs, and they're saving lives. Without redevelopment, Jim might still be homeless or living day-to-day in a Skid Row shelter.

Recently, some cities have been in the news for failing to spend money on affordable housing – or handing it out to politically connected cronies. Public Counsel has actually sued more than one city over this, and we support increased penalties and monitoring against abuses of the system. But that's not an excuse to take away California's only established source of affordable housing – funds that have helped hundreds of thousands of lower income families in California stabilize their lives.

State Sen. Mark DeSaulnier, D-Concord, and statewide housing advocates have an idea that works. It would balance the state budget, send nearly $2 billion to schools and other services and protect funding for affordable housing. Rather than completely eliminate affordable housing funds, the proposal puts a pause on those funds for this year, and maintains them for the future.

Even in a budget crisis, every Californian needs a roof over their head.
Shashi Hanuman is the directing attorney of Public Counsel's Community Development.
Public Counsel is one of the nation's largest not-for-profit law firms. Its Community Development Project provides legal support to nonprofit developers, health clinics and other safety net nonprofits.
---