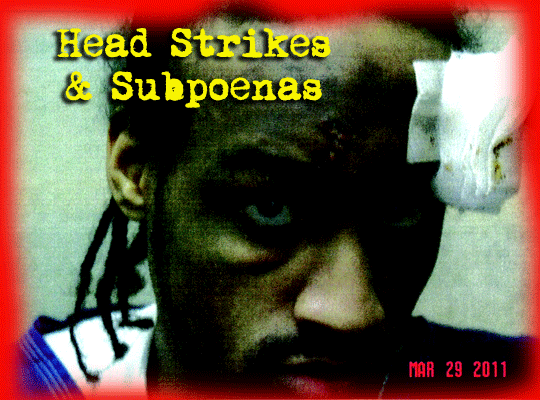 ACLU CORRECTIONS EXPERT SAYS CJ DEPUTIES USE OF HEAD STRIKES "ALARMING" AND UNNECESSARY
In anticipation of the final report on Friday by the Citizens' Commission on Jail Violence—and the Sheriff's reaction to that report— the So Cal ACLU issued its own report Wednesday morning, contending that jail deputies frequently use head strikes—many causing serious injuries—at a rate that is fundamentally out of line with the national standard among corrections officers.
Corrections expert Steve J. Martin, a former Texas correctional officer, turned attorney, turned nationally-known corrections consultant, examined the ACLU's report and weighed in under oath. Martin said, among other things, that "….the number and extent of head injuries sustained in these use of force incidents strongly suggest' that the deputies working in Men's Central Jail "employ hard impact head strikes during force incidents"…"at alarming levels."
Interestingly, Martin also said that, after reviewing the department's own use of force stats compiled by the Jails Commission, he concluded "…that there were many more serious injuries, including head injuries, between 2009 and 2012 that the ACLU is aware of."
Here's a link to Martin's full testimony.
And here's more from Wednesday's ACLU report:
…There is clear evidence that the Los Angeles County Sheriff's Department ("LASD") deputies have used head strikes with alarming regularity in the Los Angeles County jails. In many of those incidents the head strikes have caused significant injuries. The manner and frequency of such head strikes strongly suggests an inappropriate use of force by
deputies.

In recent years, Los Angeles Sheriff's deputies have stomped on inmates' heads, even after shackling those inmates' hands. They have bashed inmates' faces into concrete walls. They have fractured inmates' facial bones – noses, jaws, cheekbones, or eye sockets. The ACLU is aware of least 11 inmates who have had their facial bones broken by LASD deputies in the past three years. One inmate has lost vision in one eye. Others have undergone surgery. Sixty-four people have made sworn statements describing incidents in which deputies targeted inmates' heads for attack between 2009 and 2012. These are not mere unsubstantiated complaints. The ACLU has corroborated 12 of these allegations of head injuries with secondary evidence, such as medical records, photographic documentation, or civilian reports. In several other instances, inmate witnesses have corroborated reports of deputy-on-inmate head strikes.

If history is any guide, LASD will respond to this evidence by attacking the ACLU and blaming inmates. They will argue that inmates' accounts of deputies using unjustified force are false, and they will allege that inmates were the aggressors.

But even assuming that the LASD is correct that the inmates were aggressive towards deputies, the attempt to blame inmates does not absolve the LASD from its use of excessive and illegal force. For even where inmates are the aggressors, the fundamental widely recognized rule regarding use of force by a custodial officer is that head strikes are almost never permissible. Accordingly, head injuries should be an exceedingly rare consequence of a use of force incident, even when inmates are aggressive.
There are some disturbing accounts of the use of head strikes in the report itself, like the story of "Mr. NN" picture above.
---
MEANWHILE….GRAND JURY SUBPOENAS AND MORE GRAND JURY SUBPOENAS ARE DELIVERED TO SHERIFF'S DEPARTMENT MEMBERS
Several rounds of grand jury subpoenas have been delivered to members of the Los Angeles Sheriff's department, some this week, some last week, and some reportedly trickling in still earlier.
This week's flurry caused the Sheriff's Department to send around a memo on Tuesday telling those receiving the things and not to go around bringing in any LASD documents or paperwork—even if the feds ask for them—without consulting the department's legal watchdogs on the matter.
Here's a clip from the memo:
…A SUBPOENA MAY REQUEST A PRODUCTION OF DOCUMENTS IN ADDITION TO AN INDIVIDUAL'S PERSONAL APPEARANCE. REQUESTS FOR DOCUMENTS IN AN INDIVIDUAL'S POSSESSION SHOULD BE VETTED THROUGH APPROPRIATE LEGAL COUNSEL AND BROUGHT WITH THE EMPLOYEE TO THEIR APPEARANCE IF SO DIRECTED BY COUNSEL. REQUESTS FOR THE PRODUCTION OF DEPARTMENT MATERIALS, RECORDS, REPORTS, AND/OR DOCUMENTS SHOULD BE REFERRED TO THE RISK MANAGEMENT BUREAU'S DISCOVERY UNIT WHO WILL BE RESPONSIBLE FOR IDENTIFYING, OBTAINING, AND PRODUCING THE RESPONSIVE DEPARTMENT DOCUMENTS AND/OR MATERIALS.

PERSONNEL WHO HAVE BEEN SERVED A SUBPOENA ARE ENCOURAGED TO CONTACT THE DISCOVERY UNIT AT (323) 890-5000 FOR ASSISTANCE AND/OR REFERRAL TO LEGAL COUNSEL. THIS DOES NOT PROHIBIT YOU FROM SEEKING YOUR OWN LEGAL COUNSEL.

QUESTIONS REGARDING THIS MATTER SHOULD BE DIRECTED TO THE DISCOVERY UNIT AT (323) 890-5000.
It should be an interesting week.