LA COUNTY SHERIFF'S CHIEF OF STAFF, TOM ANGEL, FORWARDED RASIST CHAIN EMAILS
LA County Sheriff Jim McDonnell's chief of staff, Tom Angel, forwarded emails filled with racist, anti-Muslim, and sexist "jokes," during his time as second in command at the Burbank Police Department between 2012-2013, according to city records obtained by the LA Times' Cindy Chang and Alene Tchekmedyian. (As it happens, Angel was hired to help reform the Burbank PD, which had been mired in allegations of racism, abuse, and sexual harassment.)
One of the emails lists 20 reasons Muslim terrorists "are so quick to commit suicide." The reasons include: no nude women, rags for clothes, towels for hats, constant wailing from some idiot in a tower, you can't wash off the smell of donkey, your wife smells worse than your donkey, and you cook over burning camel shit.
In another email forwarded by Angel, one "joke" reads, "I took my Biology exam last Friday. I was asked to name two things commonly found in cells. Apparently, 'Blacks' and 'Mexicans' were NOT the correct answers."
Another reads, "As I went into my bank, I walked past a black kid sitting at a bus stop. When I came out, he looked at me and said, 'Any change, sir?' I said, 'Nope, you're still black.'"
When asked about the matter, Angel told the LA Times that "anybody" will forward emails they shouldn't in the workplace, now and then. "I apologize if I offended anybody, but the intent was not for the public to have seen these jokes."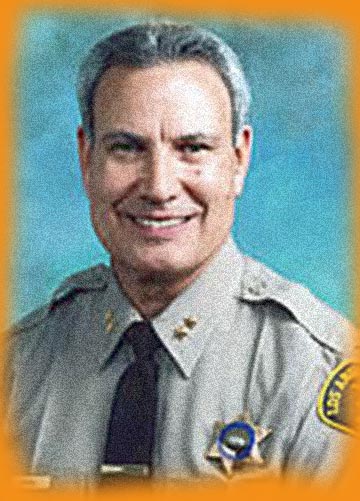 Angel was a member of the LASD for 33 years. After his retirement, Angel then spent five years with the Burbank PD, during which time the racist emails were sent. In 2015, Sheriff McDonnell brought back to the LASD as chief of staff as an at-will employee, which. according to an LASD spokesman, means that Angel can be fired or demoted without the protection of civil service rules.
Brian Moriguchi, president of the L.A. County Professional Peace Officers Association (PPOA), told WitnessLA that more is called for to address the email revelations. Moriguchi suggested that the sheriff and Angel should immediately visit community groups affected by the offensive emails and apologize. Angel has only visited one Muslim group, according to the LA Times, and the sheriff has reportedly scheduled meetings with community groups that will take place next week.
"The other big concern is whether the sheriff is going to treat Tom Angel differently than the rest of his employees," said Moriguchi. With this in mind, he said that Angel might send a video message to the department members apologizing for "bringing disgrace on the department." Some kind of action is needed, Moriguchi said.
Sheriff McDonnell told the LA Times that the released emails are a "teaching moment," and that all who are familiar with Angel would characterize him as "professional and respectful of everyone" he comes into contact with.
"Chief Angel's decision-making and actions in his long prior career with the Sheriff's Department and since his return in 2015 reveal more about his actual character and typical good judgment than the instances from four years prior currently reported in the media," McDonnell said in a statement. "Although there is no doubt that such instances, if occurring within the Sheriff's Department, would result in disciplinary action, there is also no doubt that Chief Angel understands and respects that fact."
Another well-placed department member, who asked not to be named, said that, from what he is hearing, the Angel emails are a very big deal indeed.
"Everyone working patrol is watching to see what the sheriff will do." They want to know, he said, if there is one set of rules for those close to Sheriff McDonnell and a completely different set for the rank and file.
In addition, the source said, those on patrol are the one's who have to deal with anger from the communities who feel that the department will tolerate these kinds of "jokes."
You can find all of the emails that the Times obtained: here.
---
WILLIE WILLIAMS, FIRST BLACK LAPD CHIEF, DIES AT 72
Willie Williams, who took over as chief of the Los Angeles Police Department in the wake of the Rodney King beating and the Los Angeles riots in 1992, has died. Williams was the first African American to serve as LAPD Chief.
Williams died in Fayetteville, GA, after battling pancreatic cancer.
The LA Times' Joel Rubin has more on Willie's life and legacy in Los Angeles. Here's a clip:
The challenge facing Williams was all the more daunting given his predecessor, Daryl F. Gates, a deeply polarizing figure who had won fierce loyalty from rank-and-file officers but had long been criticized as running the LAPD like a brutish, occupying quasi-military force that mistreated blacks and other minorities.

"Willie Williams was appointed to do some healing, and in many ways he succeeded, building and rebuilding positive, constructive relationships between the African American community and the police," said John Mack, a longtime civil rights leader who served on the city's civilian Police Commission. "But the deck was stacked against him from the start. The Los Angeles Police Department was not ready to accept him for two reasons: He was an outsider and he was African American."

Chosen by then-Mayor Tom Bradley to replace Gates over several high-ranking LAPD officials, Williams arrived promising to follow the same blueprint he had used to run the Philadelphia department. At the heart of the plan was his belief in community policing, a relatively novel idea at the time that emphasized the need for police to integrate themselves closely into the communities they serve in order to build trust.

It was a message that resonated with residents, as polls showed Williams enjoyed strong approval ratings among residents throughout the city. City officials praised him for stabilizing the department and repairing its reputation.

Williams showed a willingness to fight for changes. He pushed for increased hiring of female officers and spoke out about the need to address rampant sexual harassment and discrimination within the ranks. He increased the size of the department and advocated for reforms drawn up in 1991 by the Christopher Commission, which had been formed by Bradley after the King beating to review LAPD training, discipline and complaint systems.

But doubts and resistance to Williams' leadership soon took root…