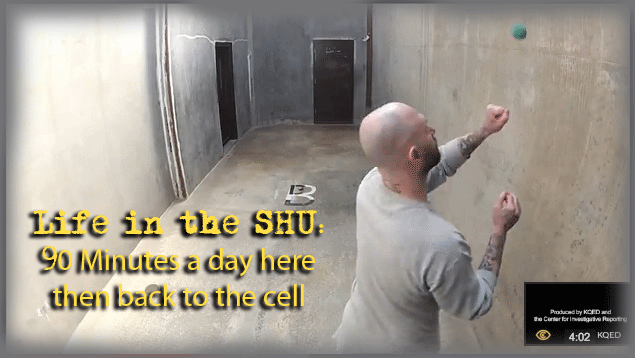 WHAT DOES CALIFORNIA PRISON "SHU" REALLY LOOK AND FEEL LIKE?
Monday, California state legislators began discussing the issue of isolation policy in the state's prisons. The U.S. Congress has begun examining the same growing controversy about the use of Special Housing Units—or SHUs—in the nation's federal lock-ups.
KQED's Michael Montgomery had a conversation with—and video taped—an inmate named Jeremy Beasley, while he was in Pelican Bay State Prison's SHU. Beasley is, by his own admission, not the most angelic of guys, but does that mean it is moral or wise or constitutional to house him in the kind of isolation that more and more people, including some prominent conservatives, regard as torture.
Below you'll find clip from Montgomery's story. But be sure to watch at least the first 2 or 3 minutes of the full half hour video with Beasley, which" frameborder="0" allowfullscreen> you can find here.
(NOTE: Montgomery is arguably more expert on the issue than any other reporter in California. So his dispatches are always worth your time.)
Here's the clip:
"I haven't seen the moon since 1998."

That's inmate Jeremy Beasley, talking to me while sitting–shackled–in an interview room at Pelican Bay State Prison, California's highest security lockup.

Beasley, a convicted murderer, was clearly surprised by my presence—-he told me he hadn't met with a visitor since 1994, when he was incarcerated.

It's not just the moon Beasley hadn't seen in 15 years. During that time, in fact, Beasley rarely glimpsed the outside world. Before being transferred to another prison, he was held in Pelican Bay's Security Housing Unit, a windowless, bunker-like facility that houses more than 1,000 California inmates.

For 22-and-a-half hours a day, each inmate here is locked, usually alone, in an 8-by-10 feet cell. For 90 minutes the inmate is allowed to exercise in an adjacent room with 25-30 feet high walls. And that's their entire day — every day.

"I've seen guys lose their minds back here," Beasley tells me.
---
LAPD LIEUTENANT SUES DEPARTMENT FOR ALLEGED RETALIATION AFTER HE REPORTED ILLEGAL GUN SALES BY METRO OFFICERS
According to the Courthouse News Service, Lt. Armando Perez, a 25-year veteran of the Los Angeles Police Department is suing the LAPD for retaliation after Perez allegedly discovered that officers from the department's Metro division were buying special SWAT–labeled guns through the armory that Perez oversaw, and then selling the guns for profit to other LAPD officers, civilians and gun dealers.
Here's a clip from the story by Elizabeth Warmerdam:
Los Angeles police officers bought and sold guns from the police armory for profit, and told the lieutenant in charge of the armory to "watch his back" after he reported it, the 25-year LAPD veteran claims in court.

Armando Perez sued the City of Los Angeles and the Los Angeles Police Department in Superior Court.

Perez, who joined the LAPD in 1987, claims he was retaliated against, suspended and threatened after he discovered, through his job as "Officer in Charge of the Armory," that officers in the Metropolitan Division were buying and reselling guns to other officers, civilians and gun dealers….
Perez also alleges that, when the department investigated the matter, no one ever bothered to interview him, but later, he himself was investigated in relationship to his reports on tthe gun sales, and on the subsequent harassment, and was suspended for five days.
Last August, the LA Times ran a story bout the possible gun dealing. Perez alleges that after the publication of the Times story, the retaliation against him got worse.
Read the rest here.
---
WHAT CONGRESS LEARNED ABOUT GUN VIOLENCE BEFORE THE NRA PRESSURED CONGRESS TO KILL ALL RESEARCH FUNDING
Reasonable people might argue over what kind of gun regulation is helpful and appropriate. But it is difficult for any but the most partisan to defend the intense lobbying by the NRA that, in 1996, persuaded a fearful congress to strangle research into gun violence by the Center for Disease Control, and by the National Institute of Health—both of which, rightly, viewed the nation's approximately 30,000 gun deaths per year as a public health issue.
The NRA, however, evidently viewed fact-based information as a threat.
Reporters at ProPublica wondered what exactly the CDC had found out with its research before the door to science got slammed. With this in mind, Joaquin Sapien interviewed Dr. Mark Rosenberg, who led the agency's gun violence research in the nineties when he was the director of the CDC's National Center for Injury Prevention and Control.
You can find the interview here.
---
CALIFORNIA SUPREMES SAY PARENTS OF WOMAN KILLED BY JEALOUS LAPD DETECTIVE LOST RIGHT TO SUE DEPARTMENT OVER MISHANDLING THE CASE DUE TO STATUTE OF LIMITATIONS
The California Supreme Court declined to take the case of Nels and Loretta Rasmussen, whose daughter, Sherri Rassmusen was murdered in the Van Nuys townhouse she shared with her husband, by former LAPD Detective Stephanie Lazarus. Although Sherri Rassmusen was murdered in 1986, police concluded that she was killed in a home robbery gone bad—despite the fact that, according to the Rasmussens, they provided investigators with information that pointed to Lazarus and, at the very least merited investigation. Instead, the allege, they were rebuffed and deliberately intimidated. It was only in 2009, when DNA left at the scene was matched to Lazarus, that the detective was arrested. Lazarus was convicted of murder in 2012.
Lots of people have the story (like the Daily News) , but the legal-leaning Metropolitan News-Enterprise has a good explanation from a legal perspective.
Here's a clip:
Sherri Rasmussen, was murdered in 1986. Lazarus was charged following a DNA match to a bite mark on the body, and was convicted in March of last year.
The Rasmussens sued in July 2010, while Lazarus was awaiting trial. They alleged that they had told the LAPD the day after the murder that they suspected their son-in-law's ex-girlfriend was the killer, although they did not know her name at the time.
The dead woman's husband, John Ruetten, identified Lazarus as his ex-girlfriend and told the investigators that she was an LAPD officer. The LAPD, the Rasmussens alleged, ignored evidence that Lazarus had stalked and confronted Sherri Rasmussen, focusing instead on an untenable theory that the killers were two unknown Hispanic men who had committed burglaries in the area.
That theory, they said, was discredited in 2005 when DNA obtained from the bite mark was tested and determined to have been left by a woman, although it took another four years before Lazarus was linked to the bite mark.
The Rasmussens sued the LAPD for civil rights conspiracy and sued Lazarus for wrongful death.
There's more, so read on.
---
PHOTO CREDIT: The above photo is a screen capture taken from Michael Montgomery and KQED's video accompanying the story about the Special Housing Units (SHUs) in California's prisons.