OSU ATTACKER WHO SENT 11 TO THE HOSPITAL WORRIED ABOUT BEING STEREOTYPED
At around 10 a.m. ET, reports of an active shooter broke out at Ohio State University, as university officials and students frantically tweeted an alert of "run, hide, fight."
The "shooter" turned out to be an attacker who, at first, rammed several students with his car at around 9:40 a.m. ET, then jumped out and started slashing students with a large knife.
By midday on Wednesday, the suspect was identified as Abdul Razak Ali Artan, 18, an OSU student of Somali descent, who was a permanent legal resident of the U.S., and was listed as logistics management major in OSU's online directory. In 1915, Artan reportedly graduated with an associate of arts degree from Columbus State Community College, where he was reportedly on the school's dean's list and graduated cum laude. A photo of Artan in his cap and gown shows him beaming after collecting his diploma.
Although officials are still trying to piece together clues to determine what motivated the attack, in August 2015, Artan, who is a Muslim, told an OSU student reporter at the university's publication the Lantern about his fear about being negatively stereotyped. "I wanted to pray in the open," said Artan, "but I was kinda scared with everything going on in the media. I'm a Muslim, it's not what the media portrays me to be. If people look at me, a Muslim praying, I don't know what they're going to think, what's going to happen. But, I don't blame them. It's the media that put that picture in their heads," he told reporter Kevin Stankiewicz.
Yet the expression was more one of anxiety. Artan went on to say that, he found a place to pray without incident.
Officials continue to gather information about Artan's history in their efforts to determine what caused the young immigrant man—who appeared to be succeeding as a student—to go off the rails between his August 2015 interview, and his vicious attack fifteen months later.
Among the clues being examined is a Facebook diatribe, posted minutes before Artan's potentially deadly attack, which rants against U.S. policy toward Muslims, mentioning Myanmar specifically, which he reportedly wrote had pushed him to a "boiling point."
"I am sick and tired of seeing my fellow Muslim brothers and sisters being killed and tortured EVERYWHERE," Artan reportedly posted.
"America!" the Facebook post continued, "Stop interfering with other countries, especially the Muslim Ummah. We are not weak."
---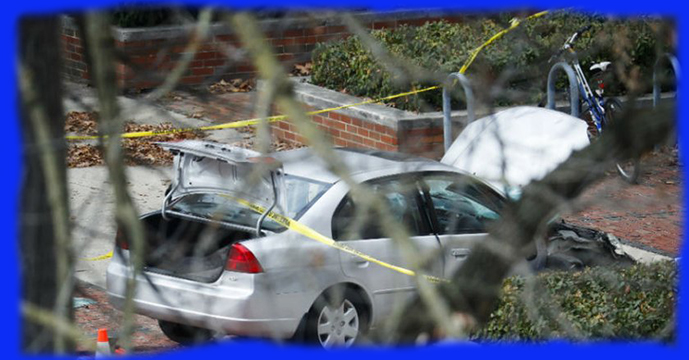 QUICK ACTION
When the attack began, students started posting photos and videos on Twitter warning each other of the danger, and trying to get information.
Eleven people were reported hospitalized after the attack. All were in stable condition, save for one victim who was in critical condition. Yet while serious, the injuries were reportedly not life threatening.
At first there were reports of two attackers, one with a gun. But as time went by, the shooter story was amended. Despite rumors of a second suspect, police believe there was one person involved in the attack. Less than a minute after the attack, an OSU police officer fatally shot the suspect, after ordering him to drop his weapon.
The Washington Post reported conversations with bystanders, including the following:
"We were waiting for the firetrucks to go. As soon as the firetrucks started to pull away, a white Honda Civic came flying into the crowd," Chapman said. "It probably hit three or four people. We thought it was an accident at first. Once the car had stopped, everyone was making sure the driver was okay. But he got out of the car and immediately started slashing people closest to the car with a knife.

"He got out of the car and started slashing everyone nearby," Chapman said. "After that, I ran. Once I recognized he was attacking people with a knife I got out of there as fast as I could. The guy next to me, his hand got cut."
The police officer who took quick action and fatally shot Artan was identified as OSU Officer Alan Horujko, who is 28. Authorities said Horujko's quick action helped minimize the toll of the attack.
---
EDITOR'S NOTE: This post was updated on 11/29/2016 at 11:40 a.m.