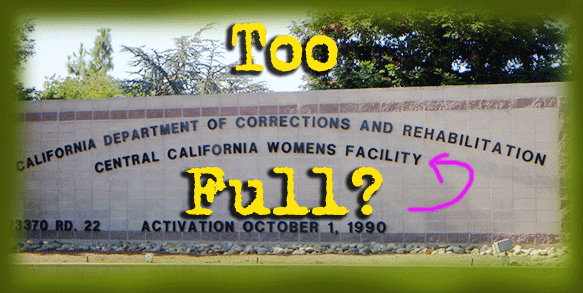 TOO MANY WOMEN: Are California's female inmates bearing the brunt of the state's overcrowding problem?

by
Matthew Fleischer

---

California's 2011 prison realignment plan, has rerouted thousands of inmates into the county jails who, in past years, would have landed in the state's overcrowded prisons. In the first year of the state's massive corrections reform strategy, no group benefitted more from the new policies than women in the system.

In particular, female inmates profited from newly devised alternative custody programs, like the one that allowed certain "primary caregiver" mothers, convicted of non-violent, non-serious, non-sexual offenses, to complete their sentences at home or in community facilities. Plus, since the core of the AB109 reforms was to keep all future non-non-non offenders in their respective counties, the fact that nearly a full third of California's female inmates were locked up on drug offences meant that the women's population numbers plunged faster than those of the men. From 2011 to 2012, California's female inmate population dropped from 9,038 to 6,142, while the number of inmates in female prisons, compared with the design capacity of those facilities, plummeted from to 170% to 116.9%.

For context, the Supreme Court ruling that forced California's hand in pushing forward with realignment determined that prisons functioning above 137.5% capacity produced conditions that far too often violated the 8th Amendment and constituted cruel and unusual punishment. As Justice Anthony Kennedy wrote in the majority decision, "The medical and mental health care provided by California's prisons falls below the standard of decency that inheres in the Eighth Amendment. This extensive and ongoing constitutional violation requires a remedy, and a remedy will not be achieved without a reduction in overcrowding."

---

POPULATION DROPS, INMATES GAIN

Even in its first months, the population decline began producing positive collateral effects for female inmates. By February 22 of 2012, women's facilities in California had already dropped below the 137.5% marker – and continued declining from there. An April 2012 San Francisco Chronicle feature on the Central California Women's Facility (CCWF) outside Chowchilla praised the "quiet hallways" and increased "access to the handful of successful vocational programs this facility still offers, including a cosmetology school, a dental lab and a flag-making factory."

What a difference a year makes.

After those tremendous gains of 2012, however, California women's correctional facilities are once again among the most crowded in the state's 33-prison system. The reason is not difficult to determine: last year, the California Department of Corrections and Rehabilitation converted Valley State Prison women's facility into a men's facility, in order to ease overcrowding elsewhere. The two remaining female prisons, Central California Women's Facility (CCWF) outside Chowchilla, and the California Institute for Women in Chino, were forced to absorb VSP's population.

As a result, overall numbers in women's facilities shot up to 153.5% of capacity — now officially higher than the infamously crowded men's facilities, which are operating at 145.7% capacity.

CCWF, in particular, is suffering. According to the most recent population report from the CDCR, CCWF is operating at nearly 175% capacity, second only to North Kern State men's prison as the most packed in California.

It seems the Supreme Court ruling that ordered drastic population reductions made no stipulations about capacity numbers in individual facilities – only that the overall system had to come below the 137.5% borderline. So, legally speaking there is nothing wrong with raising capacity in women's facilities to ease overcrowding for men.

---

WOMEN TAKE THE HIT

But does this mean women are shouldering the brunt of California's population reduction efforts?

"Absolutely," says Courtney Hooks, communications director for the prisoners' rights organization Justice Now. "Historically, people in women's prisons have tended to self-harm instead of riot. So CDCR probably felt like it was OK to overcrowd there because they can keep the repercussions quieter."

Not only are women packed in, sometimes eight to a room meant for four inmates, but the population demographics of the facility have changed, making the facilities more dangerous than they were two years ago, when capacity was at similar rates, say advocates. Because those convicted of drug crimes and other lower level offenses are now being sent to county jails, the women who are suddenly jammed on top of each other are far more likely to be serious offenders.

Justice Now pays routine legal visits to California's female prisons to monitor conditions and provide legal aid for inmates. This past May, they received testimonials from various inmates about what they described as dangerous conditions inside CCWF.

"I have never experienced this amount of violence and unsafe environment as I have since being transferred to CCWF," wrote one inmate who asked to remain anonymous, for fear of retribution from guards. "I have encountered more violence at CCWF in five months than in 15 years at VSPW…Rehabilitation is not even an option anymore."

California Department of Corrections and Rehabilitations spokesperson Dana Simas concedes that realignment has affected female inmates much more than it has their male counterparts. "Lower level offenders no longer come to state prison. To say that tensions are running high, however…I haven't seen any incidents that would indicate that to be the case. No female institution has been on lockdown in over 2 years."

Yet advocates for female prisoners say that overcrowding inherently produces precisely the kind of problems that the Supreme Court designated as cruel and unusual punishment, hence its sharply written order to the state to reduce numbers or face unpleasant consequences.

"What causes medical neglect, illness and [unnecessary] death —the conditions that led to lawsuits and federal oversight–is how overcrowded individual prisons are," says Justice Now's Hooks.

---

COLLATERAL DAMAGE REPORTED TO PROGRAMS AND SERVICES

Misty Rojo, program coordinator for the California Coalition for Women Prisoners, and a former inmate herself, has seen first hand what overcrowding does to a prison.

"The system can't accommodate the number of women they're trying to service. A shortage of staff leaves women [functionally]* locked down. They want to learn vocational skills, but are [prevented] because of lack of staff [to handle the logistics of classes for such a large population]. So women are losing out on any possibility of rehabilitation."

Rojo's organization works with women on the inside, who tell her that the woeful medical care that prompted the Supreme Court's decision has resurfaced inside CCWF.

"We're getting reports that women transferred to CCWF from Valley State are no longer getting the medications they were used to getting," she says.

Aside from the health concerns and lack of access to rehabilitative programs that can help the women's chances of succeeding when they're released, there are reports that even the little things that make life bearable for women are being adversely affected.

"Mail is not running the same," she says. "Inmates we spoke with [at CCWF] who work recycling tell us they found bags of undelivered mail that were just thrown away. We get letters all the time asking why we haven't written back. We have. The inmates are just not getting them. That's because of overcrowding."

The CDCR's Simas says that these concerns about overcrowding in relation to capacity are overstated.

"100 percent capacity would mean everyone is housed in a single cell," she tells WitnessLA. "By our definition, there is no overcrowding like you saw before realignment. There is no one being housed in triple bunks, or gyms and day rooms. All the inmates are able to access programs. If you were to go in to a male prison, or female prison, you would not see any disparate treatment between the two."

Simas says that any capacity concerns should ease when the newly opened Folsom Women's Facility becomes fully operational.

"CCWF is high right now," she admits. "Folsom, however, isn't at capacity yet. There are 186 women there now, but the facility can hold over 400."

Once more inmates are transferred to Folsom by fall of 2013, Simas estimates capacity at CCWF should likely drop to around the mid-160's.

That fractional drop, however, will do little to appease advocates like Rojo.

"Everything that's happening is only happening for the men. None of that focus has been brought to women. Based on our conversations with the CDCR, we see no sustainable plan to reduce overcrowding [in women's prisons]."

---

FOR WOMEN, SLO-MO RELIEF ONLY

Last Monday, California petitioned the Supreme Court to block the pending order that calls for releasing 9,600 more inmates by the end of the year.

"California has now diverted tens of thousands of low-risk inmates from state prison to local authorities…, expanded good time credits for certain classes of inmates …, and eliminated any need to use gymnasiums and day rooms for anything other than their intended purposes," Governor Jerry Brown and Attorney General Kamala Harris wrote in a joint letter to the court.

Realignment is working to ease crowding, Brown seems to be arguing, and that process can't be rushed by arbitrary deadlines.

Indeed, progress has been made in substantially reducing California's prison population. The CDCR, however, as indicated by Simas, has made it clear it sees no problem with the remaining overcrowding inside California's women's correctional facilities. If realignment continues on its current course, system-wide numbers should continue to drop. But given that the low hanging fruit of non-violent, non-serious female offenders have already been mostly channeled out of the prison system, the state's two women's prisons will get the least relief.

Thus, it seems it will be the women remaining in lock-up who will have to endure the indignities and the outright harm of overcrowding while the larger system slowly eases into compliance with the Supreme Court's mandate.