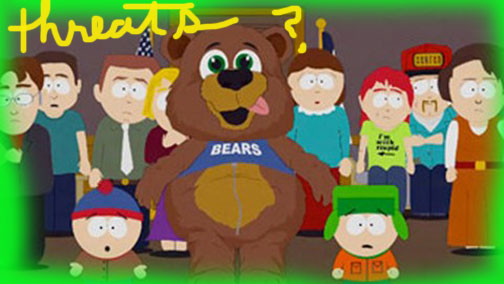 South Park's creators, Trey Parker and Matt Stone have receive death threats based on references to the prophet Muhammad who, in the cartoon, was dressed in a bear costume. (Well, actually the Muhammad was thought to be in the bear outfit. However, it turns out it is actually Santa. So Muhammad is never pictured on the series—disguised or otherwise. But no matter.)
The LA Times (among others) has the story:
In its 200 shows, the irreverent animated program "South Park" has mercilessly satirized Christianity, Buddhism, Scientology, the blind and disabled, gay people, Hollywood celebrities and politicians of all persuasions, weathering the resulting protests and threats of boycotts.

But this week, after an ominous threat from a radical Muslim website, the network that airs the program bleeped out all references to the prophet Muhammad in the second of two episodes set to feature the holy figure dressed in a bear costume. The incident provides the latest example that media conglomerates are still struggling to balance free speech with safety concerns and religious sensitivities, six years after Dutch filmmaker Theo van Gogh was slain for making a film critical of Islamic society.

Comedy Central declined to comment on the latest incident. But "South Park" creators Trey Parker and Matt Stone clearly disagreed with their bosses' handling of the situation. A statement posted on their website said that executives "made a determination to alter the episode" without their approval and that the usual wrap-up speech from one character didn't mention Muhammad "but it got bleeped too."

The network may have thought it had no choice after revolutionmuslim.com, the website of a fringe group, delivered a grim warning about last week's episode, which depicted Muhammad dressed as a bear….
(Again, it turns out not to be Muhammad at all.)
On the site Matt and Tray were warned that "what they are doing is stupid and they will probably wind up like Theo Van Gogh for airing this show." A photo of Van Gogh's body was posted along with the written threat.
May Trey and Matt—and their gross and glorious comedy work—stay safe from any kind of harm. And may those who would make such threats find tolerance.
Here is what Aziz Poonawalla, blogger and Muslim, said about the controversy, and the threats, on Beliefnet.
Some Poonawalla clips:
Most other blogs and news sites are not providing a link to RevolutionMuslim.com – which appears to have been hacked, possibly by angry fans of the show – but I think it's important to let these idiots know that they are being critiqued. And my critique of them is much the same as my critique of Anwar al-Awlaki: they are cowards, who seek to gain publicity for themselves.

[SNIP]

In fact, it is precisely the over-reaction of extremist muslims who wave around threats of violence that leads to more depictions and insults to the Prophet, not less. The right way to inculcate respect for the Prophet among non-muslims is not to act like a barbarian but to simply express ourselves and explain our beliefs – and then excercise our own right, to walk away. It is by their own actions, supposedly in "defense" of the Prophet, that these extremists actually cause greater offense to the Prophet's legacy than any mere cartoon…
UPDATE:
This was not posted last night, but here is what Jon Stewart had to say about the situation:
PS: For the record, I would appreciate it if CNN-–which has been bordering on the provocative and overly sensational in its coverage of this loathsome incident—would focus an equally harsh eye on those who suggest and provoke violence in the direction of political figures with whom they disagree.
PPS: Also, for the record: I love South Park.