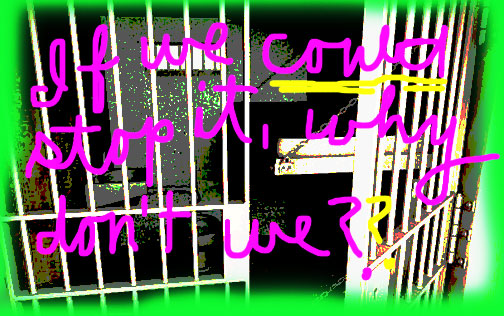 The New York Review of Books has a remarkable two part series on rape in American correctional facilities. The stories appear in the March 11 issue and the March 25 issue, and are written by David Kaiser and Lovisa Stannow.
The first part concerns itself with the prevalence of rape in juvenile facilities, jails and prisons. It starts with harrowing accounts of the abuse scandal at the Texas Youth Commission:
Adults who want to have sex with children sometimes look for jobs that will make it easy. They want authority over kids, but no very onerous supervision; they also want positions that will make them seem more trustworthy than their potential accusers. Such considerations have infamously led quite a few pedophiles to sully the priesthood over the years, but the priesthood isn't for everyone. For some people, moral authority comes less naturally than blunter, more violent kinds.

Ray Brookins worked for the Texas Youth Commission (TYC), the state's juvenile detention agency. In October 2003, he was hired as head of security at the West Texas State School in Pyote. Like most TYC facilities, it's a remote place. The land is flat to the horizon, scattered with slowly bobbing oil derricks, and always windy. It's a long way from the families of most kids confined there, who tend to be urban and poor; a long way from any social services, or even the police. It must have seemed perfect to Brookins—and also to John Paul Hernandez, who was hired as the school's principal around the same time. Almost immediately, Brookins started pulling students out of their dorms at night, long after curfew, and bringing them to the administration building. When asked why, he said it was for cleaning.[1]

In fact, according to official charges, for sixteen months Brookins and Hernandez molested the children in their care: in offices and conference rooms, in dorms and darkened broom closets and, at night, out in the desert. The boys tried to tell members of the staff they trusted; they also tried, both by letter and through the school's grievance system, to tell TYC officials in Austin. They did so knowing that they might be retaliated against physically, and worse, knowing that if Brookins caught them complaining he could and would extend their confinement,[2] and keep on abusing them.[3] They did so because they were desperate. But they were ignored by the authorities who should have intervened: both those running the school and those running the Texas Youth Commission.[4] Nor did other officials of the TYC who were informed by school staff about molestation take action……
Part two talks about the solution to the problem that the authors call "one of this country's most widespread human rights problems, and arguably its most neglected."
They discuss the National Prison Rape Elimination Commission's report, which "analyzes the dynamics and consequences of prisoner rape, shows how sexual abuse can be and in many cases already is being prevented in detention facilities across the country, and proposes standards for its prevention, detection, and response."
In any case, read the stories here and here. This is important work.
---
PS: Why is it, by the way, that the New York Review of Books has written more thoughtfully and more frequently in the last year or two about the deeper issues surrounding prison reform, than, say, The Los Angeles Times has?