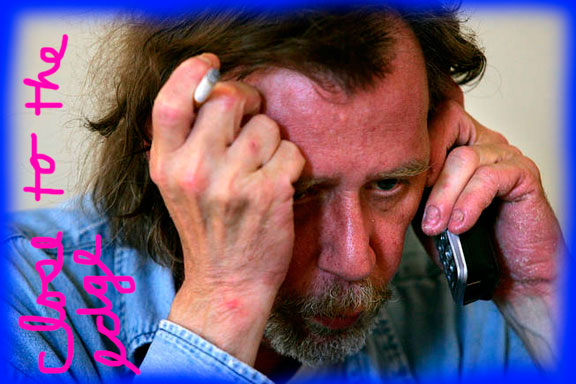 Rodger Jacobs, a wonderfully erudite, warm and funny California writer, author and documentary producer is teetering on the edge of homelessness and is frightened of what life will hold if he falls off that edge—a possibility that, at the moment, is looking all but inevitable.
At the request of editors at the Las Vegas Sun who know him , Jacobs wrote an account of his situation, which the Sun printed on Sunday.
I knew Rodger had moved to Las Vegas and was having financial trouble because of a worsening physical condition. But I didn't know things had gotten this fiscally perilous until Rodger dropped me a note Sunday night to alert me to the story in the Sun.
Below you'll find the editor's note and the beginning of Rodger's piece. It is worth taking the time to read the whole thing—and then to take an extra moment to send him whatever good wishes you can. (However, if you have some freelance writing assignments to spare, send those instead.)
Editor's note: Think "homeless" and most minds turn to scenes of disheveled men and women living in makeshift tents along Foremaster Lane near downtown Las Vegas. Many of them have adopted homelessness as their lifestyle. But the Great Recession has created the new homeless, people with good work histories who are victims of unemployment and foreclosures. We won't necessarily find them sleeping on a downtown sidewalk. We asked Rodger Jacobs to tell his story, in his own words.

As I write this, taking a brief late night respite from packing books into boxes, I am just days away from an uncertain future, a Black Tuesday when the Sword of Damocles will, under legal edict, fall upon my head; and, as the ancient Greek and Roman tale of Dionysius and Damocles urges, I invite you to walk a mile in my shoes for a few brief moments.

Within a matter of days I am going to become one of the more than 13,000 homeless people living in Clark County and, frankly, I am frightened.

I am a 51-year-old professional writer; throughout my 20-year career I have been an award-winning feature documentary producer ("Wadd: The Life and Times of John C. Holmes" and multiple educational documentaries), a trade and arts magazine journalist, a successful playwright ("Go Irish: The Purgatory Diaries of Jason Miller"), a true crime author and a literary event producer. For the past two years, I have enjoyed my role as a book and literature columnist for Pop Matters, a popular online journal of cultural criticism.

But in the larger scheme of things, my credentials are utterly meaningless. In less than two weeks, my girlfriend and I will be without a home in a town where we have no friends, no family, and apparently no safety net to catch us when we fall.

I have been medically disabled for the past eight years; my primary source of income is my monthly Social Security disability payment of $926 and whatever supplemental income I can earn within the $1,000 monthly limit, but with jobs in the freelance market few and far between in the new economy, several months often pass without additional income.

My girlfriend, Lela, and I relocated to Las Vegas in 2007 from San Francisco to care for my terminally ill mother; the plan at the time was to liquidate my mother's meager estate upon her passing, see to her funeral arrangements and return to California. But by the time my mother succumbed to her illness two years ago this week, the recession had hit, jobs for myself and Lela — a freelance editor — were scarce, my health was worsening, and we found ourselves effectively stuck in Southern Nevada. We were living a hand-to-mouth existence, with no savings and uncertain where the next month's rent was coming from — let alone money for groceries, transportation, prescription and doctor co-pays and medical supplies not covered by Medicare…..
Read the rest.
---
The photo, by Sam Morris of the Las Vegas Sun, was taken as Rodger talked to one of his editors to see if he could expedite a check he is owed. Reportedly, the editor wasn't able to do anything about speeding up payment.
---
UPATE: Commenter sbl pointed out that the blog Griffith Park Wayist has information as to how someone can help Rodger if anyone has a mind to do so. They've also posted the video that the Sun made of Rodger and his circumstance, which is assuredly worth watching.