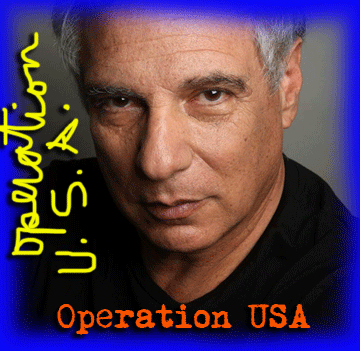 RICHARD WALDON AND OPERATION USA: THE "CHARITY BUCCANEER" STILL RIDES AFTER 35 YEARS
In Wednesday's LA Times, Patt Morrison interviews Richard Waldon, the LA guy who, as the founder of Operation USA, has managed for 35 years to bring medicines, food and other aid to areas of the world deeply in need—sometimes when others could not or would not venture in.
International relief work is a little outside WLA's normal story area But I've known Richard for all of those 35 years and, as a reporter and friend, was on a couple of Op USA's earliest wild adventures in aid bringing.
Richard's the real deal, and I thought you might enjoy the interview as a change of pace, (Be sure to read the whole story. Otherwise you'll miss such excellent tidbits as how Richard uses the latest issue of Playboy Magazine as a rarely-fails bribe to get past certain roadblocks in certain countries.)
Here are some clips:
Almost on impulse, almost 35 years ago, Richard M. Walden and a friend rounded up six tons of relief supplies and a jet to ferry them to Vietnamese boat people in Malaysia. Thus was Operation California — now Operation USA — born. A Times headline soon called him the "charity buccaneer," a red-tape-slashing contrarian who fretted about the "international web of neglect," and who still has sharp words for relief efforts unmet and relief agencies that don't measure up. He has steadfast celebrity supporters, like Julie Andrews, but the advent of social media that let anyone text a few bucks to Lady Gaga's favorite charity in the middle of a concert has made things harder for brick-and-mortar charities like Operation USA. Walden soldiers on, boldly going where too many charity-come-latelies can only try to go.

[SNIP]

What sort of dangers in general do you face?

We were not far from Abbottabad, Pakistan. We had an ambulance to evacuate women in complicated labor from the frontier to Islamabad hospitals. It went up with no English-language markings [but] it got stopped, trashed and burned. They didn't harm the lady in labor and the driver, but that kind of stuff goes on.

How does Operation USA work?

In most cases we look for partners, from U.N. agencies to small, in-country NGOs.

One of our all-time bests is in Jacmel, Haiti, where for $1 million we built a public primary school which has 1,000 kids, no fees, and is a center of community activities, with free architecture from L.A.-based Gensler, money from Honeywell Corp.'s foundation and quake-proofing engineering from Sacramento-based Miyamoto; 100% Haitian-built. Another is a seniors center in Ofunato, Japan, for abandoned seniors in a small port mostly destroyed by the quake. [Again] free architecture, free engineering, free land, all from Japanese partners with money from Honeywell's foundation.

We [ran] the first U.S. aid to Cambodia after the war, the first to Vietnam, to Ethiopia [in 1984]. Operation USA predates nearly all the major entertainment industry-driven causes by years. In 1980 we had a two-hour prime-time special on the Cambodian famine which featured Julie Andrews, Frank Sinatra, Michael Jackson, Jane Fonda and others.

I can't say we are still unique, only that we were often the "only Indians in a cowboy town…."
---
DECADE OLD STRIP & CAVITY SEARCHES IN SF JAIL MAY GARNER COUNTY PAYOUT OF $450,000
Thirteen male and female plaintiffs appear about to receive $450,000 from San Francisco County for being subjected to strip and body cavity searches after being arrested on minor charges more than ten years ago.
The settlement, that has been recommended by the SF City Attorney, is interesting in light of the fact that, last spring the U.S. Supreme Courted ruled in a 5-4 decision that strip searches in the nation's jails were perfectly constitutional, even absent any kind of probable cause.
However, in the case of the 13 San Francisco plaintiffs, there was some kind of cavity searche—either "visual" or…the more invasive kind—in addition to the strip search, hence the settlement offer.
When I spoke to an LASD spokesman, Sgt. Pena, he confirmed that, yes, strip searches in LA County Jail are indeed standard operating procedure, regardless of why one has landed in lock-up. But real cavity searches require the okay of a judge, just as one would need for a search warrant.
KCBS San Francisco also reports on the upcoming settlement.
---
STAR WITNESS FOR PRO-PROP 8 IN CALIFORNIA COURT NOW WANTS A GAY-STRAIGHT COALITION TO STRENGTHEN MARRIAGE (OKAY. THAT WORKS.)

Mark Oppenheimer has the story in Wednesday's New York Times. Here's a clip:
David Blankenhorn, a traditional-marriage advocate and star witness in the Proposition 8 trial in California in 2010, shocked his allies with an Op-Ed article in The New York Times last June announcing that he was quitting the fight against same-sex marriage. "Instead of fighting gay marriage," Mr. Blankenhorn wrote, "I'd like to help build new coalitions bringing together gays who want to strengthen marriage with straight people who want to do the same."

He is about to find out how much support such a coalition can get.

On Thursday, Mr. Blankenhorn's research group, the Institute for American Values in New York, plans to issue "A Call for a New Conversation on Marriage," a tract renouncing the culture war that he was once part of, in favor of a different pro-marriage agenda. The proposed conversation will try to bring together gay men and lesbians who want to strengthen marriage with heterosexuals who want to do the same.

The document is signed by 74 well-known activists, writers and scholars, on the left and the right, including the conservative John Podhoretz, editor of Commentary magazine; John Corvino, a gay philosopher; Robert N. Bellah, a sociologist; Caitlin Flanagan, a social critic; and Glenn C. Loury, an economist — once conservative, now less so.

"While the nation's attention is riveted by a debate about whether a small proportion of our fellow citizens (gays and lesbians) should be allowed to marry," the statement reads, "marriage is rapidly dividing along class lines, splitting the country that it used to unite."
---
IMMIGRATION REFORM AND THE PROBLEM OF MISINFORMATION
Marcos Breton at the Sacramento Bee speaks rather plainly about the fact that much of the split among Americans on immigration reform has mostly to do with misinformation.
Here's a clip:
As President Barack Obama gave the most important speech on immigration reform in years on Tuesday, it became clear that his greatest foe is not the Republican Party on this terribly divisive issue.

It's misinformation.

There is so much we think we know about immigration that is wrong. Some don't want to know the real truth or seem addicted to having little brown people to blame for all of America's woes.

What's more American than one group dumping on another?

For most of my 50 years, the punching bags of choice have been people with roots in Mexico…