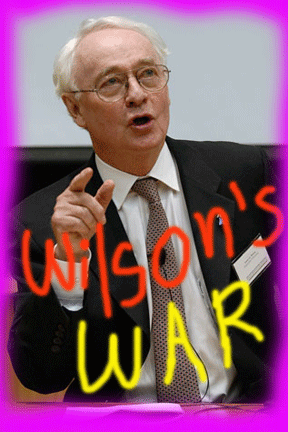 In Sunday's LA Times Opinion section, famous conservative criminology prof, James Q. Wilson, is once again trotting out his contention that locking up masses of people is a fabulously effective crime-fighting tactic. This time Wilson busily opines that the fact that 1 in every 100 American adults is behind bars, and 1 in 9 African American men between the ages of 20 to 34 is locked up (as revealed by the recently released Pew Center on the States' study)…..isn't necessarily a bad thing. Aside from the jaw-dropping level of cynicism required for such a perspective, it doesn't hold water.
For years, Wilson (AKA Mr. Broken Windows Theory) has attempted to draw a straight line between incarceration patterns and crime patterns, but to do so he has to cherry-pick his studies and statistics. I'd launch a study-filled counter argument but fortunately, Robert Gordon writing for the New Republic, has done it for me here.

PS: Before I turn you over to Wilson and Gordon, a couple of facts and figures: According to the Bureau of Justice Statistics drug offenders account for about 25 percent of local jail inmates, 21 percent of state prisoners, and 55 percent of federal prisoners. Since 1980 the number of drug offenders in state prisons has increased by 1,200 percent, more than four times the increase in violent offenders.
And have our drug use, abuse and sales stats gone down a commensurate 1200 percent in that time? Has this crazy incarceration binge reduced the number of drug users, gangs and gang members? You do the math.