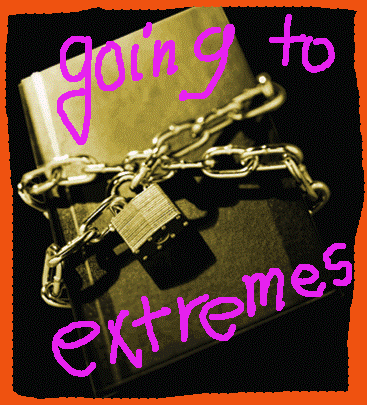 Earlier this month it came to light that, since June of this year, US Federal prison authorities had been quietly directing chaplains nationwide to get rid of thousands of the religious books that prisoners had been reading. Everything that wasn't on a brand new list of "approved" religious books was ordered tossed out by the Bureau of Prisons.

Here's how the Bureau's report explained it: "The presence of extremist chaplains, contractors or volunteers in the BOP's correctional facilities can pose a threat to institutional security and could implicate national security if inmates are encouraged to commit terrorist acts against the United States."

(Extremist chaplains???)

According to today's New New York Times it appears that, after civil libertarians, religious groups and members of congress collectively flipped out, the BOP relented a little.
But, first, to give you a fuller picture of the idiocy of this book purging plan, here's a bit of backstory from an earlier NY Times article about the banning:

The chaplains were directed by the Bureau of Prisons to clear the shelves of any books, tapes, CDs and videos that are not on a list of approved resources. In some prisons, the chaplains have recently dismantled libraries that had thousands of texts collected over decades, bought by the prisons, or donated by churches and religious groups.
The BOP's stated purpose was to get rid of books that might incite to violence. Yet, instead of simply removing the few objectionable volumes, Federal prison officials, in their infinite wisdom, began making lists of "acceptable" books, which arbitrarily left thousands of important and classic volumes out of the new catalog of those approved.
"It's swatting a fly with a sledgehammer," said Mark Earley, president of Prison Fellowship, a Christian group. "There's no need to get rid of literally hundreds of thousands of books that are fine simply because you have a problem with an isolated book or piece of literature that presents extremism."
Jewish inmates in some prisons said that even the Torah was removed.
(Prison chaplains were particularly irritated because they say they already routinely got rid of any books that were too extreme.)
This week, although prison officials agreed to put the books back for the time being, they have said they aren't abandoning the strategy. (sigh.)
********************************************
UPDATE

Two New York prisoners filed a lawsuit last month against the what the BOP has (absurdly) named "The Chapel Library Project."
Among the books banned at their prison were "When Bad Things Happen to Good People" by Rabbi Harold S. Kushner, and "The Purpose-Driven Life" by the Rev. Rick Warren, the lawsuit said.

But even more sadly predictable is this (reported by the AP):

The Muslim portion of the chapel library has been reduced to the Quran and two other titles after the removal of prayer books, prayer guides and the Hadith, the most important source for Muslim practice and faith after the Quran, the lawsuit says.
Well, in fairness, although that might have been true for one New York prison, the nationwide list for Islam is a little longer that that. (You can take a look for yourself here.)
But, the problem with the Islamic list can be easily illustrated by its treatment of the 13th century Sufi poet, Jalal Al-Din Rumi. There is, indeed, one Rumi volume on the list, the Colman Barks translated, "Essential Rumi." And there is also a book and film about Rumi. But that's it. For instance, in a truly bizarre omission, there is no allowed Rumi book published in the original Persian.
Even on my own home book shelves, I have four books of Rumi's poetry. According to the Bureau of Prisons, three of those ultra dangerous volumes would be banned—a good thing, of course, since they include obviously anarchic sentiments like these:
Find the real world, give it endlessly away.
Grow rich, fling gold to all who ask.
Live at the empty heart of Paradox.
I'll dance there with you, cheek to cheek.
– Rumi