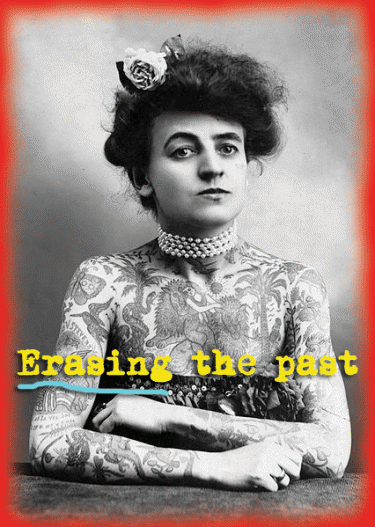 NEW CA BILL WOULD EXTEND TATTOO REMOVAL SERVICES TO FORMER SEX WORKERS AND VICTIMS OF HUMAN TRAFFICKING
A new California bill seeks to provide free tattoo removal services to former prostitutes and others branded by tattoos meant to identify them within the sex trade. (Homeboy Industries is currently providing the service for free.)
Megan O'Neil has the story for the Pasadena Sun. Here's how it opens:
A man's name is scrawled across Krystal Lopez's neck in black lettering like that of a centuries-old manuscript.

It is a bitter souvenir for the 18-year-old Pasadena resident, who has worked hard to sever ties with the former pimp who inspired it and the lifestyle it represents. She has started laser treatments to have the tattoo removed at Los Angeles-based Homeboy Industries, a nonprofit supporting ex-gang members that provides the service for free.

Lopez doesn't fit the Homeboy profile, though. She has never been in a gang, and as a result, she and others like her are deep in the queue.

"There are girls I know who have three different people on them," Lopez said. "There is a huge waiting list for [removal services]. The priority is always the gang members."

The wait soon may be pared down. Assemblyman Anthony Portantino (D-La Cañada Flintridge) is shepherding through the California Legislature a bill that would expand the pool of people eligible for state-facilitated, federally-funded tattoo removal services to include those tattooed for identification in human trafficking or prostitution.
---
SIXTY PERCENT OF DOCTORS AT LOUISIANA STATE PRISONS HAVE BEEN DISCIPLINED
Nine out of the fifteen resident doctors at Louisiana state prisons have received sanctions by the state medical board for criminal activity ranging from drug dealing to sex crimes.
The Times-Picayune's Cindy Chang has the story. Here's how it opens:
Of the 15 doctors working full-time at Louisiana state prisons, nearly two-thirds have been disciplined by the state medical board for issues ranging from pedophilia to substance abuse to dealing methamphetamines.

Two have served federal prison time. Five are still on probation with the medical board and have restrictions on their licenses, including bans on prescribing controlled substances. Altogether, nine have received the rare black mark of a board sanction.

Louisiana state prisons appear to be dumping grounds for doctors who are unable to find employment elsewhere because of their checkered pasts, raising troubling moral questions as well as the specter of an accident waiting to happen. At stake is the health of nearly 19,000 prisoners who are among the most vulnerable of patients because they have no health care options.

About 60 percent of the state's prison doctors have disciplinary records, compared with 2 percent of the state's 16,000 or so licensed medical doctors, according to data from the Louisiana State Board of Medical Examiners. The medical board is aware of the prison pipeline — in fact, a board-employed headhunter has sometimes helped problem doctors get prison gigs.

"Aside from being unethical, it is dangerous," said Dr. Sidney Wolfe, a physician and director of health research at the consumer advocacy group Public Citizen. "You're winding up having people who don't have any choice being where they are, getting taken care of by people with demonstrable previous records and problems with the way they practice medicine."
---
NADER'S THOUGHTS ON THE BROKEN PRISON SYSTEM
Ralph Nader's new opinion piece for the Register Citizen explores the problems within the current prison system and the corruption of the privatized prison industry. Here's a clip:
Ever visit a major prison? The vast majority of Americans have not, despite our country having by far a higher incarceration rate per capita than China or Iran. Out of sight is out of mind.

Imagine the benefits of the average taxpayer touring a prison. The lucrative prison-industrial complex would definitely not like public exposure of their daily operations. Prison CEOs have no problem with a full house of non-violent inmates caught with possession of some street drugs (not alcohol or tobacco). Our horrendous confinement system cannot change when it clings to perverse practices such as cruel, costly, arbitrary, mentally destructive solitary confinement (again, the highest in the world, see: http://solitarywatch.com/). Corporate profits drive the prison system's insanity.

Indeed, for the giant Corrections Corporation of America (CCA), times are booming. CCA builds their prisons or buys or leases public prisons from financially strapped governments. Barron's financial weekly can always be expected to give us the Wall Street perspective. In a recent article titled "Ready to Bust Out," writer Jonathan R. Laing (http://online.barrons.com/article/SB50001424053111903882904577477001345171564.html) is bullish on CCA stock. He thinks it could double to more than $50 a share if the company were to convert to a real estate investment trust (REIT).

Mr. Laing writes that CCA has cost advantages over the public-prison sector, paying lower non-union wages and using more automated technology. Besides, the company is a tough bargainer when it buys or operates public prisons. One CCA condition is that the facility must have 1,000 beds, can't be more than 25 years old, and get this, "the contract must guarantee a 90 percent occupancy rate." A guarantee backed by taxpayers no less, unless, that is, the clause works to put more prisoners in jail for longer sentences.

The Barron's article adds that CCA is counting on "the old standby of recidivism to keep prison head counts growing, filling its empty beds." To the impoverished rural communities where these prisons are located, it's about needed jobs.

The criminal injustice system has many faults, other than an inadequate number of beds filled with convicted corporate crooks. As the Justice Roundtable (http://justiceroundtable.com/), composed of a collation of over 50 national organizations, declares, "The current punitive system depletes budgets without making society safer…The Archaic system must be reformed to be rehabilitative, just and accountable."

How naïve! Don't these experienced people know that first they have to change the purposes of this system? Instead of wanting more prisoners and treating them in such ways that when they get out they are too unskilled and damaged to overcome the society's exclusionary pressures that half of them end up back in jail, they should be training these prisoners to be contributing members of society. But that's the problem of the gigantic prison machine that thrives on returning prisoners.