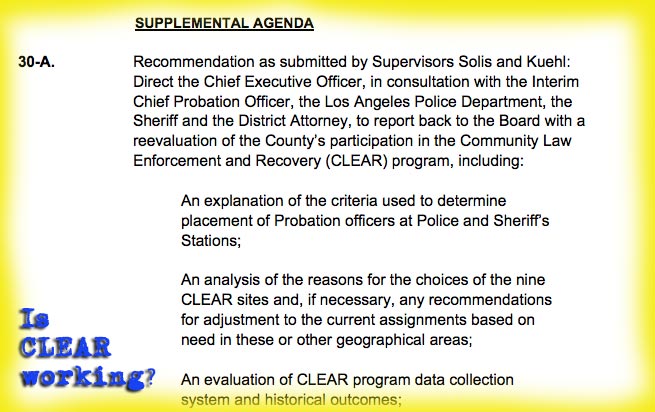 COUNTY OFFICIALS TO RE-EVALUATE A 1990s ANTI-GANG PROGRAM AND ITS EFFECTIVENESS
On Tuesday, the LA County Board of Supervisors voted unanimously to re-evaluate the county's participation in a multi-agency anti-gang program launched two decades ago, during a much different time in Los Angeles' gang history.
According to early LAPD data, the gang suppression-focused Community Law Enforcement and Recovery Program (CLEAR) appeared to be working as intended. But in light of Los Angeles' recent uptick in gang-related violence, the County Supervisors are concerned that the program relies on outdated strategies in a time when the national (and local) focus is shifting away from suppression and the lock-em-up approach, and toward intervention and rehabilitation.
"LAPD data showed nearly 60% of the homicides in [the city of Los Angeles] were either gang-related or gang-motivated," said Supervisor Mark Ridley-Thomas. "So I think this is really important and timely, but I also think there has to be a reassessment of the effectiveness of gang strategies that we aim to deploy. Some are old, crusty, unimaginative, and we keep doing the same things over and over again and getting the same results."
CLEAR was launched in November of 1996 through the President's Anti-Gang Initiative (AGI) with funding from the DOJ's Office of Community Oriented Policing Services (COPS), and runs on a combination of the yearly federal dollars, along with local general fund money.
When CLEAR came into being, although gang violence had dropped considerably from the awful high point of the early 1990's, both gangs and gang enforcement were still very much in the news. Los Angeles was less than two years away from the unfolding of the LAPD's Rampart scandal. The LAPD's Rampart-tarnished gang units, known as CRASH—or Community Resources Against Street Hoodlums—would be disbanded in 2000. But, the year before CLEAR was launched, in September of 1995, the high profile death in a gang shooting of a pretty three-year-old girl named Stephanie Kuhen inflamed public sentiment. And pressure was placed on public officials and law enforcement to take action.
CLEAR was—and still is—run as a collaboration between the LAPD, the LA County District Attorney's Office, LA County Probation, the LA City Attorney's Office, and California Department of Corrections and Rehabilitation's Division of Parole Operations. (The sheriff's department does not participate.)
The LAPD would deploy officers to CLEAR target areas, the first of which was the department's Northeast Division. Since 1996, CLEAR units were activated in eight more LAPD divisions: Foothill, Newton, Hollenbeck, Southeast, Southwest, Ramona Gardens, Rampart, and 77th Divisions. Along with the LAPD officers, armed probation officers participate in special operations, police ride-alongs, compliance sweeps, and search and seizures.
The LA City Attorney's Office and LA County District Attorney's Office prosecute resulting cases.
Now, the Supes want to know if these are really the best methods for LA's present day gang problems. Supervisor Sheila Kuehl described the need to examine the outcomes produced by any program, pointing to the recent past when ticketing truant students was thought to be effective, until research proved otherwise.
The motion, from Supervisors Sheila Kuehl and Hilda Solis directs the County CEO, in consultation with the Interim Chief Probation Officer, the Los Angeles Police Department, the Sheriff, and the District Attorney to report back to the board with an evaluation of the county's role in the CLEAR program, its outcomes and other data, whether CLEAR's strategies are up-to-date with the most current research on successful gang intervention, and how the county—if it chooses to continue participating in CLEAR—can regularly evaluate the program's value and effectiveness.
"The default is not prevention. The default is not intervention. The default is not re-entry. The default is suppression," Supervisor Mark Ridley-Thomas said. "So the question that CLEAR has to answer is how the resources are being used along those lines, in terms of suppression of gang violence versus activities that promote intervention and prevention."
---
DOZENS MORE RACIST, HOMOPHOBIC TEXT MESSAGES SURFACE IN SFPD'S ONGOING TEXT MESSAGE SCANDAL
San Francisco city officials will have to re-evaluate 207 criminal cases—including three murders—following the public release of more than 100 disturbingly racist and homophobic text messages between four SFPD officers in 2014 and 2015.
The text messages were found during an investigation into rape allegations against former San Francisco police officer, Jason Lai. The messages were exchanged between Lai and two other officers, Curtis Liu and Keith Ybarreta.
Here's a small sampling of Lai's alarming messages:
"Indian ppl are disgusting."
"I hate that beaner, but I think that nig is worse."
Lai reportedly also referred to one of his incident reports as "a story I wrote today."
The Guardian's Channing Joseph has the story. Here's a clip:
…Jason Lai, repeatedly used racist, homophobic and transphobic slurs like "nigga", "fag" and "tranny" to refer to San Francisco residents. He also makes offensive remarks about president Barack Obama and NBA player LeBron James.

"Do you know what Obama coffee is?" Lai wrote in an apparent joke. "Black and weak!"

[SNIP]

The revelation of the contents of the text messages is just the latest blow for the embattled police department, which has faced ongoing protests since the fatal police shooting of Mario Woods last winter.

Jeff Adachi, San Francisco's public defender, made the announcement after the district attorney's office sent him Lai's text messages last Friday as part of the discovery process for a robbery case that Lai had been called to investigate.

"It would be naive to believe these officers' bigotry was reserved solely for text messages," Adachi said in a statement. "It is a window into the biases they harbored. It likely influenced who they stopped, who they searched, who they arrested, and how they testified in criminal trials."

He added: "It is chilling how casually former officer Lai dehumanizes the citizens he was sworn to serve. He wished violence upon the very people he was being paid to protect and none of his colleagues turned him in."
CNN's Scott Glover and Dan Simon also reported on this latest development in the text message scandal.
---
A LOOK BACK AT ASSISTANT SHERIFF TERRI MCDONALD'S TIME WITH THE LASD
As Terri McDonald prepares to retire from her post as LA County's Assistant Sheriff overseeing the Custody Division, the LA Times' Cindy Chang has tells the story of McDonald's history and hiring, her efforts to eradicate systemic abuse and improve conditions in the jails, for both inmates and deputies, during her three years with the LASD. Here's a clip:
In a department where jailers were accused of adopting an "us versus them" attitude, McDonald brought a gentler approach, taking time to chat with inmates about their concerns. She sought to revamp a culture in which deputies viewed the jails as an unsavory assignment before moving to patrol.

In 2013, the year she arrived, there were 10 jail suicides. Last year there was one.

The most severe injuries caused by deputies — resulting in broken bones or worse — have decreased to a handful each year. Agreements McDonald helped negotiate with federal authorities and the ACLU now govern how mentally ill inmates are treated and when deputies can use physical force.

But hundreds of inmates still are injured in confrontations with deputies each year — although most incidents are minor — and the number has been climbing. And deputies are being assaulted with increasing frequency, with some complaining that the reforms have given inmates too much power.

Still, McDonald deserves credit for curtailing the worst abuses and making the jails a more humane place with her hands-on management, said Peter Eliasberg, legal director of the ACLU of Southern California and a frequent critic of the jails.

"I don't think everything's perfect," Eliasberg said. "But there's been a dramatic decrease in the brutal beatings that were quite commonplace prior to her arrival."

In late 2012, a blue-ribbon citizens' commission placed much of the blame for the endemic violence on the Sheriff's Department's top brass — and recommended that the jails be led by a corrections professional familiar with how facilities in the rest of the country are run.

Then-Sheriff Lee Baca responded by hiring McDonald as an assistant sheriff in charge of the jails. It was a major shift for an agency that always had cycled its jailers in and out of street patrol.
EDITOR'S NOTE: We at WitnessLA are grateful for what Assistant Sheriff Terri McDonald accomplished in her tenure. We understand there are still problems in LA County's jail system, and they are not trivial. One does not reverse a toxic culture overnight. And we are also concerned by the rise in assaults on deputies. But we appreciate the no-nonsense, hardworking intelligence with which McDonald approached the work, and the unfailing decency with which she approached inmates, demanding respect, but also giving it. She has made a large difference at a crucial time in the life of our jails. And we truly thank her for it.