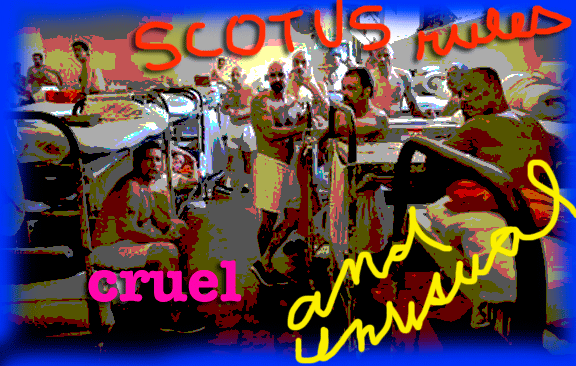 Amazing. It was a 5-4 ruling—as we guessed it likely would be. Anthony Kennedy was the swing vote and he also wrote for the majority:
"This case arises from serious constitutional violations in California's prison system. The violations have persisted for years. They remain uncorrected."
The case, which stemmed from the order of a panel of three federal judges which ordered California to reduce the chronic and catastrophic overcrowding in the state's prison system down to manageable levels, which means a reduction of the inmate population by about 33,000 prisoners.
California challenged the ruling contending that the judges– were overstepping their bounds and that it set a bad precedent.
Here's a clip from the story by Howard Mintz in the San Jose Mercury News, which appears to have one of the more temperate and factual takes on Monday morning's ruling:
The Supreme Court rejected the state's argument that the three-judge panel overstepped its authority and went too far in demanding such a dramatic release of prisoners. The federal court order required California to reduce its inmate population to about 137 percent of prison capacity, which would call for ridding nearly a quarter of the inmates from prisons.

The Supreme Court found that the order was reasonable, given the state's inability to rectify the overcrowding in a case that has stretched back decades. The justices also upheld the demand that the state reduce the overcrowding within two years, but instructed the three-judge panel to give the prison system flexibility if it is justified.

In a statement, Gov. Jerry Brown appeared ready to drop the state's fight against the court order and press ahead with his proposed legislation to reduce the prison population primarily by shifting inmates to county jails. He also suggested he'll push the Legislature to provide the funding to the counties that will be needed to transfer as many as 30,000 prisoners to the local level.

"As we work to carry out the court's ruling, I will take all steps necessary to protect public safety," the governor said.

California Republicans have already strongly criticized Brown's prison plan, which was introduced earlier this spring.
Governor Brown, who was after all the person whose office brought the cast to SCOTUS—both as attorney general and now governor—thus the literal loser this morning, responded with a practical plan as to how the overcrowding problem may be solved. [More on that in a separate story.}
However, in other quarters, there was the predictably hysterical and fact free reaction about tens of thousands of dangerous felons being released to run rife through the countryside.
---
Photo by Patrick Tehan/Mercury News archive