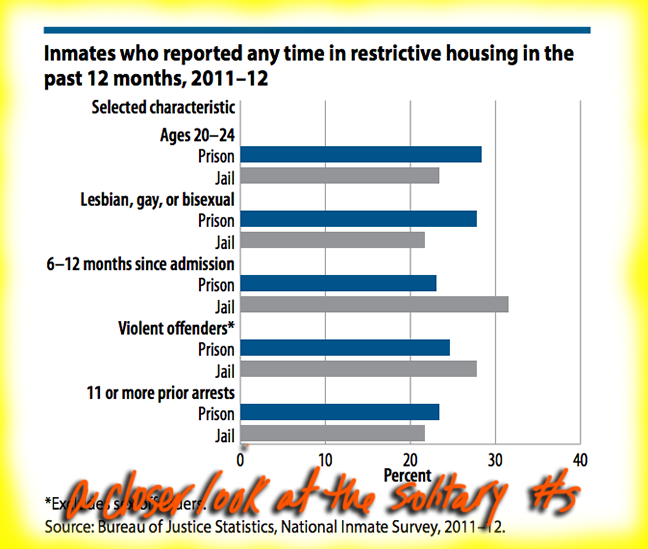 SURPRISING DATA SHOWS 20% OF INMATES IN THE US WERE PUT IN SOLITARY CONFINEMENT
Nearly one-fifth of state and federal prisoners and jail inmates spent time in solitary confinement between 2011-2012, according to a new report from the Bureau of Justice Statistics. For LGBTQ and mentally ill prisoners, the numbers were even worse.
Around 4.4% of prisoners and 2.7% of jail inmates across the country were held in "restrictive housing" on an average day, either in disciplinary or administrative segregation or solitary confinement.
Of those inmates who had been placed in restrictive housing, 10% of prisoners and 5% of jail inmates said they had spent more than 30 days in isolation.
Close to 30% of LGBTQ prisoners surveyed were placed in isolation, compared with 18% of heterosexual prisoners. Younger inmates and inmates without high school diplomas were similarly more likely to have spent time in restrictive housing than older inmates and inmates who had completed high school. Inmates convicted of non-sexual violent offenses and inmates with lengthy arrest histories were also held in isolation more often than their counterparts.
Not surprisingly, the data also linked mental illness to solitary confinement. Nearly one-fourth of mentally ill inmates spent time in isolation between 2011-12.
Inmates in those prisons and jails that relied more heavily on restrictive housing often also reported disorder in the detention facilities, too few staff members to "provide safety and security to inmates," and lower levels of confidence and trust in staff.
---
PROP. 47: TWO OPPOSING VIEWS
In an op-ed for the LA Times, as part of the paper's series on California's Prop. 47, San Francisco District Attorney George Gascón (who has also served as chief of the SFPD, assistant chief for the LAPD, and chief of the Mesa, AZ police force) says the new law, which reclassified six non-serious felonies as misdemeanors, is incorrectly criticized by many law enforcement officials.
Gascón says it's "far-fetched" to point to Prop. 47 as the reason for an increase in property crime. Gascón also says that law enforcement officials are overly critical of Prop. 47, which is saving California $770,000 per day, so far, because most officers today spent their formative law enforcement years in the tough-on-crime era.
Here's a clip:
Tough-on-crime critics, predictably, have come out swinging, arguing that Proposition 47 is the cause of a recent increase in property crime. But this assertion defies logic. From 2007 through Aug. 31 of this year, the state has reduced its prison population by 43,000, but only 4,402 prisoners were released under Proposition 47. It's far-fetched at best that the release of these relative few, who were responsible for some of the lowest-level crimes, is causing this increase. Crime rates fluctuate over time, but overall property crime is at a 50-year low.

The extraordinary level of discontent with Proposition 47 from a majority of law enforcement officials is not surprising. Virtually everyone working in law enforcement today — myself included — cut our teeth during the war-on-drugs era. We've never experienced another approach, and after decades of jailing people for simple drug possession, it's difficult to embrace alternatives.

Many in law enforcement believe misdemeanor arrests are ineffective because the consequences are comparatively mild. But in a post-Proposition 47 world — as has always been the case — good, hardworking cops should not try to predict the outcome of an arrest. Declining to make arrests for misdemeanor crimes is bad for the community, public safety and offenders who need help. In San Diego, for example, where police continue to make misdemeanor arrests for drug possession, the city continues to see flat or decreasing crime rates.

Meanwhile, the 4,402 people released from prison under Proposition 47 are saving California more than $770,000 a day. There are also more than 35,000 Californians who have asked the courts to change their old felonies to misdemeanors, and an additional 123,087 people who have petitioned the courts to alter their current sentences.

Before Proposition 47, people convicted of a felony for possessing drugs for personal use often found themselves housed with more hardened offenders. They were inevitably released without having the root cause of their addiction or mental illness addressed. What's worse, their felony convictions would often preclude them from finding work, as employers are 50% less likely to respond to applicants with records.

California's broken prison system churned out less-employable individuals with unaddressed conditions, who were perhaps inclined to resort to more serious criminal behavior. Is it any surprise that the state recidivism rate reached nearly 70% in 2005?
Marc Debbaudt, president of the Assn. of Deputy District Attorneys, does not agree with Gascón. In a separate LAT op-ed, Debbaudt says that thanks to Prop 47, drug offenders no longer face jail time for offenses committed to fuel their addictions, like shoplifting, writing bad checks, and stealing guns worth less than $950. Debbaudt also argues that because judges can no longer mandate substance abuse rehabilitation programs for people who commit these newly reduced offenses, participation in drug court programs is down 60%.
Debbault also faults Prop. 47 for reducing possession of date rape drugs from a felony to a misdemeanor. (Governor Jerry Brown recently vetoed a bill that would have bumped possession of date rape drugs with intent to commit a sexual assault from a misdemeanor to a mandatory felony offense.)
Here's a clip:
In the city of Los Angeles, property crimes such as burglaries and motor vehicle thefts have risen 10.9% compared with the same period last year. Violent crime, such as aggravated assaults and robberies, has soared 20.6%. Mayor Eric Garcetti told The Times those increases may be linked to Proposition 47.

To make things even worse, the social engineers in the Legislature also passed a law in 2014 that reduced the maximum misdemeanor sentence from 365 days to 364 days. Under federal immigration law, a noncitizen who is convicted of an offense punishable by 365 days or more can be deported. With many felonies now reduced to 364-day misdemeanors, some criminals who otherwise would have been deported get to stay.

Here is additional fallout from Proposition 47 that Californians probably didn't anticipate when they voted for the measure:

The justice system lost all leverage to mandate rehabilitative drug programs. There is no incentive for an offender to accept a court-ordered 18-month to two-year intensive treatment program when the maximum consequence for a drug conviction is a six-month term in county jail. In many cases the jail sentence means only a few days, or even just hours, in custody because the jails have to make room for the felons sent from state prison under that other great reform called realignment. The treatment program rolls are down 60% in L.A. County, and addicted offenders are not getting the treatment they desperately need.

Proposition 47 took away a tool to fight sex crimes when it reduced the penalty for possession of dangerous date-rape drugs to a misdemeanor.

Thousands fewer DNA samples are being taken from suspects every month because state law permits police to collect DNA only from felony suspects. It follows that it will be much harder, if not impossible, to solve old cases such as murder and rape.
(We also pointed to the first part of the series, an editorial by the LA Times' Robert Greene: here.)
---
CA'S HIGH COURT SAYS 10-YEAR-OLD BOY WAS OLD ENOUGH TO LEGALLY WAIVE HIS MIRANDA RIGHTS, UPHOLDS MURDER CONVICTION
In letting a ten-year-old boy's murder ruling stand, the California Supreme Court has effectively said that children that young are still competent enough to validly waive their Miranda rights. The boy, identified as Joseph H., was read his Miranda rights by a police officer during his arrest, and then later confessed to killing his abusive neo-Nazi father.
The San Francisco Chronicle's Bob Egelko has more on the issue. Here's a clip:
The U.S. Supreme Court, which required police to issue the warning in the 1966 case of Miranda vs. Arizona, has never decided whether minors below a certain age are competent to give up their Miranda rights and answer officers' questions. But as state Supreme Court Justice Goodwin Liu noted in his Oct. 16 dissent, the nation's high court has ruled that any decision to waive the right to remain silent must be made "voluntarily, knowingly and intelligently."

The 10-year-old's case, Liu said, raises an issue that "likely affects hundreds of children each year: whether, and if so, how the concept of a voluntary, knowing and intelligent Miranda waiver can be meaningfully applied to a child as young as 10."

All three of Gov. Jerry Brown's appointees — Liu, Mariano-Florentino Cuéllar and Leondra Kruger — voted to review the case, leaving them one short of the needed majority. Cuéllar also signed Liu's dissenting opinion, an unusual and perhaps unprecedented statement by a California justice arguing that his colleagues should have taken up a case from the lower courts.

The issue arises in the wake of rulings by the nation's high court barring executions or mandatory life-without-parole sentences for juveniles. In the 2005 death penalty ruling, Justice Anthony Kennedy said research has shown that juveniles, more commonly than adults, have a "lack of maturity and an underdeveloped sense of responsibility," and are more susceptible to peer pressure than adults.

"The youthful brain is different than the adult brain," said Rory Little, a law professor at UC Hastings in San Francisco. Noting that California law bars an accused rapist from arguing that his victim consented if she was younger than 14, Little said, "If a 14-year-old can't consent to sex, how can a 10-year-old waive his rights to Miranda?"

The Riverside youth, identified as Joseph H., found his father's gun and shot him in the head as he lay sleeping on a sofa in May 2011. The father was a leader of a neo-Nazi group called the National Socialist Movement and was also a drug addict who frequently beat Joseph, according to a state appeals court ruling in the case. When police arrived, the court said, Joseph told them his father had beaten him and his mother the day before.