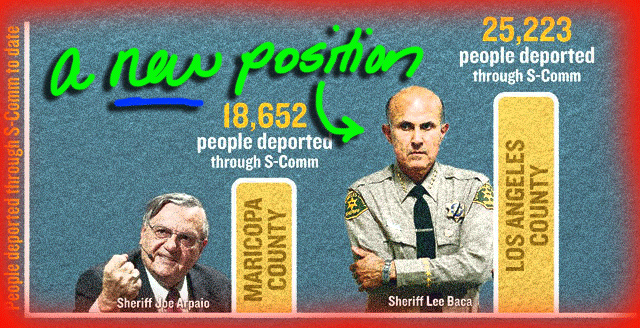 SHERIFF BACA WON'T HOLD LOW-LEVEL OFFENDERS FOR ICE
Sheriff Lee Baca announced Wednesday that he will no longer hand over low-level offenders to ICE for deportation under Secure Communities (S-Comm). Baca's decision came after CA Attny. Gen. Kamala Harris' Tuesday announcement that law enforcement agencies can choose for themselves whether or not to abide by S-Comm.
ColorLines's Jorge Rivas has the story. Here's a clip:
The state of California boasts the largest number of Secure Communities deportations. L.A. County sends an estimated 20,000 immigrants over to ICE each year, according to a Justice Strategies report released earlier this year.

"Sheriff Baca's change of policy ought to come with an apology letter," Chris Newman Legal Director at the National Day Laborer Organizing Network (NDLON) told Colorlines.com. "First and foremost, there's no way to repair the damage for the approximately 20,000 people who were held beyond their release date. More immigrants have been deported through his jail than through Sheriff Arpaio's jail in Arizona. And he owes an apology to the state of California."

"His belligerent and clearly misguided opposition to the TRUST Act undermined what was otherwise a statewide consensus. At this point, only a bright line statewide policy can undo the damage he has caused," Newman said.

In October, NDLON and other organizations filed a lawsuit against Sheriff Baca. The lawsuit alleges that detaining people in County Jails on the basis of voluntary ICE holds is unlawful.
---
FL SETTING THE BAR FOR JUVIE JUSTICE
Florida is striving to provide an example for the rest of the country (hint-nudge-hint, LA) with a "Roadmap to System Excellence" that includes diversion strategies, pushes for rehabilitative alternatives to locking kids up, and asks residents for input and to participate in town hall meetings.
---
FAMILY AND COMMUNITY INVOLVEMENT IN YOUTH JUSTICE SYSTEM TO KEEP KIDS OUT OF LOCK-UP
Retired Illinois Judge George Timberlake, in an Op-Ed for the Juvenile Justice Information Exchange, says that incarcerating juvenile offenders does not cut to the root of kids' problems, and that rehabilitative services are worth multiple tries with youth cycling through the system. Judge Timberlake also says that community and family services are key to keeping kids and their families out of the juvie and adult systems. He is presently the Chair of the Illinois Juvenile Justice Commission. Here's a rather large clip from the Op-Ed:
After seeing the same teens in court year after year, judges wonder what it will take to change the behaviors that keep bringing them back into court. Short of sending a youth off to a state prison, the options usually available to juvenile court judges include stern lectures and warnings, mandated community service, assessment and rehabilitative services, and electronic monitoring.

Sometimes judges reach a point where everything has been tried at least once, and yet the youth is again back in court with a new offense. When that happens, will the judge leave the youth with his or her family and try for rehabilitation again? Or will the judge think "been there, done that" and send the youth to incarceration far from home?

Sending any young person to prison can't be equated with sending your troubles away forever. They always return. And when they do, they go right back into the same home environment, same community, and same group of friends or gang.

A few months or even years in a juvenile prison rarely improve behaviors. Unless something has changed at home, chances are that juvenile will be back in court or will age into the adult courts.

Incarceration is an option whenever the teen poses a threat to public safety or his own safety. Otherwise, rehabilitative services are worth repeated attempts. They are far less expensive than prison and are more effective.

While every situation is different, families always are key to keeping sons and daughters out of trouble.

The youth brought repeatedly to juvenile court often have parents who had been in either the juvenile or adult system – or both. Judges, especially in rural areas like my own, come across generations of families in courtrooms. One or more family members appear in child welfare cases, domestic violence situations, small claims court and every nook and cranny of the courthouse.

Because these families are involved in both the child welfare system and the justice system, we should involve both systems in solutions. Bringing community-based services to an entire family, can help parents communicate with their children to resolve arguments and use appropriate discipline to address behavior problems. When social services involve the youth's entire family, other children in the home benefit as well, and we sometimes can prevent siblings from following the same path into the juvenile justice system.