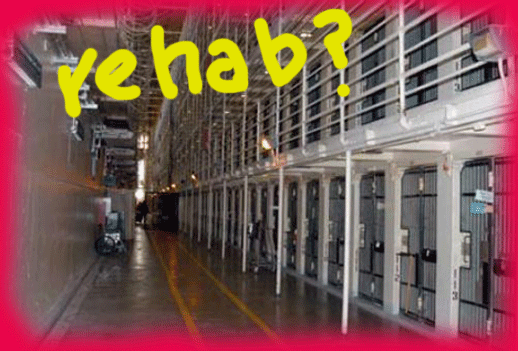 Seventy percent of all of the 2 million inmates in American prisons are doing time for drug and alcohol-related crimes. Only 15 percent of those prisoners are treated for their addiction.
NPR has this story about a promising pilot program at San Quentin in which inmates are being trained to become drug counselors.
In the course of my work, I seen the effects of this lack of treatment demonstrated anecdotally, over and over again. So many guys I've known can't seem to get out of the revolving door incarceration cycle because, despite initial good intentions when they're released from prison, most have never been treated for their addictions (or for the underlying conditions that created them). This usually also means they have not developed the necessary emotional tools to stay off drugs when the going gets rough on the outside, which it inevitably does. (Heck, the going gets rough at times for all of us.)
So, at some point they hit a bump in the road, and start using again, at first just a little, then a lot. Then they don't report to their parole officers because they know they'll test dirty. And then they're on the run. And before long, they're arrested again for absconding….or whatever. And they go back to prison.
It's depressingly predictable. Human lives that might otherwise have promise continue to be wasted. And the tax payers pick up the tab. Nobody wins.
Right now, I have two people calling me collect from the LA County jail who are in the last stage of this dispiriting cycle. And it ain't the first time they've run this track, not by a long shot.
So to me, the San Quentin program sounds like a smart strategy that is desperately needed and should be replicated ASAP.
And just so this post would have an invigorating sound track, I located the following: