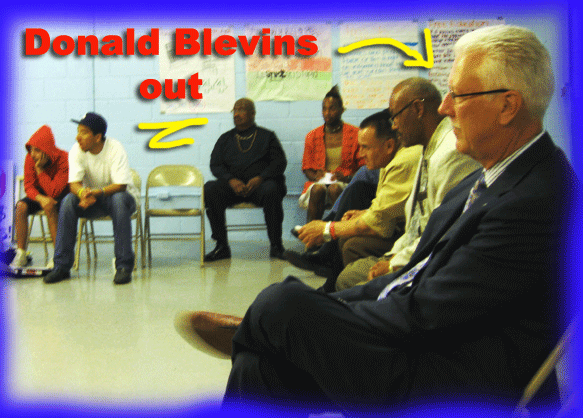 LA County Probation Chief Donald Blevins is out—according to multiple sources inside and close to the LA County Board of Supervisors' offices. WitnessLA has learned that, although the Supervisors had yet to take an official vote on the matter, Blevins himself was quietly informed mid-week last week.
Steps in the exit process continued early Tuesday morning in a closed door session where the Supes discussed the rough terms of Blevins' departure.
Rumors that the Probation Chief was headed for the door have been circulating for nearly six months. However, the back room chatter gained intensity this past summer during the fights over which LA County agency—Probation or the Sheriff's Department— should supervise the tens of thousands of non-violent parolees who will, as of this coming Saturday, Oct 1, be transferred from state control to LA County control, under the new California corrections policy known as "realignment."
Probation was the winner of that particular political tug-of-war (if you can call anyone a winner). Yet, right before the decision was made, the primary unions that represent nearly all Probation's employees hit Blevins with a nearly unprecedented "no confidence vote" aimed at his performance as chief.
Yet it is precisely because of the fact that the already-troubled LA County Probation Department is madly—and very messily—gearing up for this new influx of parolees, that the timing of Blevins' now-confirmed exit is, in some ways, surprising.
Until recently, the Board of Supes didn't have three firm votes to oust the Probation Chief, who is liked personally by many, but also increasingly viewed as not up to the task of reforming a badly broken Probation Department. Both Gloria Molina and Mark Ridley-Thomas have reportedly been leaning for some time toward replacing Blevins. There is speculation that Mike Antonovich may be the newly emerged third vote, but this is only, as I say, speculation.
In any case, someone among the remaining three Supes (Antonovich, Knabe and Yaroslavsky) was persuaded to hop the fence at this critical time. It may be that, faced with waiting until the realignment process was in process to make a change at the top, or acting now, the Board felt that, while neither choice was ideal, it was best to move ASAP.
Yet it is likely that the decision to oust Blevins has most to do with the last couple of scathing reports from the Justice Department regarding the depressing lack of progress in reforming the County's juvenile probation camps, as required by the DOJ.
With talk of a possible Federal Consent Decree long in the air, the Supervisors may have felt that they had no choice but to move on Blevins, and to move fast—if they were to have even a prayer of prevent the DOJ from stepping in with very big feet.
"Let's just say that Blevins has not been the leader that everyone hoped he would be," said a juvenile probation insider.
Cal Remington, who is now second in command to Blevins, will take over as the new acting head of Probation when Bevins departs.
However, Remington, while popular in and around the Supervisors' offices and in Probation as a whole, has reportedly made it clear he will not stay. Thus a national search will begin for a new Chief as soon as Donald Blevins exits.
In the meantime, aside from the Probation Chief's job fate, the parolees arrive this weekend. We all hope very much that an adequate system will be in place to productively supervise their reentry into their—and our—communities.
---
NOTE: The above photo was taken at a meeting held this past Thursday with around 80 reentry advocates at Chuco's Justice Center in Inglewood. There, for nearly three hours, Blevins was peppered with questions about what he was willing to do as head of LA County Probation to reform the reareentry process so that it actually was actually—you know— helpful to people coming out of prison, rather than just a form of brittle oversight that amounts to little more than waiting for parolees to screw up. Aside from one moment when he threatened to leave the room, for most of the evening, the Chief answered in mostly general terms, but with polite patience. Knowing now what Donald Blevins knew then—namely that he had learned the day before that he was being shown the door by the Supes—in retrospect the night cannot help but gain a wildly ironic pallor.