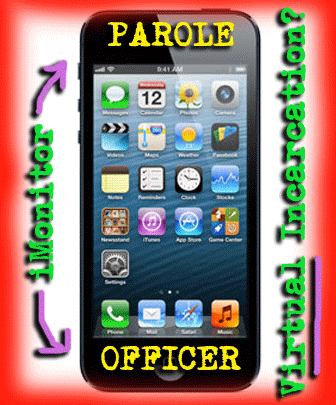 CAN SMART PHONE TECHNOLOGY IMPROVE AMERICA'S INCARCERATION POLICY?
Prison Recidivism? There's an app for that! Or, at least, there could be soon.
Among the many tech-entrepreneurs and innovators who gathered at SXSW in Austin, Texas for sessions, presentations, and pitches at the Next-Big-Thing-packed interactive media conference that is one of SXSW's most popular features, a presentation by a tech thinktank focused on how prisons can use digital technology to reduce recidivism, was one of those that stood out.
The public radio show, "The Takeaway" has the story. Here's a clip:
The consulting firm, Deloitte, and its think-tank, GovLab, led a discussion on alternatives to the brick-and-mortar prisons low-level criminals are sent to. Manoush Zomorodi, host of WNYC radio's New Tech City said two consultants from Deloitte suggested the U.S. keep low-level criminals out of prison, using smart phone technology.

Kara Shuler, senior consultant for Deloitte, suggested "virtual incarcerations," where nonviolent, low-level offenders are taken out of prison cells with support and monitoring that keeps both the community and the offender safe.

Nonviolent, low-level offenders cost as much as other prisoners, or more, because spending time in prison can put them at risk for committing worse crime in the future. In New Jersey, it costs more to keep someone in prison for a year than it would to send them to Princeton University, Zomorodi said.

The SXSW panelist told the story of an inmante named Frank, who was charged with marijuana possession.

Rather than give Frank a prison sentence, he could be virtually incarcerated, receiving badges or points via a smart phone for accomplishments like keeping a job and making it to his counseling sessions, Zomorodi said.

When a court determines a low-level criminal is a good candidate for the smart phone program, they would be equipped with an ankle-monitoring device to track them with GPS, and given a locked smartphone with specific apps related to their needs, Shuler said.

"Frank's app might be Breathalyze, an app that detects the eye movements in the camera on your phone," she said.
A key to the success of such a program, said its proponents, is choosing appropriate candidates for it.
---
NEWSPAPER WOMEN SHOT DURING DORMER NIGHTMARE GET THEIR TRUCK (OR AT LEAST $$ TO BUY IT)
In case you didn't see that there was, thankfully, a resolution to Wednesday's crazy situation in which the newspaper women, whose truck was shot up by the Los Angeles Police Department during the search for Christopher Dorner, couldn't take the replacement truck that the LAPD wanted to give them, unless they paid a bunch of income taxes on said vehicle. The solution? The LAPD is giving the women $40,000 in cash, and the women can buy their own truck, no taxes involved.
KPCC's Erika Aguilar with Mike Roe have the rest of the story.
---
FOR SCOTUS CHIEF JUSTICE ROBERTS, GAY RIGHTS MAY BE HIS DEFINING MOMENT
Jess Brevin of The Wall Street Journal has an intriguing story about the complexities Chief Justice John Roberts is facing as he and the court move toward hearing the gay marriage cases late in March. (If you're not a WSJ subscriber, you can get past the paywall for this particular article through Google News.)
Here's a clip:
Chief Justice John Roberts preserved one of President Barack Obama's main legacies—and helped forge his own—by largely upholding the president's health-care law last year. Now, the two leaders' places in history are entwined again, as the Supreme Court prepares to hear two gay-marriage cases later this month.

After years of equivocation, Mr. Obama in recent months has planted himself firmly in favor of gay marriage, and his administration is now asking the court to strike down separate federal and state laws withholding marriage rights from same-sex couples. "American attitudes have evolved, just like mine have, pretty substantially and fairly quickly, and I think that's a good thing," Mr. Obama recently told ABC News. In 2012, for the first time, a slight majority of Americans favored same-sex marriage, according to data from the nonpartisan Pew Research Center, with young people especially supportive.

[BIG SNIP]

Chief Justice Roberts doubtless knows "that history is going in a certain direction," even if he isn't persuaded that the Constitution requires invalidation of laws denying recognition to gay marriages, said Richard Pildes, a law professor at New York University. If that leads him to side against Mr. Obama's position, it could place the chief justice in "a tragic kind of position—knowing how a decision they believe is correct today is going to look bad 15 years down the road."

As is customary, Chief Justice Roberts had no comment regarding pending cases, his office said.

Supreme Court history is littered with rulings that were later viewed as retrograde, if not obviously in error. In 1944, the court upheld the internment of Japanese-Americans—leading to a congressional apology in 1988. And in 2003, the court overturned its own 1986 decision that had permitted criminal punishment for gay sex. That 2003 opinion, by Justice Anthony Kennedy, flatly declared that the prior decision "was not correct when it was decided, and it is not correct today.

But history's direction can confound expectations. At the time of the high court's Roe v. Wade decision in 1973, abortion appeared to be gaining broader support. Four decades later, the procedure's morality remains fiercely disputed, and some—including Justice Ruth Bader Ginsburg, who favors abortion rights—suggest the court's intervention triggered a backlash against wider acceptance of abortion rights….
There's more, so read on.