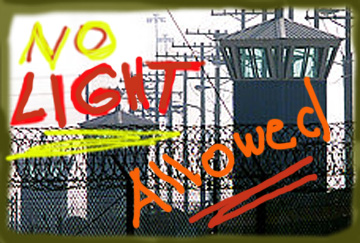 Corcoran State Prison

Honestly, there is no excuse for this action. None. Zero. Zip.
Late Friday afternoon, Arnold Schwarzenegger vetoed SB 304—State Senator Gloria Romero's bill that would have given the press reasonable, albeit still regulated, access to California State prisons. Oh, yeah, this is the fifth time he's vetoed some version of the bill.
SB 304, the Prison Sunshine Bill, was passed by the state senate in May, by the state assembly about a week and a half ago—both by a wide, bipartisan margin.
WLA blogged about this issue in detail early this spring, so I won't revisit all that here. But, what with nearly every federal judge within shouting distance of Sacramento castigating the governor for allowing unconstitutional conditions to flourish in the state's prisons like toxic mold, one would think that Schwarzenegger would sign Romero's bill, if for no worthier reason, simply as PR ploy.

I mean, hell, Arnold, why not at least pretend you have nothing to hide?

But evidently, control is more important.

If you read it, you'll find that the bill is pretty simple. It basically says that press may request interviews with prisoners, that the requests should be answered in a timely fashion, and should be granted unless there's a compelling reason not to do so—safety issues being the top of the least of such compelling reasons. It also states that press may bring pads and pencils or recording devices to the interviews. (As of now, often even a pad and pencil is forbidden.)
Finally, it has a couple of sentences about how the prison staff can't retaliate against an inmate just because he or she has either been the subject of a press request, or has actually talked to a reporter.
There you have it. Nothing outsized or unreasonable in a country that theoretically welcomes press scrutiny.
In his veto message, Arnold used the usual claptrap as his excuse–that press access would "glamorize murderers"….blah, blah, blah.

Right. That's what we're all dying to do.
No, what press access would do is shine a bright light on the gross mismanagement of the system. And that's something this governor won't allow.