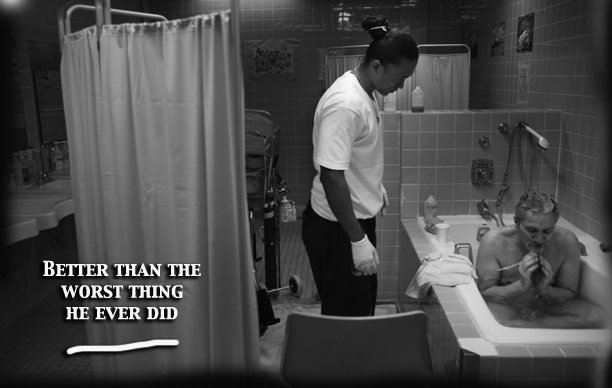 The LA Times' Kurt Streeter has written a very affecting 2-part series on prison inmates—most of them lifers—who so ill they have requested and received hospice care, and a man named John Paul Madrona who committed a particularly tragic murder who now, with little chance of seeing the outside world again, is trying to make something worthwhile of his life on the inside.
There's much, much more to the story, but that's where it begins.
Part 1 appeared Sunday.
Part 2 appears on Monday.
Streeter is a very talented narrative journalist whom we haven't seen enough of lately. I hope in the future the Times lets him do this kind of longform, deeper work a little more often.
You'll note that this story includes some wonderful photography and some video.
---
JAILS….
More on the jails issue soon.
In the meantime, Jason Song of the LA Times reports that Sheriff Lee Baca and County CEO William Fujioka are pushing for a 1.4 billion jail building and renovation project.
Some of the Supes think this is too much to spend in the present economy. (Other critics suggest that this proposal is also a way of distracting from the jails abuse scandals and the reforms needed.)
Here's a clip from the story.
It would "consign the other vital services to second class status for two generations," said Supervisor Zev Yaroslavsky, who believes the supervisors should consider other, less costly options.

Yaroslavsky said such an expensive project should be put to a public vote.

"You want $1.4 billion? Put it on the ballot," he said. "Nobody wants to do that; they know what the taxpayer would do."
Yep. And it is unlikely the taxpayer would decided to spend $1.4 billion more on a couple of jails.
---
….AND OTHER STATES NOTE THAT LIFERS ARE MAKING UP AN EVER-LARGER PART OF THEIR PRISON POPULATION.
This article on the matter is from a Pennsylvania paper.
---
Photo by Brian van der Brug/LA Times