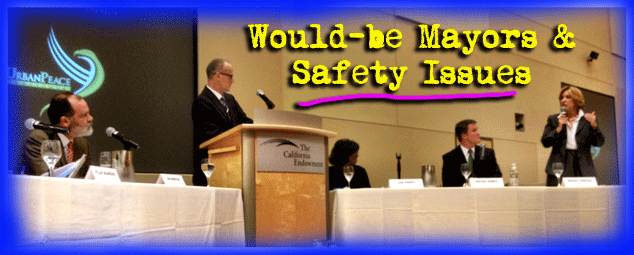 On Thursday night LA mayoral candidates allowed themselves to be grilled for nearly two hours on issues of neighborhood safety and violence prevention by four LA journalists.
Three of the four main candidates—LA City Controller Wendy Greuel, LA City Councilmember, Jan Perry and attorney and former radio host, Kevin James—submitted to questions by KPCC's Frank Stoltze, the LA Times' Jim Newton, Pilar Marrero from La Opinion, Stanley Willford from Our Weekly, and Nicole Chang from Korea Daily, who posed her questions via SKYPE. (Warren Olney from KCRW was originally scheduled to attend, but had to bow out.)
LAPD Chief Charlie Beck gave opening remarks then tossed out the first topic of the night when he said that one of the most important issues for him was whether or not the candidates intended to continue to support GRYD, the city's gang violence prevention and intervention program that is presently housed in the mayor's office.
Moderator Frank Stoltze made the question one step more specific and asked if the candidates would keep at least the current funding for the GRYD program and maintain the job of heading GRYD as a deputy mayor position.
Wendy Greuel said YES and YES, and followed up by saying that she planned to try to talk existing GRYD head, Guillermo Cespedes, into staying. (Cespedes was in the audience.)
Jan Perry also said YES, and talked about the need to address the trauma faced by kids in the city's most violence-haunted communities. Kevin James was another YES, but stayed with his theme of the night, which seemed to be "Yes, but…. those City Hall insiders are doing a dreadful job, and can't balance the budget," or words to that effect.
In addition, James said that he thought there should be less use of former gang members as gang interventionists, that he would bring in respected community members that kids could look up to and relate to.
At this, the cadres of gang interventionists and community activists in the audience began visibly frowning.
Eric Garcetti had a conflict that night, and so was a No Show but sent his answer to Beck's and Stoltz's questions through civil rights attorney, Connie Rice, of the Advancement Project, who related that Garcetti would keep GRYD but move it out of the mayor's office and, instead, establish it as a commission.
Rice made it clear that she thought the commission idea was a lousy one. In response to her follow-up questioning, all the candidates dutifully thought the idea lousy too.
"This is not something for a commission filled by part time people who have other jobs," said James, and everyone nodded.
(WLA agrees.)
Other questions ranged from how many LAPD officers each candidate would pledge to keep (Greuel went for the full 10,000 while everyone else hedged), what they thought about gang injunctions and the gang database, and how they would lower crime in Koreatown.
By night's end, the consensus of many of the gang interventionists and other local activists in the room seemed to be that Perry best understood the concerns of the city's most violence plagued communities, but that they also liked Greuel, and thought her capible, yet felt that she needed to show up at a few more crime scenes and meetings in the 'hood to gain credibility. Most thought Kevin James seemed sincere, and had interesting opinions on some topics, but was clueless on others and probably didn't have a chance anyway.
(Since Garcetti wasn't there he didn't factor into the reviews.)
All I spoke with said they appreciated the fact that the candidates had been willing to hang out for more than two hours while these topics of high concern got laid on the table.
The forum was sponsored by the Advancement Project, the California Endowment, the California Wellness Foundation, Liberty Hill, the LAPPL, The Riordan Foundation, and a pile of others.
---
NEW REPORT LOOKS AT THE AFFECT OF VIOLENCE AND TRAUMA ON AMERICA'S KIDS
On Wednesday, the U.S. Attorney General's Task for on Children Exposed to Violence presented its sobering report Defending Childhood.
After the first of the year, we'll be looking much further into what we ought to be taking away from the report's findings.
In the meantime, California Endowment Pres. Robert Ross writes for the Huffington Post about the importance of what the report has discovered.
Here's a clip:
<
….At one end of Pennsylvania Avenue, members of the Senate Judiciary Committee's Subcommittee on Civil Rights took a hard look at school discipline policies and investigated how extreme rules using suspensions push students away from school and toward a life of crime. At the other end of the street, the Attorney General's Task Force on Children Exposed to Violence released the findings of a year-long study, reporting on the latest research about the impact of trauma on children's lives.

Taken together, the two issues sound an alarm for the ways our schools and neighborhoods push kids away from the things we all want and deserve — a good education, a safe neighborhood, and a chance at the American Dream. While all this may seem less immediate than the fiscal cliff, it is every bit as urgent.

Childhood exposure to violence is a national epidemic. Every year, two out of every three of our children — 46 million — can expect to have their lives touched by violence, crime, abuse, and psychological trauma this year. It's not hard to figure out the negative effects on society. The Task Force on Children's Exposure to Violence describes something we all intuitively know: that witnessing traumatic events disrupts our ability to function in a healthy way, make good decisions, and move forward in our lives. For kids, the impact of trauma is even more pronounced.

Children exposed to violence are less able to concentrate in class. Their brains are consumed with processing the toxic stress in their lives and are not free to process the important things of childhood, like academic learning and developing critical interpersonal and life management skills.
---
EDITOR'S NOTE: I'm still absorbing the wealth of information from Wednesday and Thursday's California Wellness Foundation's Violence Prevention Conference. More on that in the weeks to come.