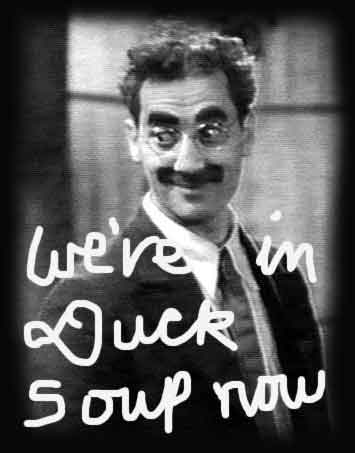 The LA Times columnist Michael Hiltzick has a an angry and interesting column in today's paper about the budget crisis, Tuesday's election, the lies that we have been told, and what truths we need to stop denying,
Argue with it, if you like. But read it.
Here's the opening:
Marx Brothers fans will recall that the political philosophy of Rufus T. Firefly in "Duck Soup" boiled down to this:

"If you think this country's bad off now, just wait 'til I get through with it."

I've often considered that to be the secret slogan of Arnold Schwarzenegger's administration. (Just substitute "this state" for "this country.") After Tuesday's election, it's no longer a secret.

Schwarzenegger had the kind of voter support in 2003 that would have allowed him to tell the voters the harsh but necessary truths about California governance and force real reforms down their throats.

Instead, he uttered the same lies about state government and proposed the same nostrums as many of his predecessors: Californians are overtaxed and underserved, the budget can be balanced by cutting waste, fraud and abuse, etc. Like everyone else who has made these claims, he never delivered on his promise.

His cut in the car tax cost the state $3.6 billion per year, making him directly responsible for pretty much all of today's $21-billion budget deficit.