Here's what we know of the devastating mass shooting that took place in Monterey Park over this past weekend.
It is a story that continues to unfold.
On Saturday, January 21, at approximately 10:22 pm, officers from the Monterey Park Police Department responded to a shots fired call at 100 block of West Garvey Avenue in the city of Monterey Park.
 
When the officers arrived at the location, they found both victims and terrified patrons at a local dance studio where a crowd had been celebrating the Lunar New Year when a gunman entered the celebration and began shooting. Then reloading, and shooting again. And again.

The police quickly called the Monterey Park Fire Department to the scene where firefighters began treating victims inside the studio.
Ten victims were pronounced dead at the scene. Another ten shooting victims were transported to local hospitals where, as of Sunday morning, their conditions still range from stable to critical.

By that time, the shooter was long gone.
From Saturday night through Sunday morning, police searched for the man whose actions had caused so much harm.

The Los Angeles County Sheriff's Homicide investigators were also called to the scene where they continue to investigate this devastating mass shooting, which is the deadliest in the US since the Uvalde elementary school massacre last year.
"This area is 65% Asian and it was after a Chinese Lunar New Year dance on Chinese New Year's Eve," novelist Celeste Ng tweeted early on Sunday morning.
Later, at a midmorning press conference, Los Angeles County Sheriff Robert Luna expressed deep condolences to the victims and their families, then outlined what the department knew at that tune, and what it didn't yet know.
Before leaving the mic, Luna described the "determined look" he'd seen in the eyes of the LASD's homicide investigators.
"We're going to get this guy," he said.
By Sunday afternoon, Luna was proved right.
At first, however, it was not clear that the man found dead inside a white van that police located in Torrance, was, in fact, the shooter.
All the while, the shock and sorrow continued.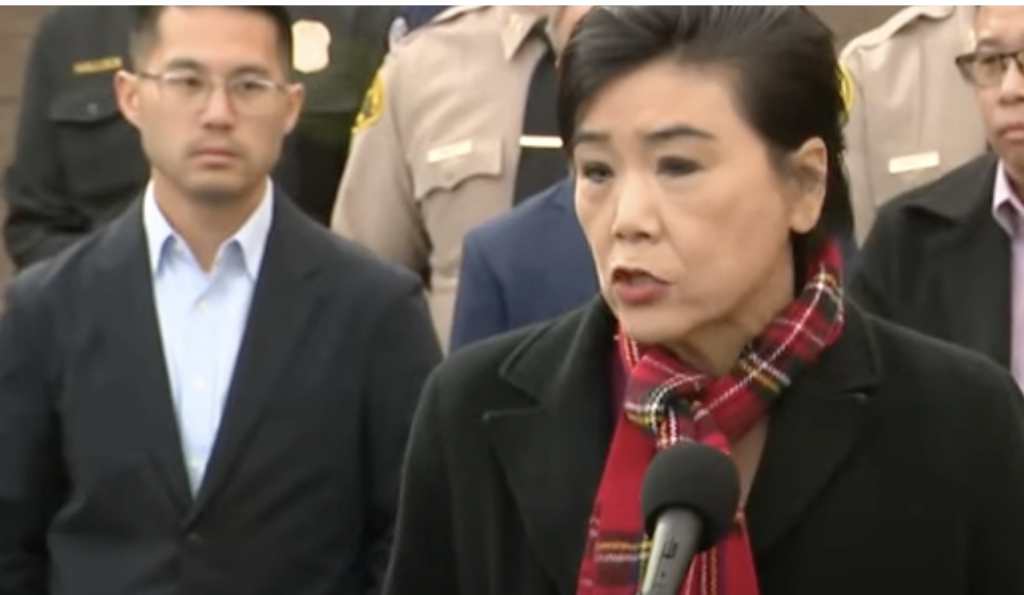 Congress member Judy Chu, who represents Monterey Park, was among those who spoke at the grief-laced Sunday morning press conference. After praising the first responders and mourning those killed and wounded, Chu paused for a few moments.
"You know," she told those gathered at the press conference when she spoke again. This could have been so much worse,"
Only hours earlier, Chu said, "all of us were gathered together only one block away at the Lunar New Year festival."
According to the congress woman there had been thousands celebrating at the larger event nearby.
"It's horrible that such a thing could occur at a time of celebration for so many in the AAPI community," said Chu. "This is a time to be with family, to celebrate, and yet this tore a hole through all of our hearts."
Before turning the microphone over to the sheriff, Congress member Chu told the crowd that she has lived the city of Monterey Park for 37 years, serving on its city council, and as its mayor.
And what she knows about the city is that Monterey Park "is resilient," she said.
"And what I know about the people here is that we will get through this together."
Meanwhile, as Monterey Park residents coped with their shock, those in Asian communities across LA County tried to find the best way to keep their own Lunar New Year celebrations in the context of grief and horror.
With this struggle in mind, the Los Angeles Police Department tweeted that the LAPD would be joining "with our community members" as they also attempt to celebrate the Lunar New Year in Chinatown.
"The tragic news from Monterey Park remains in everyone's mind, and in an abundance of caution, we will be providing extra patrols in our diverse Asian communities throughout Los Angeles."
Finding the white van
At approximately 11:20 a.m. Saturday, Sheriff Luna tweeted a photo and a description of the suspected shooter.
Before the hour was out, law enforcement had located a white van in Torrance that they believed was connected to the gunman.
Police surrounded the vehicle, and eventually were able to breach it.
Inside they found the van's driver, a man who would later be discovered to be the shooter. He was dead of a self-inflicted gunshot wound.
The dead man's name is Huu Can Tran. He was 72-years-old, and lived in Hemet.
According the LA Times, Tran attempted to enter another dance school with the likely intent of shooting additional victims, but two community members managed to get his gun away from him, and he ran off.
Huu Can Tran's motive for causing so much death, injury, and sorrow is, as yet, unknown.
As of Monday, however, the 11th victim has died.