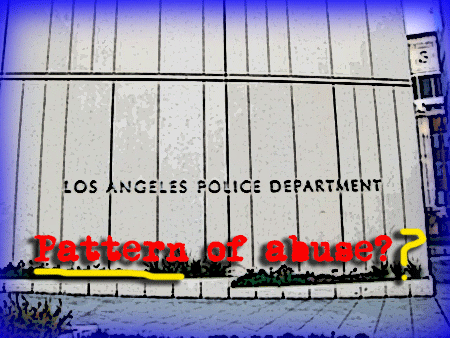 ONE MORE INCIDENT RAISES QUESTIONS ABOUT LAPD USE-OF-FORCE ON RESTRAINED SUSPECTS
In yet another incident in a series of unnecessary use-of-force controversies, an LAPD officer was caught on video in 2010 tasering a handcuffed woman multiple times while joking with three other deputies. Parts of the officer's story were proven false by video evidence, but the LAPD denied that this incident and three others like it occurring in the last few months point to a larger problem of abuse within the department.
LA Times' Joel Rubin has the story. Here's a clip:
The civilian Police Commission, which oversees the LAPD, has launched an independent inquiry into cases of Taser use and other types of non-lethal force by officers.

The roughly 1,700 such cases that occur each year are investigated less rigorously than those involving lethal force, and the study will examine, among other things, whether changes to training and oversight need to be made, said commission President Andrea Ordin. She added that the report, which she said is expected to be completed in the coming months, will shed light on whether the recent string of controversial cases are unrelated or rooted in some common problem.

"They certainly raise some red flags," said Geoffrey Alpert, a leading expert on police violence and training, of the recent cases. "These types of things do happen, but when they do you have to look for the patterns that link them, if there are any. Were these officers trained by the same people or in the same way? Do they share a common psychological profile that can be identified? Someone needs to start peeling back this onion to search for what's going on."

Department officials rejected the idea that the cases add up to a larger behavioral pattern. Cmdr. Andrew Smith called them "isolated, unrelated cases in which officers got out of line." The cases, he emphasized, represent a small fraction of the total number of those involving force and added that in each of the cases in question the department is investigating the officers for misconduct.
---
LASD OFFICERS' QUESTIONABLE PHOTO SWAP PROMPTS INTERNAL INVESTIGATION
After a confrontation with a suspect, an LASD deputy text messaged a photo of the teenager's battered face to a friend working at Men's Central Jail. The CJ Sgt. responded sometime later with a picture of a jail visitor who had been violently beaten by deputies, and appeared to brag about the incident. Two law enforcement sources we spoke with did not find Gonzalez's explanation credible.
LA Times' Robert Faturechi and Jack Leonard have the story. Here are some clips:
After a violent confrontation with a teenage suspect, a Los Angeles County sheriff's deputy took a photo of the man's bloodied face and texted it to Sgt. Eric Gonzalez, a friend who worked at Men's Central Jail.

A few hours later, Gonzalez responded by sending his own photo of a battered suspect: a jail visitor who had been kicked, punched and pepper-sprayed by deputies.

The man in Gonzalez's photo had two black eyes, one swollen shut, and blood streaming down his face.

"Looks like we did a better job," Gonzalez wrote his colleague. "Where's my beer big homie."

"Hahaha," the deputy responded, according to a text message exchange reviewed by The Times.

[SNIP]

Prosecutors had initially charged the visitor, Gabriel Carrillo, with battery and resisting deputies based on the jailers' statements. But they later dropped the case. The district attorney's office concluded earlier this year that the deputies appeared to use necessary force on Carrillo.

In an interview with the Times, Gonzalez said his text message is being misconstrued and was not intended as a boast. He said he sent the photograph to determine whether his colleague recognized the visitor as someone who had recently run from him. The accompanying message, he said, was a joke unrelated to the injuries suffered by either man.
---
LASD DEPUTY FACES 75-TO-LIFE FOLLOWING OFF-DUTY SHOOTING
An LASD deputy was charged Thursday with the off-duty murder of a former neighbor after the man had gotten into an altercation with the deputy's son.
LA Times' Richard Winton and Wesley Lowery have the story. Here's a clip:
Francisco Gamez, 41, has been with the department for 17 years and was last working as a station detective in West Hollywood. He was arrested Wednesday after a lengthy LAPD investigation.

He is charged with the June 17 murder of Armando Casillas, attempted murder and discharging a weapon from an occupied vehicle, as well an allegation he personally used a firearm.

Casillas and Gamez's 20-year-old son were involved in an altercation on Beaver Street about 10 p.m. that night. After the fight, the son called Gamez, who allegedly drove to the scene and confronted Casillas, 38, and another man. After an argument Gamez allegedly opened fire on the two men.

Gamez, while still seated in a car, fired two shots, hitting Casillas and narrowly missing another man, prosecutors said. Gamez then allegedly fled the scene.
And then there's this:
In August, a person who identified himself as the victim's brother commented on the Los Angeles Times' website that he suspected a deputy was responsible.

"We think he is a L.A. COUNTY SHERIFF," the comment stated. "The reason we think he is a Sheriff is that he shouted to my Brother "L.A. COUNTY SHERIFF WHERE YOU FROM" as if the sheriff was in a gang."
---
LASD DEPUTY GUNNED DOWN FRIDAY IS ON THE MEND
An LASD deputy on gang patrol was shot Friday during a confrontation with four suspected gang members. The deputy is in stable condition and four men have been arrested in connection with the shooting.
NBC's Jason Kandel and Antonio Castelan have the story. Here's a clip:
Detectives said a gun battle broke out between gang enforcement deputies and up to four males that the officers were trying to contact.

A deputy who was on patrol was hit by a bullet in the abdomen and was taken to a hospital where he was in stable condition, according to a sheriff's department spokeswoman. The deputy was a 15-year veteran of the department, spokeswoman Nicole Nishida said.

Four males were expected to be booked into custody on suspicion of attempted murder of a peace officer. They were not immediately identified.