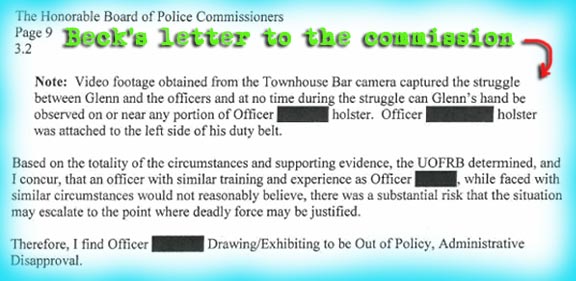 LAPD COMMISSION SAYS FATAL SHOOTING OF VENICE HOMELESS MAN VIOLATED LAPD POLICY
On Tuesday, the Los Angeles Police Commission sided with LAPD Chief Charlie Beck, unanimously deciding that LAPD officer Clifford Proctor's fatal shooting of an unarmed homeless man, Brendon Glenn, was an unjustified use of deadly force.
Video and other evidence from the May 2015 shooting led police investigators to determine that during an altercation, Proctor shot 29-year-old Glenn twice in the back while Glenn was lying on his stomach on the ground. Proctor said he believed Glenn was trying to take his partner's gun, but the video evidence did not show Glenn's hand to be on or near the holster, nor did Proctor's partner do anything to indicate Glenn was going after his gun, according to the report.
In January, Chief Beck recommended that the LA County District Attorney's Office charge Proctor in the death of Glenn. It was the first time the chief had recommended criminal charges for a fatal on-duty shooting.
In 2015, in LA, cops shot at civilians 48 times, hitting their target 37 times, and killing 22 total. In a story we crossposted with The Crime Report on Wednesday, Joe Domanick explains and gives context to the LA Police Commission's revised use-of-force policies, which prioritize "de-escalation" techniques during confrontations to reduce the number of unarmed civilians shot by officers. (Domanick is the West Coast Bureau Chief of the Crime Report and author of Blue: the LAPD and the Battle to Redeem American Policing.)
The LA Times' Kate Mather has more on the commission's decision regarding the Venice shooting. Here's a clip:
The decision capped an 11-month review of Glenn's death, one of several shootings by LAPD officers last year that fueled criticism of police and how officers use force, particularly against African Americans. Glenn was black, as is Proctor.

The ruling also renewed pressure on L.A. County Dist. Atty. Jackie Lacey to file criminal charges against Proctor. This year, Beck said he had urged Lacey to charge Proctor. It was the first time as chief that Beck has called for charges against one of his officers in a fatal on-duty shooting.

Such prosecutions are rare in L.A. County, where the district attorney's office hasn't charged a law enforcement officer in an on-duty shooting in 15 years. An office spokeswoman said the case was still being reviewed.

Within hours of the Police Commission's decision, local activists again called for Lacey to prosecute Proctor. Najee Ali said the ruling, coupled with Beck's earlier recommendation, was further proof that the district attorney needed to act.

"This is a true litmus test for Lacey," he said.

Beck said the commission's decision "certainly supports" what he told the district attorney.

"I find many times that shootings are out of policy and they don't reflect criminal charges," he said. "But that's not the case in this one."
---
CA BILL WOULD MAKE CA CITIES AND COUNTIES DUMP THEIR CONTRACTS WITH FOR-PROFIT IMMIGRANT DETENTION CENTERS
A new California bill sponsored by Sen. Ricardo Lara (D-Bell Gardens) would block cities and counties from contracting with controversial for-profit prison companies running immigrant detention centers.
"Our state and local governments should not be complicit in this awful practice of profiting off of human suffering," Lara said. "This critical first-in-the-nation legislation would make the currently unenforceable national immigration standards the law of the land in the golden state."
Four municipalities, including cash-strapped Adelanto, are contracting with private detention centers and would be affected by the bill.
The small city of Adelanto in San Bernardino County contracts with the scandal-plagued GEO Group, which runs a city jail and the Adelanto Detention Facility, where undocumented immigrants are held. US Immigration and Customs Enforcement pays Adelanto about $4 million a month to hold around 1,200 immigrants in its detention center. (All-told, ICE holds 62% of its detainees in for-profit detention centers.)
City Councilman John Woodard says a fourth of the city's income comes from its contracts with the private prison group.
GEO Group, the second largest for-profit prison operator, is often accused of medical neglect and abuse, and at Adelanto and other facilities, enforces lock-up quotas—which trigger financial penalties for empty jail and prison beds.
The bill would also require the immigrant detention facilities to comply with (currently optional) federal standards, and would make it easier for immigrants to take legal action against the private prisons for rights violations.
KPCC's Leslie Berestein Rojas has more on the bill. Here's a clip:
With the Adelanto facility's daily population averaging roughly 1,200 and based on the per-diem rate, ICE pays up to about $4 million a month — and more if the detention center is filled to its 1,940-detainee capacity.

But a bill sponsored by state Sen. Ricardo Lara (D-Bell Gardens) could put an end to Adelanto's immigrant detention contract.

"For far too long, our immigration system has promoted profits over people," Lara told KPCC. "The goal is to prohibit these for-profit companies from profiting off the backs of immigrants."

Cities like Adelanto depend on detention space revenue. In Adelanto, which nearly went bankrupt last year, City Council member John "Bug" Woodard, a self-described Tea Party Republican, said the GEO contracts are vital to the city's economy.

"I think a good 25 percent of our income comes from those jailhouses," Woodard said. "GEO is an important part of this community, and any idiot up in Sacramento that would like us not to do business with them, they've got their heads where the sun don't shine."
---
PHASE TWO ANNOUNCED IN MACARTHUR FOUNDATION NATIONAL CHALLENGE TO REFORM JAILS
On Wednesday, the John D. and Catherine T. MacArthur Foundation announced just under $25 million in funding for 11 jurisdictions nationwide to move to the second round of the foundation's Safety and Justice Challenge, which aims to "create fairer, more effective local justice systems across the country."
The MacArthur Foundation whittled down 11 jurisdictions from an original group of 20 selected in 2015 to be mentored by experts as they created plans to reform their local jail systems.
The 11 jurisdictions are:
– Charleston County, SC
– Harris County, TX
– Lucas County, OH
– Milwaukee County, WI
– New Orleans, LA
– New York City, NY
– Philadelphia, PA
– Pima County, AZ
– Spokane County, WA
– State of Connecticut
– St. Louis County, MO
Los Angeles County was one of original 20 jurisdictions chosen last year, but did not make it to the second round of full mentoring and funding.
Los Angeles and the other eight remaining counties will receive $150,000 grants, as well as technical assistance from experts, to keep up their reform efforts as part of the Safety and Justice Challenge Network.