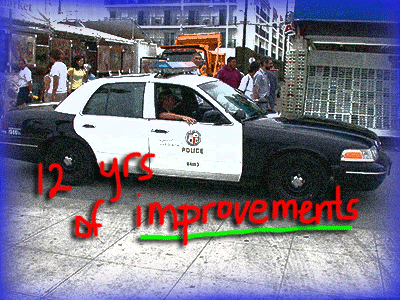 LAPD AFTER 12 YEARS OF FED. OVERSIGHT
Earlier this month, the LAPD completed its twelve years of DOJ-mandated federal oversight. At the LA Times, in his weekly column, Jim Newton explains how significantly those twelve years of oversight benefited a department that was once plagued by a culture of misconduct and abuse.
Here's a clip (but be sure to read the whole thing):
…the LAPD, sometimes grudgingly but with increasing determination, gradually embraced the reforms it once resented. The department's audits now are widely respected. Gang units are more closely monitored. The department has revamped its systems for investigating allegations of excessive force.

But for longtime observers of the LAPD (I count as one, having covered the department from 1992 to 1997), what's most notable is the rank-and-file attitude toward outside scrutiny. Officers who once balked at such oversight now accept it as essential to maintaining public confidence in their work.

The decree also pushed City Hall to respond. Council members approved money for auditors and invested in a computerized officer-tracking system first recommended after the King beating but unfinished until after the decree made it a priority. "What the consent decree created," Beck said, "was universal support for those reforms."
---
PRISONERS AT SAN QUENTIN PERFORM SHAKESPEARE
Prisoners at San Quentin State Prison have the opportunity to perform Shakespeare, an activity that inmates and observers agree helps the participants garner communication skills and self respect. Last year, inmates performed Hamlet with help from the Marin Shakespeare Company, this year it was the Merchant of Venice.
Marin Independent Journal's Megan Hansen has the story. Here's how it opens:
There's a scene in Shakespeare's "The Merchant of Venice" where Shylock argues that people share the similarity of being human, and thus should be treated with respect despite their differences: "If you prick us, do we not bleed? If you tickle us, do we not laugh?"

A Friday performance of the Bard's play by San Quentin State Prison inmates elicited laughter here and there, but ultimately drove home the notion that inmates are human beings and desire to be treated as more than just a number.

The inmate actors said it's difficult for people outside the prison gates to understand them, their emotions and the lives that led them to incarceration. Acting gives them an outlet to express those feelings and grow as individuals.

Inmate Joey Mason, who played Salario, said acting has allowed him to get in touch with a side of himself he previously avoided.

"It's been an opportunity to be transparent, honest and open," Mason said. "It's a challenge. I used to run from these types of challenges because then I had to feel."
By the way, there was an outstanding 2002 This American Life broadcast about a production of Hamlet done by mostly lifers in a max security prison in Missouri. Go listen, if you haven't.
---
SCOTUS LOOSENS APPEAL DEADLINES FOR SOME INMATES
Tuesday, in a 5-4 ruling, the Supreme Court decided that a one-year deadline for inmates trying to challenge their convictions could be relaxed if there was compelling evidence of innocence. In a second decision, also issued on Tuesday, the court allowed prisoners to better bring claims of ineffective counsel.
The NY Times Adam Liptak has the story. Here's a clip:
In a pair of 5-to-4 decisions that divided along ideological lines, the Supreme Court on Tuesday made it easier for inmates to challenge their convictions.

In McQuiggin v. Perkins, No. 12-126, the majority said that a one-year filing deadline for prisoners seeking federal review of their state court convictions under a 1996 law may be relaxed if they present compelling evidence of their innocence. The new "miscarriage of justice exception" to the deadline, Justice Ruth Bader Ginsburg wrote for the majority, "applies to a severely confined category" — cases in which no reasonable juror aware of the new evidence would have voted to convict the defendant.

The decision did not seem likely to help the prisoner whose case was under review, but the exception it announced drew a barbed dissent from Justice Antonin Scalia, who called the majority opinion "a series of transparent non sequiturs" and "a flagrant breach of the separation of powers."

[BIG SNIP]

In the second decision issued Tuesday, in Trevino v. Thaler, No. 11-10189, the same five-justice majority extended a ruling last year that had allowed prisoners to challenge their state convictions in federal courts based on the argument that their trial lawyers had been ineffective, even though the prisoners had not raised the issue in earlier proceedings.