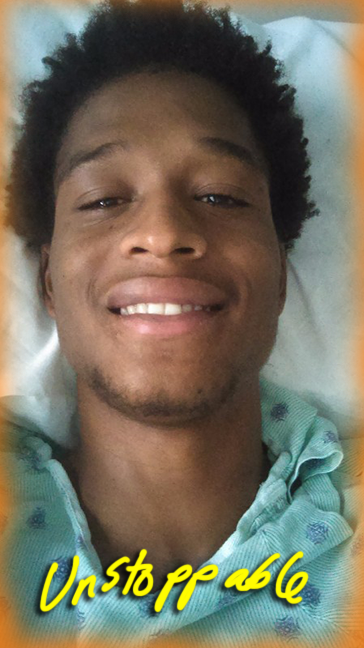 SEMAJ CLARK SHOT AND PARALYZED ON TRIP TO GA TO SPEAK AT A COMMUNITY SAFETY FORUM
On October 10, Semaj Clark was shot during an attempted robbery while on a trip to Savannah, GA to speak as a youth ambassador at a community safety forum.
Once on a path not all that different from the teen who shot him, Semaj turned his life around with help from the Building a Lifetime of Options and Opportunities for Men (BLOOM) program, which aims to give justice system-involved teens in South LA control over their circumstances by connecting them with mentors and local organizations that provide education and employment services.
After speaking at the forum, Semaj and another young man were approached by three teens who brought them to a housing project called Yamacraw Village and attempted to rob them. When Semaj tried to run away, one of the boys shot him three times.
One of the bullets severed Semaj's spinal cord. Doctors told Semaj he will never walk again.
The 17-year-old who shot Semaj was actually supposed to be in attendance at the conference, but did not show up.
In a video aired on Savannah's local NBC station, Semaj cried when talking about how he would never be able to run again, which he says is how he works through pain in his life, but said that he would not give up working to help troubled kids. "I'm not going to be able to walk again, and that hurts me," Semaj said, "but it's not going to stop me from doing what I've got to do. So I'm just going to stay out here and try to make a difference."
A GoFundMe account has been set up to help pay for Semaj's medical bills and other expenses related to his injury.
The LA Times' Sandy Banks also covered Semaj's story. Here's a clip:
Before a probation officer steered him to the group, Clark's mindset wasn't much different from that of those Georgia teens whose bullets sentenced him to a wheelchair.

"Where I come from, it's cool to steal or smoke or have all these girls," Clark told me last spring. "That's what you have to do to have somebody respect you."

BLOOM counselors introduced him to self-respect — and to better role models than the hustlers on his block: "They put you around successful black men that make you want to be that kind of person," Clark said then.

But it takes more than good intentions and well-meaning mentors to salvage young men damaged by broken families, failing schools, dangerous streets and wrenching poverty.

Two months ago, another BLOOM youth, Kevin Clay Thomas, was shot to death at a Boyle Heights Metro station in what police believe was a dispute between black and Latino gangs.

"We're not working with the A and B students. We're working with kids who people have literally given up on," Bremond Weaver said. "The question is how as a community can we change that narrative?"

That question is being asked all across the country, as part of a national movement launched last year by Obama, to lift, reform and inspire black and Latino boys and young men.

Clark was supposed to embody all that's possible. I worry now about the message his plight might send to young men on the fence: You can't outrun it or rise above it. There's no amount of change that will keep trouble out of reach.

But those who know him best think Clark's message will transcend that.

"There's no other 18-year-old I know who's had to overcome the kind of challenges he's been through and has done so well," said Cal Poly Pomona professor Renford Reese, who has Clark in two of his classes and runs the Reintegration Academy on campus, which educates formerly incarcerated young men. "He's charismatic, he's radiant, and he's been out there grinding, always trying to do his best."
---
POSSIBLE PITFALLS OF CA'S NEW LAW TO DITCH THE STANDARD GROUP HOME MODEL FOR SHORT-TERM RESIDENTIAL TREATMENT CENTERS
Last week, CA Governor Jerry Brown signed a bill that will dismantle the current controversial group home model in favor of short-term residential treatment centers (STRTCs). Kids placed in the STRTCs will stay a maximum of six months while receiving specialized therapeutic treatment for mental health and other needs. A certain number of those (STRTCs) will be geared toward helping kids involved in both the child welfare and juvenile justice systems.
But this new law will likely be particularly difficult to enforce in counties like Los Angeles where a dearth of viable foster families means kids spend months (and sometimes longer) at "Welcome Centers" only meant to house kids for 24 hours.
In an op-ed for the Chronicle of Social Change, advocate and former social worker Marie Cohen says the new law is short-sighted, and will create an even bigger foster home deficit for jurisdictions already struggling to place kids, even with the extra funding set aside for foster family recruitment.
And while a number of group homes have come under intense scrutiny following misconduct allegations, Cohen says there are plenty of foster families that similarly fail to provide loving and healing environments for the kids in their care.
Instead of dumping the group home altogether, Cohen urges creating more nurturing and family-like group homes. Here's a clip:
The new legislation is based on the increasing belief that "congregate care is detrimental to the development and well-being of youth in foster care." Yet, as I wrote in an earlier column, the research behind this assertion is far from conclusive. Especially when it comes to older youth with more serious therapeutic needs, group care may be more appropriate. For larger sibling groups that cannot be accommodated in a single home, a group home may also be a preferable option.

A loving, caring family is of course the best option for many children. However, as I discussed in another column, many foster homes do not provide this type of nurturing environment. Some are neglectful or even abusive, and many are simply providing room and board.

There are also not enough foster homes, good, bad or in-between. So even if any foster home is better than any group home, most jurisdictions just don't have enough foster homes.

[SNIP]

The underlying cause of the crisis is the collapse in the supply of foster homes in Los Angeles County. As reported by the Times, the number of beds in homes of foster parents who are unrelated to foster youth has dropped from 22,000 to 9,000 since the year 2000.

Social workers make up to 100 calls to place one child. What is going to happen when the closing of group homes creates an even greater demand for foster homes?

The supporters of the new California legislation understand that they will need to recruit more foster homes in order for the new regime to succeed. The new law will provide more money to recruit, retain and support foster families.

But unless this money will be enough to buy homes for foster parents in expensive areas like Los Angeles County, or to provide salaries so foster parents do not have to work outside the home, I doubt this effort will be successful.
---
PASTOR HOLDS HIS MENTALLY ILL SON'S BODY IN HIS ARMS WHILE SACRAMENTO DEPUTY SHOT AND KILLED HIM
Ted Rose called police for help when his schizophrenic son, Jonathan, refused to take his medication and was acting erratically in January of 2012.
By the time Sacramento County Sheriff's Deputy David McEntire arrived, Johnny was calm and sleeping, but Rose said the deputy barged in and acted agitated and aggressive from the start. McEntire allegedly entered Johnny's room, and ordered the young man onto the floor. According to the suit, Johnny stood with his hands behind his back told the officer to just arrest him.
The deputy allegedly slammed Johnny into the wall and hit him in the head with his flashlight. Rose says that when Johnny punched the deputy, trying to stop the attack, he grabbed his son trying to diffuse the fight, telling him the deputy was going to hurt or kill him.
Then, without warning, Rose says McEntire shot Johnny three times. Rose says he felt the bullets enter Johnny's body.
McEntire says he was fighting for his life, but Rose says that when he asked the deputy why he killed his son, McEntire said three times, softly, "I don't know."
The county has defended McEntire, saying that he acted reasonably, but the deputy has a history of use of force complaints. McEntire has been the subject of six internal investigations during his 12 years with the Sacramento Sheriff's Department. The Rose family's lawsuit against McEntire is one of three suits accusing the deputy of using excessive force.
McEntire has been accused of participating in a jail beating of a college football player who was arrested at a postgame party. The young man was paid $50,000 in a settlement over the beating that he says resulted in nerve damage and needing stitches in his face.
One of the complaints that was sustained resulted in McEntire being cited for "discourteous treatment" and "inexcusable neglect of duty" during a traffic stop.
The Sacramento Bee's Sam Stanton and Denny Walsh have the story (but do go over and watch the video). Here's how it opens:
One moment stands out for Ted Rose about the night his son was shot to death by Sacramento County sheriff's Deputy David McEntire.

Rose, 54, recalls holding his mentally ill son Johnathan tightly in his arms on Jan. 17, 2012, trying to defuse a confrontation in the living room of their Sacramento home, when the deputy opened fire.

"I actually felt the bullets riddle through my boy's body," said Rose, a pastor at a south Sacramento church. "It's the most horrible thing."

Today, the Rose family is suing the Sheriff's Department and McEntire over what they contend was the unprovoked and unnecessary shooting of an unarmed 24-year-old schizophrenic who was asleep when McEntire first entered their home.

Over the course of developing evidence for the lawsuit, the family's lawyer said he discovered that McEntire has faced at least a half-dozen internal affairs complaints during his 12 years as a Sacramento County sheriff's deputy.

"Deputy McEntire is the only deputy still employed with Sacramento County who has been the subject of six or more excessive force complaints since 2008," Rose's attorney, Stewart Katz, wrote in court papers filed in support of the family's civil rights suit.

"He's a habitual, serial excessive-force abuser," Rose said in a recent interview, noting that his lawsuit is one of three McEntire has faced for allegedly using excessive force.

McEntire is currently assigned as a problem-oriented policing officer in the department's North Area. He did not respond to an emailed request for comment. Deputy Tony Turnbull, a spokesman for the department, said he could not comment on pending litigation or on personnel matters. But he noted that all complaints against deputies – whether made by citizens or filed internally – are investigated.

"All use-of-force complaints are investigated by our professional standards bureau," Turnbull said. "They're all taken seriously, and they're all investigated to their totality."

In court documents, the county disputes claims in the Rose lawsuit, including whether McEntire has been accused of excessive force half a dozen times. The county says McEntire "estimates he has had more than five internal affairs complaints," but that does not necessarily mean they were all excessive-force cases.

"There is no evidence that the complaints were not properly investigated and/or that the disposition of the complaints was in some way deficient," the county states in court documents. "Officers are dispatched to calls and have little control over the demeanor, sobriety and/or hostility toward law enforcement of the subject or the subjects of the call."

The county – as well as McEntire in a sworn statement – contends the deputy was fighting for his life inside the Rose home.

"When McEntire responded to the 911 call, Johnathan attacked McEntire so ferociously that McEntire was forced to shoot him in self-defense," lawyers for the county wrote in court papers. The county asserts that Rose was not asleep when McEntire arrived. "As soon as Deputy McEntire stepped into the home, he was verbally challenged by Decedent," county lawyers wrote.

Internal affairs documents regarding McEntire that have been filed in court show the deputy has received five "letters of recognition," that he exceeded standards in recent evaluations, and that there have been only two instances in which complaints about him were "sustained" by the department, meaning evidence shows they were likely true.

But amid an ongoing national debate over police use of force, there is a new focus on how law enforcement officers interact with suspects.