On Tuesday, the Los Angeles County Board of Supervisors voted in favor of an important motion that aims to improve the services available to LGBTQ youth, who are overrepresented in the child welfare and juvenile justice systems, and are particularly vulnerable to homelessness.
Nearly 20 percent of the county's foster youth identify as LGBTQ, approximately twice the percentage of LGBTQ kids in the general population, according to a 2014 UCLA study, which also found that LGBTQ kids were more likely to be placed in group homes than their non-LGBTQ peers, and had a higher average number of home placements than their peers.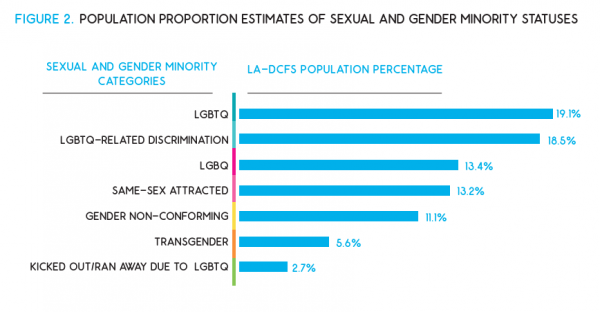 Yet, these foster youth, many of whom have experienced trauma in their homes based on their LGBTQ status, also reported poor treatment by the foster care system to the UCLA researchers. A total of 12.9 percent of LGBTQ foster youth surveyed said the child welfare system had treated them poorly, compared to 5.8 percent of their non-LGBTQ peers.
"There are approximately 1,400 young people who self-identify as LGBTQ in our child welfare system," said Supervisor Sheila Kuehl, who authored the motion with Supervisor Hilda Solis. "Often these children have been doubly disadvantaged by bigotry and ignorance as well as neglect and abuse."
The motion directs DCFS, Probation, Mental Health, Public Health, and Health Services to report back to the board in 90 days with information on the county's existing programs and services meant to benefit LGBTQ youth, including whether they are actually meeting the needs of the kids they serve. The motion seeks recommendations for improving data collection regarding issues like physical and mental health services, foster family recruitment and placement, and outcomes for LGBTQ youth. The supervisors have also asked for recommendations regarding whether a specialized unit within each department would better serve the needs of the county's LGBTQ kids. In addition, the motion calls for the relevant agencies to recommend ways to bolster housing programs for LGBTQ youth, especially those who are juvenile justice system-involved, child welfare system-involved, and homeless.
"This motion lays the groundwork for the County to better provide for their needs, including tailored services delivered by well-trained and culturally competent staff, and identification of supportive, affirming caretakers," Kuehl said.
Back in 2015, a study commissioned by the supervisors to analyze the overrepresentation of LGBTQ kids in the county's systems revealed "greatly disparate policies and training protocols across the County regarding LGBTQ youth, and a need for more culturally competent and consistent education and training for staff on LGBTQ youth issues," according to the motion. Since the release of the report, the county has launched efforts to create LGBTQ youth-focused training and programs, but more must be done to support the kids in the county's care, according to Supervisors Kuehl and Solis.
"While we have made some deeply positive gains in achieving equality for LGBTQ people, LGBTQ youth – especially those in the child welfare or probation systems – still face discrimination, bullying, violence, and ignorance from people in their lives," Solis said. "Today's motion will ensure the delivery of more sensitive and supportive services to this population of young people who both deserve and need affirming care to help them thrive."
During the board meeting, LGBTQ youth told stories of the challenges they faced in LA County's foster care system.
One youth, Dayvon Williams, said he entered the foster care system when he was three years old, and was moved to eight or nine different foster homes during his time in care. Dayvon told the board that he was bullied in school, and received no supportive services from DCFS. "I was forced to suppress it myself and deal with identifying myself on my own," Dayvon said. "Without mentors or stable family, I ended up in the probation system." Permanent housing "has been a major struggle," he said.
"But somehow I survived," Dayvon said. "Today I am in college…and I am dedicated to improving my community's access to education, housing, and development opportunities."
The youth called on the board to redirect the money from the $3.6 billion jail plan and invest the money in the community, bolstering LGBTQ youth programs and finding nurturing foster families for LGBTQ kids.
Dr. Khush Cooper, whose firm, along with UCLA's Williams Institute authored the LA LGBTQ Preparedness Scan study and report, urged the board to take advantage of the opportunity "to lead the nation in developing and expanding cutting-edge policies and programs." Doing so will "expand a county network of targeted services are tailored to explicitly support LGBTQ youth who come into the care of probation or child welfare to have productive and connected lives as adults," Dr. Cooper said.
And, "for those who cannot access those tailored supports for whatever reason, support efforts that require existing service networks to serve LGBTQ youth with the same respect and protection as their non-LGBTQ counterparts, and, ultimately, prevent them from getting to those systems in the first place."
Another speaker suggested that the county departments named in the motion make sure to bring an LGBTQ youth voice to the table during the 90 days of assessing LGBTQ youth services, programs, and training.
Jenny Delwood of the Liberty Hill Foundation agreed. Liberty Hill, she said, has launched a queer youth leadership program. Through this program, youth surveyed their peers.
"Young people identified three priorities," Delwood said. "The first, stable housing, the second…investments in youth development as opposed to incarceration, and third, high-quality mental health services."
Delwood urged county departments to be sure to include the LGBTQ youth voice in this process, "because youth really are the ones who know what they need, and how they need those services."
---
This story has been updated with remarks from speakers at the LA County Board of Supervisors meeting.
Image: Dayvon Williams and fellow LGBTQ youth address the board.