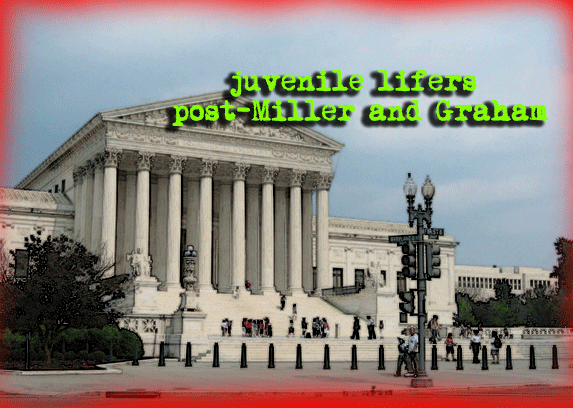 STATES' RESPONSES TO SUPREME COURT RULINGS ON LIFE SENTENCES FOR JUVENILES
The United States Supreme Court ruled against mandatory life sentences for kids via the 2010 Graham v. Florida and the 2012 Miller v. Alabama decisions. In Graham v. Florida, SCOTUS ruled that juveniles cannot serve life without the possibility of parole where no murder was involved—kids must be given a chance to seek parole based on their level of rehabilitation. The Court ruled in Miller v. Alabama that mandatory life-without-parole sentencing for children was unconstitutional (but did not strike down LWOP for youth altogether).
Many states are dragging their feet, only partially complying with the landmark rulings. (See clip below for how California's efforts rate.)
The NY Times' Eric Eckholm has the story. Here are some clips:
In decisions widely hailed as milestones, the United States Supreme Court in 2010 and 2012 acted to curtail the use of mandatory life sentences for juveniles, accepting the argument that children, even those who are convicted of murder, are less culpable than adults and usually deserve a chance at redemption.

But most states have taken half measures, at best, to carry out the rulings, which could affect more than 2,000 current inmates and countless more in years to come, according to many youth advocates and legal experts…

Lawsuits now before Florida's highest court are among many across the country that demand more robust changes in juvenile justice. One of the Florida suits accuses the state of skirting the ban on life without parole in nonhomicide cases by meting out sentences so staggering that they amount to the same thing…

The plaintiff in one of the Florida lawsuits, Shimeek Gridine, was 14 when he and a 12-year-old partner made a clumsy attempt to rob a man in 2009 here in Jacksonville. As the disbelieving victim turned away, Shimeek fired a shotgun, pelting the side of the man's head and shoulder.

The man was not seriously wounded, but Shimeek was prosecuted as an adult. He pleaded guilty to attempted murder and robbery, hoping for leniency as a young offender with no record of violence. The judge called his conduct "heinous" and sentenced him to 70 years without parole.

Under Florida law, he cannot be released until he turns 77, at least, several years beyond the life expectancy for a black man his age, noted his public defender, who called the sentence "de facto life without parole" in an appeal to Florida's high court.

[SNIP]

Among the handful of states with large numbers of juvenile offenders serving life terms, California is singled out by advocates for acting in the spirit of the Supreme Court rules.

"California has led the way in scaling back some of the extreme sentencing policies it imposed on children," said Jody Kent Lavy, the director of the Campaign for the Fair Sentencing of Youth, which has campaigned against juvenile life sentences and called on states to reconsider mandatory terms dispensed before the Miller ruling. Too many states, she said, are "reacting with knee-jerk, narrow efforts at compliance."

California is allowing juvenile offenders who were condemned to life without parole to seek a resentencing hearing. The State Supreme Court also addressed the issue of de facto life sentences, voiding a 110-year sentence that had been imposed for attempted murder.
---
SUBSTANTIAL FEDERAL JUVENILE JUSTICE GRANT CUT FROM BUDGET
Funding for the federal Juvenile Accountability Block Grant (JAGB) was cut from the 2014 budget Congress sent to the president's desk late last week. The grant provided money for important programs across the country, including a restorative justice program in California that was successful in keeping kids out of the system. At the same time, the budget reserves $10M for building and expanding corrections facilities. Advocates are dismayed, saying the lost juvenile justice dollars indicate misplaced governmental priorities. (We agree.)
The Juvenile Justice Information Exchange's Gary Gately has the story. Here's a clip:
Juvenile offenders and their parents in California signed contracts agreeing to school attendance, curfews, drug testing and counseling – and the agreements prevented the youths from being incarcerated.

New York state funded programs in Syracuse and Utica to divert from arrest youths who had committed non-serious illegal acts at school.

Georgia made funds available to 159 county juvenile courts to find community-based services as alternatives to detention.

The efforts in the three states were funded in part by the federal Juvenile Accountability Block Grant (JABG) program, which gives states resources to improve juvenile justice systems.

But the JABG funding has been eliminated in a fiscal year 2014 spending bill released this week by House and Senate negotiators.

[SNIP]

[Executive Director of the Coalition for Youth Justice, Marie] Williams, told JJIE that the JABG funding "does a lot of really, really good things that I think states are going to be missing the funding for," including prosecutors, drug courts, risk-assessment tools and school safety.

[SNIP]

While eliminating the JABG grant funding, the spending bill allows states to spend up to $10 million of the $55.5 million in Title II grants for "building, expanding, renovating, or operating temporary or permanent juvenile correction, detention or community corrections facilities." (The Title II grants are based on formulas in which the federal government and states contribute to juvenile justice initiatives.)

Williams said singling out such facilities for funding reflects misplaced priorities on Capitol Hill.

"To us, it's a clear indication they're out step with the trend in juvenile justice, which is de-incarceration," Williams said. "Why on the one hand is Congress defunding things like juvenile courts, restorative justice programs, improving juvenile justice systems, but making a point to include $10 million for juvenile corrections facilities?"
---
OBAMA ON MARIJUANA POLICY
In David Remnick's interesting (and extensive) new profile of President Barack Obama for the New Yorker, the president shares his thoughts on the legalization of marijuana and the racial and social class sentencing disparity.
When I asked Obama about another area of shifting public opinion — the legalization of marijuana — he seemed even less eager to evolve with any dispatch and get in front of the issue. "As has been well documented, I smoked pot as a kid, and I view it as a bad habit and a vice, not very different from the cigarettes that I smoked as a young person up through a big chunk of my adult life. I don't think it is more dangerous than alcohol."

Is it less dangerous? I asked.

[SNIP]

Less dangerous, he said, "in terms of its impact on the individual consumer. It's not something I encourage, and I've told my daughters I think it's a bad idea, a waste of time, not very healthy."

What clearly does trouble him is the radically disproportionate arrests and incarcerations for marijuana among minorities. "Middle-class kids don't get locked up for smoking pot, and poor kids do," he said. "And African-American kids and Latino kids are more likely to be poor and less likely to have the resources and the support to avoid unduly harsh penalties." But, he said, "we should not be locking up kids or individual users for long stretches of jail time when some of the folks who are writing those laws have probably done the same thing." Accordingly, he said of the legalization of marijuana in Colorado and Washington that "it's important for it to go forward because it's important for society not to have a situation in which a large portion of people have at one time or another broken the law and only a select few get punished."

As is his habit, he nimbly argued the other side. "Having said all that, those who argue that legalizing marijuana is a panacea and it solves all these social problems I think are probably overstating the case. There is a lot of hair on that policy. And the experiment that's going to be taking place in Colorado and Washington is going to be, I think, a challenge."
---
CONSEQUENCES OF THE US IMMIGRATION INCARCERATION QUOTA
For the last six years, Immigration and Customs Enforcement (ICE) has been forced to fill a quota of 34,000 immigrants in lock-up at all times.
The NY Daily News' Robert Morgenthau rightly points out that setting a numerical quotas when it comes to incarceration policy—for immigration or otherwise—-completely undermines the notion of justice in any court process. Here are some clips:
The detention quota is unprecedented and unique to the immigration context. As Florida Rep. Ted Deutch, a Democrat, explained to Bloomberg News in June 2013: "No other law enforcement agencies have a quota for the number of people that they must keep in jail."

But hard-liners in Congress fight tirelessly to keep it in place. Last year, when the prisoner population dipped to 30,773, U.S. House Homeland Security Committee Chairman Michael McCaul wrote a pointed public letter to Immigration and Customs Enforcement (ICE) Director John Morton, informing him that he was "in clear violation of the statute" and its 34,000 prisoner requirement.

Notice that's not the number of immigrants Congress wants to deport; it's the number Congress insists on incarcerating while they await their fate.

[SNIP]

Such a rigid number cannot help but have a corrupting influence on the entire process. Imagine trying to get a fair trial in criminal court if your state legislature mandated that judges had to fill a certain number of prison cells each day. It would be impossible.

How can lawyers representing the federal Immigration and Customs Enforcement do their job dispassionately — seeking incarceration only of those who truly represent a danger to society or a risk of flight — if they know their funding is dependent upon hitting a number?