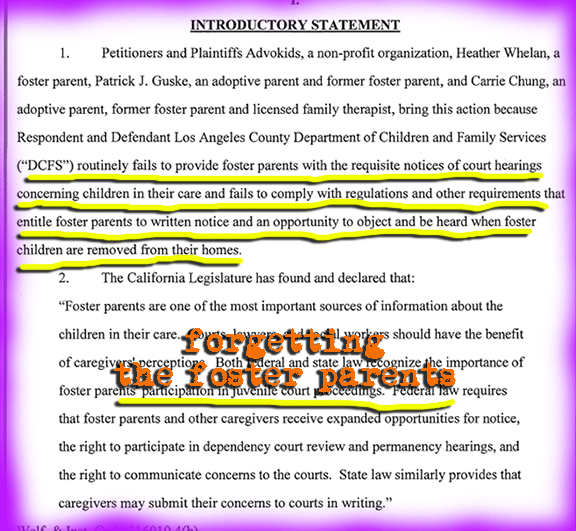 EDITORIAL: FOSTER PARENTS SHOULD INFORMED OF COURT DATES AND DECISIONS AFFECTING THEIR KIDS
A lawsuit filed this month accuses the LA County Department of Children and Family Services of failing to inform foster parents of their foster kids' court dates, as well as neglecting to give foster parents the 7-day notice required by law when children in their care are going to be taken and placed elsewhere. The lawsuit was filed on behalf of the non-profit group Advokids and three foster parents.
The LA Times' Jim Newton, who has been watching foster care issues closely, says lapses in communication between DCFS workers and foster parents are detrimental to the wellbeing of the kids they care for. Here's how it opens:
Heather Whelan has been a foster mother to some 20 children. She has nurtured broken babies back to health and worked closely with parents to fix families. She has also cringed as social workers made life-changing decisions about her charges without consulting her. In one case, she says, the county abruptly separated a pair of sisters she'd been caring for, traumatizing the baby girls because the social worker did not know how much the girls had come to rely on each other.

Carrie Chung is a professional social worker who became a foster parent in 2008. She describes how she once cared for a very young infant who required special foods and exercise to grapple with a difficult ailment. When a hearing was scheduled to decide whether the child could be safely returned to her family, Chung says, no one even bothered to tell her it was taking place.

Over the past three years, I've spent a lot of time in the Los Angeles foster care system — in courtrooms and waiting rooms, with children and lawyers, birth parents and foster parents. And while I can't say whether Whelan and Chung are the exception or the rule when it comes to how the county's Department of Children and Family Services relates to foster parents, I can say that there are persistent breakdowns in communication between social workers and foster parents — and that kids are suffering as a result.

Of the 20,000 or so Los Angeles County children who were living outside their homes this summer under DCFS supervision, about 6,500 were placed with non-relative foster parents. The children have social workers, but they only see them once a month or so. Their lawyers are often overwhelmed. Foster parents are often the only people who see these children every day and can know if they're having nightmares or trouble with bullies or if they are sinking or recovering.
---
LOOKING AT CALIFORNIA PRISONS TO UNDERSTAND MASS INCARCERATION NATIONWIDE
A promising new book by legal scholar and Berkeley Law Professor Jonathan Simon, Mass Incarceration on Trial: A Remarkable Court Decision and the Future of Prisons in America, takes a look at the issue of nationwide mass incarceration through the lens of California's prison history, from the 70's and 80's when "tough on crime" triggered the rise of incarceration rates, to SuperMax prisons, to Brown v. Plata—the precedent-setting Supreme Court ruling that said California's prison overcrowding amounted to cruel and unusual punishment, and put a population cap in place.
Mass Incarceration on Trial challenges the belief that locking more people away promotes public safety.
Publisher's Weekly gave it a starred review, calling it "an eloquent critique of the American prison system."
The Crime Report's Cara Tabachnick interviewed Simon about his book. Here are some clips:
The Crime Report: Considering that mass incarceration is a national problem, why did you focus on California?

Jonathan Simon: California is the Mississippi of mass incarceration. When people think of states that would follow the worst practices in incarceration you may think of Texas, Mississippi, or other Southern states because they have struggled with issues of segregation and racism that would crossover to how they treat their inmates. Historically California has been so progressive. It started out as the second most lenient region behind the Northeast, but then from the 1970s through the 1990s the rate swung all the way to be one of the most punitive regions. There was a 500% increase in incarceration—the biggest increase for any of the big states. The state defends itself by saying they in line with the national average of incarceration, but I say who wants to be part of the national average?

But in a way Californians are lucky, because it's a state that has bad incarceration with good lawyers. And the story couldn't be told—and the future of mass incarceration may be different—without the work of the California's Prison Law Office, and the firm Rosen Bien, Galvan and Grunfeld, which brought so many of the game-changing prisoners' rights suit.

TCR: The California corrections system official title is "California Department of Corrections and Rehabilitation," yet you note that the idea of rehabilitating prisoners has almost completely disappeared from the system.

JS: Governor (Arnold) Schwarzenegger actually added rehabilitation back into the title in 2004-2005. He saw that the system was in catastrophe. Putting that word back in was a clear sign that he knew things needed to change. Rehabilitation used to be a central theme of California prisons until the 1970s and the move towards determinate sentences in California. The purpose of the 1976 Determinate Sentencing Act is punishment. Rehabilitation was no longer the goal of the prison. The idea was to give criminals short and just sentences and then they would return home from prison.

But in reality that is not what happened, mass incarceration began to grow as legislatures and politicians added more punishments such as three strikes, and corrections lost their ability to parole. Long sentences replaced short sentences. It was a layer-cake effect. But by then, the idea of rehabilitation had been out of the system for so long, that corrections had stopped thinking of prisoners as human beings. The system began to treat people as a mass, instead of individuals.

[SNIP]

TCR: Should judges should be required to routinely visit correctional institutions so they can be kept apprised of the conditions?

JS: I think that's a great idea. In Plata v. Brown our courts functioned almost as human right investigatory body. They went into these prisons and brought videos out of inhumane conditions happening in the prisons, overcrowding, bad -beds, unchecked mental illness. And with these videos they've opened a visual pathway through which the public can really confront what our nation has been doing with mass incarceration.

TCR: How can the American system learn from European correctional systems?

JS: In Europe they have the European Prison rule. The rule has three core features: individualization of the inmate; normalize the prison to make it as consistent with the community as possible, (provide equal medical care, employment rights, human rights); and be progressive—offer prisoners who obey the rules opportunities. These rules make a difference. In the United States (such an approach) could conserve the dignity of the prisoner and create a better system then we had in the past.
---
LAPD SYSTEM FOR FLAGGING OFFICER MISCONDUCT FALLS SHORT, SAYS INSPECTOR GENERAL
The LAPD's system for flagging questionable officer behavior triggers warnings against officers that turn out to be unfounded, while proving unsuccessful at flagging officers who go on to commit serious misconduct, according to a report by the LAPD inspector general, Alex Bustamante.
The department has asked a research group to analyze all the databases used to track officer behavior, and whether the system actually, created under a federal order, has any influence on officer conduct.
The Police Commission will discuss Bustamante's findings during their meeting today.
The LA Times' Joel Rubin has the story. Here are some clips:
The report by the Police Commission's inspector general, Alex Bustamante, scrutinized an early warning computer program that the LAPD has used since 2007 to track patterns of excessive force and other misconduct by its roughly 10,000 officers. The analysis casts doubt on the usefulness of the computer system, which federal officials forced the LAPD to build after years of corruption and abuse.

[SNIP]

The Police Commission, which oversees the LAPD, will discuss the inspector general's report at a meeting Tuesday. Commissioner Robert Saltzman said the department's current tracking system appears to be "providing limited predictive capabilities," adding that Bustamante's report raises "significant questions."

"I look forward to understanding how the department is responding to correct the issues," he said.

In his report, Bustamante examined nearly 750 warnings about officers generated over a recent four-month period. In 70% of the cases, supervisors took no action after determining that the conduct flagged by the computer system did not point to any problems, the report found.

The lack of action after so many red flag notifications raises questions about the criteria being used to trigger warnings — called "action items" in LAPD jargon. Currently, the system attempts to compare several aspects of an officer's conduct to that of other officers in similar assignments. A warning is triggered when an officer exceeds acceptable limits for each benchmark. The various benchmarks include the number of times an officer uses force on a suspect, as well as complaints and lawsuits filed against the officer.

Maggie Goodrich, the LAPD's chief information officer, said it could be that the system currently is too quick to issue a warning. The risk, she said, is that the department might narrow its assessment of officers too much and, in doing so, miss some misconduct.

"The challenge is finding a balance," she said.
---
OBAMA RESPONDS TO FERGUSON CONFLICT BY ORDERING REVIEW OF POLICE MILITARIZATION
President Barack Obama is ordering a review of law enforcement militarization. The probe, to be conducted by White House officials, will focus on military surplus programs and federal grants that help civilian police forces buy military equipment, whether police should be receiving the equipment, how state and local police are using the equipment now, and what kind of training they should have in the future.
The president's decision comes in the wake of images and reports of Ferguson, MO, police in combat gear and heavy weaponry clashing with people protesting the death of Michael Brown.
McClatchy News' Christi Parsons has the story. Here's a clip:
The review, to be led by White House staff, will also look into whether the federal government is sufficiently auditing the use of the equipment it helps facilitate, according to the official, who requested anonymity to discuss the president's in-house directive.

The federal government has been helping police purchase military equipment for more than 10 years, ever since the events of Sept. 11, 2001, raised concerns about police readiness for a serious attack. Through grant programs and transfers from the military, the U.S. government has helped make the gear available to law enforcement agencies across the nation that have asked for it.

But the gear hadn't been widely noted until unrest broke out in Ferguson early this month over the shooting by a white police officer of Michael Brown, an unarmed, 18-year-old black man. The incident stirred protests, looting and some anti-police violence, which in turn inspired the police to get out their body armor, heavy vehicles and automatic rifles.

[SNIP]

After seeing images of the police gear in video footage, Obama asked senior advisers to look into the programs that provided them. He also spoke about the images in a news conference with reporters a week after Brown's death. Some post-9/11 equipment upgrades have been useful, he said, noting in particular the improvements to radio communications and to equipment for dealing with hazardous material.

But Obama said he wanted to make sure that what police are buying is "stuff that they actually need."

He also warned that "there is a big difference between our military and our local law enforcement, and we don't want those lines blurred. That would be contrary to our traditions."