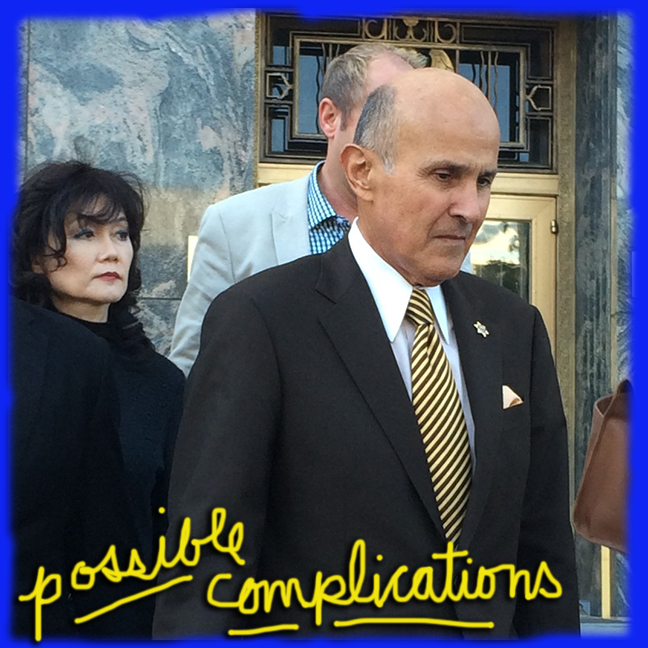 IS FORMER SHERIFF LEE BACA SUFFERING FROM ALZHEIMER'S DISEASE?
According to sources who have met recently with former Los Angeles County Sheriff Lee Baca, the former sheriff said he has been diagnosed with Alzheimer disease, along with Parkinson's,** and believes his condition may persuade U.S. District Court Judge Percy Anderson not to give him any prison time when Anderson sentences Baca in July.
Baca's sentencing hearing, which was originally scheduled for May, has been delayed twice at the request of the prosecution, and is now scheduled for July 11 at 8:30 a.m. in Judge Anderson's courtroom.
If you'll remember, in February of this year, Baca signed a plea deal with federal prosecutors in which he formally pleaded guilty to one felony count of lying to federal authorities when they questioned him in the course of a wide-ranging investigation into "corruption and civil rights violations" in the department he'd led for fifteen years.
Specifically, Baca admitted to Judge Anderson that he lied to the FBI and members of the U.S. Attorney's Office during a round of questioning three years earlier on April 12, 2013. At that time, among other denials by Baca, the former sheriff falsely claimed ignorance of the fact that, in 2011, two LASD sergeants were going to approach FBI special agent, Leah Marx, and threaten her with arrest, hoping to get information about the feds' rapidly expanding investigation into brutality by deputies in the county's large jail system.
In fact, Baca has now admitted, he gave instructions that the officers "should do everything but put handcuffs on her." Her being Agent Marx.
Baca's attorneys sought the plea agreement with the feds in lieu their client facing a federal indictment for his alleged part in obstructing the government's probe into LASD wrongdoing.
But although the former sheriff pleaded guilty in February, the plea will not be finalized until Baca's July sentencing. The terms of the plea deal specify that Baca's sentence will fall between 0 to 6 months in a federal prison.
Yet, as Judge Anderson informed Baca and his attorney, Michael Zweiback, during the February plea hearing, the court "is not bound by advisory guidelines," but is able to impose a sentence that "could be greater or lessor than the guideline range," up to a maximum of five years in prison, plus three years of post-prison oversight, and a cash fine of up to $250,000.
But if Anderson was to go above the 0 to 6 guidelines, then the plea deal would become null and void—unless Baca and his attorney elected to take the higher sentence rather than go to trial.
Still, there has been much speculation about the possibility that Anderson could to go above the guidelines in order to give Baca a sentence that can be measured in years, not months.
But now there is the new—but not officially confirmed—-talk about Baca's possible condition.
Baca's sentencing date has been postponed twice, and both times the postponement was requested by the prosecution.
In the most recent written request for a delay, prosecutors referred to "issues raised" in the "Pre-Sentence Investigation Report" that has been submitted by probation.
Here's how that works: After Baca submitted his plea, representatives from federal probation met with Baca and company, then submitted a report recommending a sentence within the federal guidelines—specifically that 0 to 6 months we mentioned earlier–-for the crime to which he has pleaded. Then once in receipt of the probation report, the prosecution must make its own recommendation that could be higher or lower than whatever probation suggested, but that—–according to the terms of the plea deal—–must remain within the 0-6 month parameter.
It seems, however, that there are some unnamed "issues" raised by the probation report that the government feels it needs more time to address:
The government has identified, retained and consulted with an expert witness regarding the issues raised in paragraph 65. This expert witness then asked for additional material from defendant in order to fully assess the issue.

Defendant provided most of this material to the government late last week, which the government forwarded on to its expert witness today. Defendant, however, is awaiting additional results sought by the government's expert witness. Defendant expects to receive these results in the next week. Once the government receives the additional material, it will need time to consult with its expert witness on the issue and determine the extent to which it affects the government's [sentencing] recommendation, if at all.
The probation report, including the mysterious "paragraph 65" and the issues to which it refers are under seal.
So do the "issues" causing the delay relate to Baca's reported medical condition?
We asked Assistant U.S. Attoney Brandon Fox about the matter and he declined to comment.
---
TANAKA SENTENCING
The sentencing date for former undersheriff Paul Tanaka has also been delayed, and Tanaka will now be sentenced on June 27 at 8:30 a.m. For Tanaka too it will be Judge Anderson will be doing the sentencing. Tanaka faces a statutory maximum sentence of 15 years in federal prison.
To remind you, the former undersheriff was convicted of obstruction of justice and conspiracy to obstruct justice pertaining to allegations that he directed and oversaw deliberate efforts to disrupt an FBI investigation into a culture of brutality and corruption inside the LA County jails, which began in 2010.
Seven other former department members have been convicted of charges of obstruction of justice for actions stemming from orders issued by Mr. Tanaka and Mr. Baca.
Judge Anderson, who will be sentencing both Lee Baca and Paul Tanaka, presided over the trials of the seven and handed down their sentences, which ranged from 18 months to 41 months
So, in view of the sentences Anderson has already ordered for department underlings, will he be willing to sentence the former top guy, Lee Baca, to no prison time at all? Or will he venture outside the guidelines to give Baca a more substantial prison sentence, despite the former sheriff's reported medical issues.
Unless there are more delays, we will learn the answer to that question on July 11.
And in between the sentencing of Tanaka and Baca, the cases of the convicted seven will be heard by the 9th Circuit Court of Appeals on July 5.
---
**CORRECTION: Although sources tell us former sheriff Baca has Parkinson's, for a variety of reasons, we have become less sure about the reliability of this second reported diagnosis, hence the cut. We will keep you up to date as we learn more.