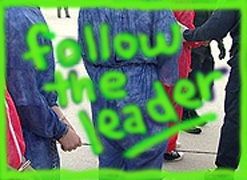 When it comes to prison numbers and prison policy, the only way that California seems to be leading the nation is with the sheer magnitude of our failures.
This morning, a New York Times editorial lays down a clear suggestion as to what the next step in smart corrections policy has to look like—for the fiscal, social, and moral well-being of the individual states and the nation. Oh, yeah. It's also better for public safety.

As a positive case in point, it points to excellent pending legislation in the state of Washington.
Here's how it begins. I recommend reading the whole thing. Then write your governor. That would be Arnold for us California folks.
With corrections costs going through the roof, states and localities are beginning to figure out the long-term costs of just shoving inmates out the door when their sentences are finished. To prevent people from ending up right back inside, states will need to embrace re-entry programs that provide ex-offenders with training, jobs, places to live and a range of social services that don't exist in most places.

This month, the Washington State Senate passed a farsighted bill that could be a model for the nation. It would require the state Corrections Department to fashion individual re-entry plans — detailing job training, drug treatment and educational goals — for every inmate…..