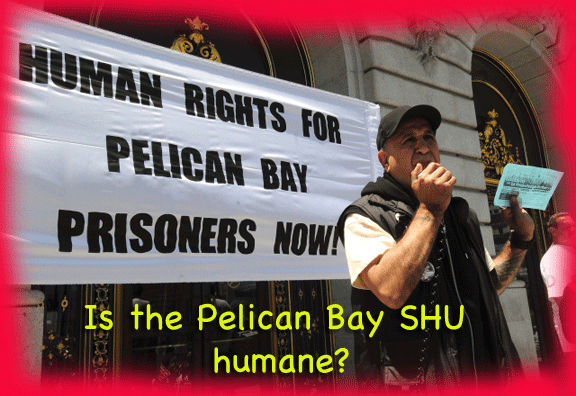 Approximately 100 prisoners in the Secure Housing Unit—the SHU-–of Pelican Bay Prison will begin an indefinite hunger strike on Friday July 1st in the hope of drawing attention to a list of five "core demands."
The demands are:
1. Individual accountability. No more "'group punishment' as a means to address individual inmates rule violations."

2. Stop the practice of debriefing. Inmates in the SHU because of perceived gang membership, who claim they have left the gang behind, can only prove their non-involvement by ratting out other inmates, a practice that has led to many false accusations, and marks the inmate for deadly retaliation when they are released.
3. Use long term solitary confinement only as a last resort.

4. Provide adequate food and stop using food as punishment.

5. Expand and Provide Constructive Programming and Privileges for Indefinite SHU Status Inmates.
The strikers also have written up a formal complaint listing what they contend are ongoing human rights violations.
The Pelican Bay inmates are being joined by inmates in the SHU at Corcoran. Protests to support the inmates are being held in a string of cities including San Francisco, Seattle, New York, Toronto and Montreal, with activist groups in each city joining in support.
---
THE NATURE OF THE SHU
Built in 1989, Pelican Bay State Prison has one of the largest and oldest isolation units in the country.
Each prisoner spends 22 1/2 hours of their day entirely alone in a small cement prison cell. The other 1 1/2 hours is spent in a bare cement "yard"—really just a slightly larger box-like cell, except with a metal grate for a ceiling that is open to the air. They are allowed no balls in the so-called yard, nothing is allowed but the inmate and the walls. Even SHU inmates' interaction with the guards is conducted only through a narrow slot in the cell door.
in the last few years, there has been growing group of experts who suggest that solitary confinement, of the kind that goes on at Pelican Bay and three other California SHU units, is a form of torture, that isolation drives people mad.
(This 2006 NPR story has more.)
---
PREPARED TO STRIKE INDEFINITELY
Todd Asker, one of the strike's organizers presently residing in the Pelican Bay SHU, wrote the following to San Francisco-based activist group, California Prison Focus, about the strike.
This peaceful H.S. protest is not "led" by any individual or group; it was deemed necessary only after more than a year of discussion and thought amongst many PBSP-SHU prisoners, from all races. And it was never taken lightly by anyone—actually the opposite is the case, because no one wants to put their health/life on the line, and all understand that there's a good chance some will die before this is over…. However, many of us are also lifers with 20 to 45 year in, and we recognize the illegal policies and practices (summarized in the Formal Complaint) continue unabated in spite of thousands of prisoner grievances and hundreds of court challenges. Thus we are left with no other option than an indefinite H.S.—the goal being to expose the illegal policies and practices at issue (and the related failure on the part of law makers and the courts) and to force positive changes.

We have nothing to lose.
Terry Thorton, spokesman for the California Department of Corrections, told California Watch that, if the strike does indeed materialize, the department would monitor the prisoners' health, but that was about it. "If an inmate decides he's not going to eat, we can't force him to eat."
And the state did not plan to actually negotiate with the strikers, she said.
"It's appropriate for the CDCR to review the demands, but they're not going to concede under these types of tactics."