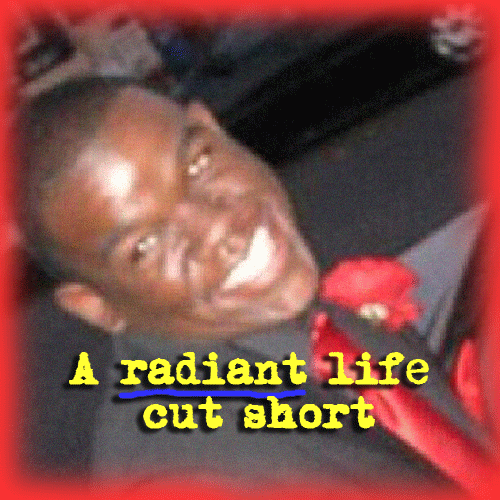 LA TEENAGER GUNNED DOWN IN A CASE OF PROBABLE MISTAKEN IDENTITY
Patrick Caruthers, a well-liked teenager and volunteer for Summer Night Lights was shot in broad daylight as he sat on a South LA park bench Tuesday. According to police, Patrick, a developmentally disabled 19-year-old, seems to have been mistaken for a gang member. Cameras projected to be installed at Harvard Park earlier this summer have been caught up in City Hall delays since early 2012. While there's no guarantee the cameras would have made a difference, it's hard not to wonder if surveillance may have deterred the tragic violence, or at least given the police leads in the investigation. A heartwrenching death like this is a reminder that even though crime is down in LA, for the people affected, one murder is earth-shattering.
LA Times' Angel Jennings has the story. Here's a clip:
A student at L.A. Trade Technical College, Caruthers got out of class a little early Tuesday and headed straight to Harvard Park. He called his stepfather at about 3 p.m. to check in.

Caruthers was sitting at a picnic table with his headphones on when a gunman shot him multiple times in the back. The gunman fled in a compact car.

Police said the shooting was gang-related, but that Caruthers was an innocent bystander.

The shooter "thought he was targeting a gang member," LAPD Det. Chris Barling said. "At 3 o'clock in the afternoon, somebody doesn't walk up and shoot somebody on a park bench. That is something a gang member would do."

Caruthers, who has a learning disability, volunteered at the city-owned park for years, until the director finally hired him in the Summer Night Lights anti-gang program. There, he helped steer youngsters from trouble.

"He was the one guy you would go to the park and see and he was always doing something positive," said Officer Gary Verge of the LAPD's 77th Division. "I've been on the scene of a lot of shootings but hearing about this one really bothered me."
---
PROP 30 WOULD STAVE OFF IMPENDING EDUCATION BUDGET CUT, SAYS DENNIS DANZIGER
LAUSD teacher and author, Dennis Danziger, goes to bat for Prop 30 in a impassioned and funny editorial for the Huffington Post. Danziger says the tax-raising bill will likely keep Gov. Brown from cutting $4.8 billion from the education budget. That kind of cut could mean that kids would lose another 15-20 school days per year, which could have a disastrous effect on the state's already struggling public school system.
Here's how Danziger's editorial opens:
Regardless of who wins the presidential election on Nov. 6, California's six million K-12 public school students will feel no immediate effect.

However, if California's Proposition 30, a Sales and Income Tax Increase Initiative, fails all California public school students' lives will be rocked the next morning.

The Los Angeles Unified School District has already lopped 10 days off its normal 180-day school year to deal with this year's state budget crisis. And if Prop 30, which raises California sales tax from 7.25 percent to 7.5 percent and increases the income tax on those earning over $250,000, goes down in flames, Governor Brown will likely make good on his promise to cut $4.8 billion in public school funds. That could mean wiping out an additional 15-20 schools days from the 2012-2013 academic year.

That's good news for day care providers, video arcade owners and sleep-a-way camp proprietors.

Not so good for student learning.

What does a 155-day public school year look like?

Well, compare it to China which sends its kids to school 260 days; Japan, 243 days; Israel, 216 days; Nigeria, 190 days; France, 185 days; and Bolivia, 160 days.

So all other things being equal, California public school kids should be able to give Bolivian students a run for their money come spring when it's time to take those standardized tests.
---
MEATBALL THE BEAR TO KEEP HIS CALIFORNIA RESIDENCY
It has been determined that Meatball, the adorable and mischievous Glendale bear, will remain a California resident. If you don't know the story, Meatball was caught in Glendale and released deep in the forest several times, to no avail. California Fish and Game officials had aimed to send him to a sanctuary in Colorado, but CO state officials blocked his entry. Now, Meatball will await the building of his new habitat in a sanctuary outside San Diego.
The Glendale News Press' Brittany Levine has the story. Here's a clip:
Since being lured into a trap with McDonald's and bacon, Meatball has been staying in a 15-by-20 foot cage at the Lions, Tigers, and Bears animal sanctuary in Alpine in east San Diego County. It was meant to be a holding spot until the bear could be transferred to a much larger sanctuary in Colorado, but state officials there blocked the plan.

California fish and game officials had said they would seek out a permanent home stateside, but since then, Lions, Tigers and Bears has embarked on a fundraising campaign to build Meatball his own habitat. The sanctuary still has a long way to go — it's raised just $22,000 of the $250,000 needed — but the effort has been enough for the California Department of Fish and Game.

"We're hoping that he lives a long, happy life in Alpine," said the agency's spokesman, Andrew Hughan, who was reached by phone Tuesday as he visited Meatball for the first time.

The bear captured the hearts of many after he made multiple visits to foothill neighborhoods, snacking on trash and raiding a freezer of his namesake — frozen meatballs. California officials twice relocated the bear deep in the Angeles National Forest, but he continued to return.
---
Photo taken from a memorial facebook page.