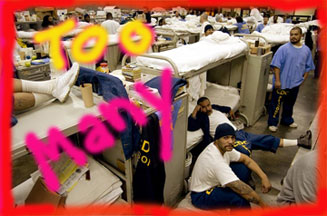 Imporant newly proposed immigration legislation….another MacArthur Park march and rally….a strongly worded new ACLU legal filing regarding the LAPD….

Yesterday was a full day.

I'm finishing up a deadline so I'll be back with a new posting late this afternoon.
In the meantime, here's a post from the always interesting ProfsBlog about how bad California's prison system really is. It's titled "Golden State Guantanamo." Here's the main 'graph:
One of the least covered and most important areas of California's socio-legal landscape is its bloated and inhumane prison system that now holds approximately 80,000 prisoners more than the 100,000 its 30+ prisons were designed to house. While Guantanamo has rightly been a subject of constant attention in the main stream media and the legal blogosphere, California's prison crisis constitutes a human rights abuse of equal if not greater significance. Three separate federal courts now have jurisdiction over different aspects of the crises created by the endless growth of this system. The overcrowding has transformed the state's already warehouse like prisons, which lacked educational or treatment facilities, into something that deserves the term "camp", with gyms and hallways packed with bunk beds. Such conditions, and a chronic shortage of guards, has a more hellish twist when you consider that most of these prisoners are considered players in a racialized gang order that involves more than a dozen different factions (many divided within ethnicity). But suffering can be more mundane as well. In a new report prepared for one of the federal courts (described in today's SF Chronicle), that of Hon. Thelton Henderson (N.Dist CA), the special master appointed by Judge Henderson criticized the system for being as many as 2,700 guards short and noted that plans to add thousands of new beds would only increase the numbers of people exposed to the system's broken health and dental systems (the subject of the case before Judge Henderson). I'm not an expert in the metrics of pain, but how many unset broken bones or uncared for dental abscess equals a case of water boarding?
Now before anybody labels this an over-the-top rant by some no-nothing bleeding heart, you should know it was written by Jonathan Simon, the Associate Dean for Jurisprudence and Social Policy at UC Berkeley's Boalt Hall Law School. Simon's own blog, Governing Through Crime, is full of other interesting takes on California's crime and prison policies.
In fact, here's something he wrote on my fabulously smart friend, Joan Petersilia, the state's top expert (and one of the nation's top experts) in prison reentry and parole policy.
Okay, back soon. In the mean time, please inform, argue, opine, take issue and discuss this— or any of the other pressing topics of the last 24 hours.
*********************************************************************
UPDATE: Blogfather Marc Cooper has a good take on the immigration package, as I knew he would.