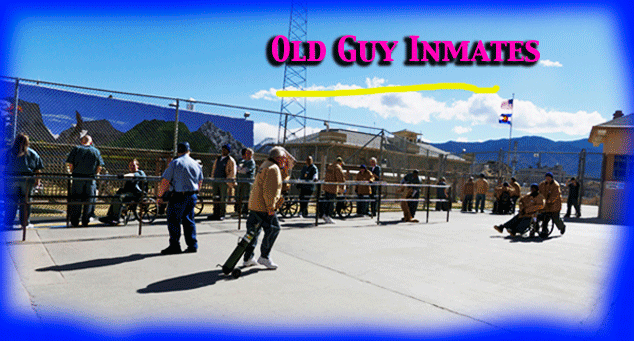 NEW STUDY SAYS AGING PRISONERS FASTEST GROWING LOCKED-UP POPULATION
The fact that aging prisoners are a growing issue has been reported on a lot lately as reporters and policy makers start to snap awake to the fact that locking up more people for longer is going to eventually produce a bunch of old guy (and old girl) inmate.
California, with its long troubled prison health care system, is one of the states that cannot help but be hit hardest by the demands of an aging inmate population.
Human Rights Watch has issued a new report that looks at the scope of the problem nationally. Here's a clip from their press release:
Human Rights Watch found that the number of sentenced state and federal prisoners age 65 or older grew at 94 times the rate of the overall prison population between 2007 and 2010. The number of sentenced prisoners age 55 or older grew at six times the rate of the overall prison population between 1995 and 2010.

"Prisons were never designed to be geriatric facilities," said Jamie Fellner, senior adviser to the US Program at Human Rights Watch and author of the report. "Yet US corrections officials now operate old age homes behind bars."
All in all, HRW has produced a thoughtful, informative report that surveys the issue, makes some practical recommendations, and then asks a series of questions that challenge us to ask ourselves from a common sense perspective about when imprisonment might no longer be justified or sensible, as certain kinds of prisoners gets older.
Read the whole report here.
The New York Times also has a story on the issue.
---
AND WHILE WE'RE ON THE SUBJECT OF PRISON COSTS: A NEW VERA INSTITUTE REPORT SAYS THE REAL COST OF PRISONS TO TAXPAYERS HIGHER THAN REALIZED
The Vera institute has just released a new report titled The Price of Prisons: What Incarceration Costs Taxpayers. The report shows that however much we think our prisons are costing us as taxpayers—we're likely wrong. They're costing us more than we think.
On a state by state basis, the Vera people looked at such extra costs as staff pensions and retiree benefits— and more—that, in many cases, are not listed in a state's corrections budget.
In California, for example, our corrections budget is $7 billion. But when we look at the full cost, as Vera calculates it, the budget goes up to $7.9 billion—nearly a billion dollars more than our corrections budgets would suggest, bringing the cost of locking up each inmate in our prisons to $48 thousand per year, one of the higher price tags in the nation..
And if we look at the collateral costs of incarceration, (costs that Vera mentions as important, but that they did not cover in this report) the taxpayer's bill goes still higher:
When a person is in prison, taxpayers may incur additional—or indirect—costs, such as the costs of social services, child welfare, and education, for example. For the most part, these indirect costs are borne by government agencies other than the department of corrections. They are not included in the calculations presented here, however.

Incarcerated men and women also bear economic and social costs associated with prison—as do their families and communities.* As a 2005 study concluded, "Incarceration impacts the life of a family in several important ways: it strains them financially, disrupts parental bonds, separates spouses, places severe stress on the remaining caregivers, leads to a loss of discipline in the household, and to feelings of shame, stigma, and anger."** Although these costs—typically referred to as collateral costs—are important for policy deliberations, they are no tallied in this report.
---
LA MAGAZINE EDITOR MARY MELTON TALKS ABOUT WHAT'S MISSING IN LA JOURNALISM
A smart new LA blog called Frying Pan News did an interview with LA Mag's editor Mary Melton about what the LA Times is doing wrong—and more.
Here's a clip:
What is missing from the city's journalistic landscape?

The mainstream press needs to reintroduce beats, cover California and L.A. issues, have more reporters devoted to local politics and politicians. Websites don't have the resources to do deep reporting.

If you were editor of the L.A. Times, what would you do to change things?

The first thing I would do is hire a fleet of buses and have everyone in the building get on one and go see the city. Too many people at the Times never leave the building. I remember during the 2000 Democratic Convention, which was in downtown. I was working at the Times, and I decided to go over to check it out. I tried to get some folks to come with me, and everyone said, "It's so far." What?
I like the bus idea. (But way better to get on public transportation, not that hired fleet.)
---
THE IDIOTIC "I MIGHT HAVE A TACO" MAYOR GETS MORE THAN 2000 TACOS
The group Reform Immigration for America delivered a whole lot of texts and tacos on Thursday to East Haven, CT, Mayor Maturo—along with an invitation to have an open dialogue with the Latino community in his city, following his insensitive remarks this week.
MSNBC has more on the story-–and the back story:
A Connecticut mayor who sparked a firestorm of criticism for quipping "I might have tacos" when interviewed by a TV reporter about the arrest of four town police officers accused of racially profiling and bullying Latino residents got more than he bargained for.

More than 2,000 tacos were delivered to the office of East Haven Mayor Joseph Maturo on Thursday, ordered by people who found his comments insensitive racially offensive. The send-the-mayor-a-taco campaign, which took off via tweets, cellphone texts and social-media shares, was organized by Reform Immigration for America, a group that advocates comprehensive immigration reform.