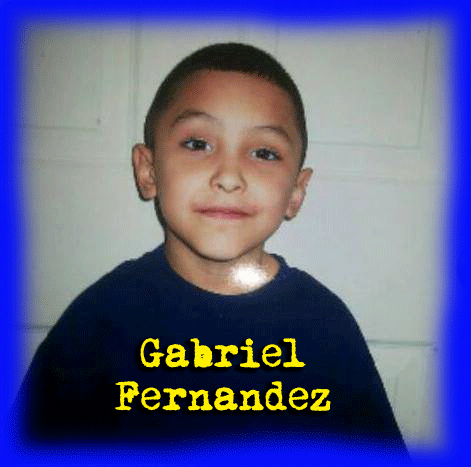 RARE CHARGES AGAINST SOCIAL WORKERS IN THE BRUTAL MURDER OF A BOY AT THE HANDS OF HIS MOTHER AND HER BOYFRIEND
On Thursday, LA County District Attorney Jackie Lacey announced charges against four social workers in the death of 8-year-old Gabriel Fernandez, who was tortured and fatally beaten in 2013 by his mother and her boyfriend in Palmdale, despite numerous reports to the Department of Children and Family Services that the boy was being abused.
Gabriel died on May 24, 2013, from multiple injuries including broken ribs, a fractured skull, and burns all over his body.
The four social workers—Stefanie Rodriguez and Patricia Clement, and their supervisors Kevin Bom and Gregory Merritt—have all been charged with one felony count of child abuse and one felony count of falsifying public records.
Between the day the child welfare case was opened on October 31, 2012, and the day Gabriel was murdered in 2013, relatives, Gabriel's elementary school teacher, a therapist, and others reported to authorities that Gabriel was being repeatedly abused.
Patricia Clement, the main social worker on Fernandez's case, allegedly never spoke to Gabriel alone. Any conversation the child and social worker had was within earshot of his abusers. Clement reportedly also had a history of not performing required checks to ensure the safety of the kids under her watch.
"By minimizing the significance of the physical, mental, and emotional injuries that Gabriel suffered, these social workers allowed a vulnerable boy to remain at home and continue to be abused," DA Lacey said in her announcement.
Rodriguez and Clement have been charged with falsifying reports by omitting documentation of the continued abuse. Bom and Merritt are accused of approving those false reports, which were in conflict with the evidence in Gabriel's case file.
"We believe these social workers were criminally negligent and performed their legal duties with willful disregard for Gabriel's well-being," Lacey said.
The accused each face up to 10 years behind bars.
On KPCC's AirTalk, Garrett Therolf, who has been following Gabriel's story for the LA Times, and USC Professor of Social Work, Eugenia Weiss, talked with host Larry Mantle about the charges against the social workers and what comes next.
It's highly unusual for charges to be brought against social workers in the death of a child. "It's extraordinarily rare," said Therolf. "Child welfare officials and prosecutors can't recall another case of its kind anywhere in California." Such cases are also exceedingly rare elsewhere in the nation.
Here's a clip from the story accompanying the radio show:
"In the case of Gabriel, it was so horrendous, what, I guess you could say fell through the cracks, but I think what the DA is saying, it didn't just fall through the cracks, because this crime has to be intentional," Supervisor Sheila Kuehl told KPCC.

The DA contends the four social workers had a legal duty to protect Gabriel.

Rodriguez and Clement are specifically accused of "falsifying reports that should have documented signs of Gabriel's escalating physical abuse and the family's lapsed participation in DCFS efforts to provide help to maintain the family."

"One of the ways you can show intention that the negligence was so egregious that it must have been intended because no reasonable person would have been that negligent," Kuehl said. "Now that's an uphill battle for the DA, because to say something is a crime is different from an offense for which I'd let you go from your job."

Bom and Merritt, as supervisors, should have been aware the reports conflicted with evidence from Gabriel's case file that his physical well-being was deteriorating, and they shouldn't have allowed him to remain at home, prosecutors contend.

Kuehl said that reforms have already been made to the Department of Children and Family Services in the three years since the crime was committed.

She said that the agency hired 1,000 new social workers to help manage the 25,000 kids in the system.
---
NEW LA COUNTY COURTROOM HELPS KIDS TRANSITION OUT OF FOSTER CARE INTO ADULTHOOD
During dependency hearings in a first-of-its-kind courtroom in Edelman Children's Court in Monterey Park, young adults between the ages of 18-21 receive specialized support and guidance as they age out of the foster care system and into adulthood.
And foster kids, who rarely have the same circle of familial support as their peers outside the foster care system, need all the help they can get with the process. Less than 50% of Los Angeles teens in the foster care system graduate from high school, and only 3% graduate from college, according to Alliance for Children's Rights. And 50% of young adults who have aged out of LA's foster care system wind up either homeless or incarcerated.
Many foster youth don't attend their dependency court hearings. The specialized courtroom, which opened for the first time on Tuesday, aims to help the kids that do attend their hearings, in part, by helping them create action plans for housing, work, education, and other looming responsibilities, and by connecting them with services and resources right in the courtroom.
The new courtroom is a collaboration between the Superior Courts, the Children's Law Center, and the Los Angeles County Department of Children and Family Services.
The Chronicle of Social Change's Jeremy Loudenback has more on the new court program. Here's a clip:
Under the federal Fostering Connections to Success Act, transition-age youth are supposed to have a plan in place about where they will live, work and attend school, if possible. But many older foster youth lack these plans, putting them at higher risks of homelessness, unemployment and even incarceration.

The non-minor dependency courtroom, a collaboration between the Superior Courts, the Children's Law Center and the Department of Children and Family Services (DCFS), aims to ensure that transition-age foster youth have access to supportive services that can help guide their transition to adulthood.

On the court's first day, Judge Henry made sure that Roger was getting the help he needed from his social worker to prepare for the driver's license exam and asked if he was checking in regularly with his mentor.

Henry also made sure that Roger was moving forward on his plans to leave the group home where he now lives. Last month, Roger had an interview for an apartment through a transitional housing program, an opportunity to live on his own for the first time.

Access to supports like a mentor and affordable housing is a critical aspect of helping transition-age foster youth avoid struggles that last long after they've left the care of the state. Though the population is often transient and hard to track, one estimate suggested that 25 percent of former foster youth experience homelessness within two to fours years after exiting foster care. Another much-cited survey of outcomes for youth after emancipation put unemployment at 51 percent for youth within four years of aging out.

In 2010, California extended benefits for foster youth from age 18 to 21 by passing the California Fostering Connections to Success Act, also known as AB 12. Under this law — and several successor bills — older California foster youth are able to receive benefits and services of extended foster care as long as they meet the eligibility requirements.

For example, youth must actively be pursuing educational or vocational opportunities, working, or have a medical condition that prevents their involvement in those activities.

About 1,100 older youth aged out of the system in Los Angeles County last year. The county currently has more than 2,400 transition-age foster youth, nearly a third of all such youth in the state. About 2,200 of them cycle through the Edelman Courthouse, according to staff at the Children's Law Center (CLC), the organization that represents children and youth in Los Angeles County's child-welfare system.

"I don't know any other place that has anything or could have anything like this because no one has our numbers," Henry said in an interview with The Chronicle of Social Change.
---
LA COUNTY TO LOOK AT REFORMING AND RESTRUCTURING INDIGENT JUVENILE DEFENSE SYSTEM (PLUS REACTIONS FROM THE PUBLIC)
On Tuesday, LA County Supervisors voted to look into a number of possible reforms to the way poor juveniles are represented in Los Angeles, in light of a report brought by CEO Sachi Hamai illuminating inequalities in representation for kids who are given by private panel attorneys, rather than the county's public defenders. If you are unfamiliar with the issue, when public defenders are unable to represent juvenile defendants (often because of a conflict of interest), the kids are assigned panel attorneys, who are paid a small flat-fee stipend for each case. (Read about the specific problems with the panel attorney system in our previous post: here.)
The reform areas to be studied by the CEO's Office and County Council include the creation of an oversight unit for panel attorneys run by the LA County Bar Association, elimination of the problematic flat-fee structure for panel attorneys, merging the Public Defender's Office with the Alternate Public Defender's Office, and increasing use of alternate public defenders in juvenile cases.
The LA Times' Abby Sewell has more on the issue as well as reactions to the report and the Supes' decision. Here's a clip:
"There is no more important decision that this county makes about a child, no more far-reaching impact on a child's life than to put them into the adult system," [Elizabeth Calvin of Human Rights Watch] said. "It's an important decision that deserves important resources."

Several advocates spoke in favor of handing off the panel attorneys' duties to the alternate public defender, including Carol Chodroff. A former public defender and juvenile defense and policy attorney, Chodroff said the current system "falls woefully short of our constitutional obligation to provide children with competent legal counsel."

The private attorneys, many of whom agreed that the current pay structure puts them at a disadvantage, took umbrage at the idea that the kids they represent get worse service.

"Over 25 years ago, when I applied to law school, my reasoning for becoming a lawyer was to defend and protect the rights of children," Pamela DiBello, who heads the panel of attorneys representing youths at the Pomona courthouse, told the board. "That has been a passion of mine for over 25 years."

DiBello said afterward that panel attorneys are often assigned the more serious and complex cases and had repeatedly asked for and been denied more resources. She said she had put in unpaid time to advocate for the youths assigned to her, even after they were no longer her clients.

"Do I think that things could be improved? Absolutely," she said. "Get rid of the flat fee, give us access to investigators, give us social workers in every courtroom. … These are things we've asked the county to do for years, and we've been told no every time."

Supervisor Mark Ridley-Thomas, who called for the overhaul of the system along with Sheila Kuehl, said the proposal was not meant as a "personal attack on panel attorneys."

"We see this as a structural issue," he said.