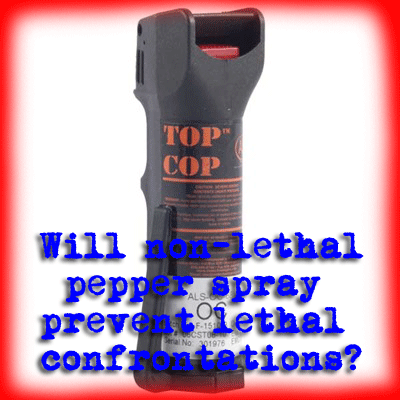 FED. PRISONS TO BEGIN ARMING GUARDS WITH PEPPER SPRAY

The Federal Bureau of Prisons has made the controversial decision to arm guards at the Atwater Penitentiary in CA and six other turbulent federal prisons with pepper spray. The decision was due, in part, to the 2008 murder of an unarmed Atwater guard by inmates and other instances of serious assaults on prison guards.
McClatchy Newspapers' Michael Doyle has the story. Here are some clips:
Urged on by lawmakers, U.S. Bureau of Prisons officials are currently training selected officers to use the spray canisters that can drop a violent inmate from up to 12 feet away. Although described as a "pilot program" that will formally start in several weeks, the decision marks a policy shift for officials who until now have warned against the dangers of arming prison guards.

Under the prior no-weapons policy, Atwater guard Jose Rivera carried only a radio and body alarm when two inmates turned on him June 20, 2008. They ran Rivera down, tackled the 22-year-old Navy veteran and stabbed him repeatedly, a prison videotape shows. The two accused inmates are awaiting trial.

[SNIP]

While state prison guards in California and a number of other states are armed with pepper spray, federal authorities until now have reasoned that the potential disadvantages outweigh the benefits.

Arming guards, even with a non-lethal weapon like pepper spray, would impede communication with inmates, officials have stated. Officials also have warned that unruly inmates could seize the three- to four-ounce pepper spray canisters and turn them against the guards.

"Management at one (federal) institution explained that, regardless of the amount of equipment officers carry, inmates will always outnumber officers. Therefore, the officers' ability to manage the inmates through effective communication, rather than the use of equipment, is essential to ensuring federal safety," the Government Accountability Office noted in a 2011 study.
EDITOR'S NOTE: Both the officers at LA County's juvenile probation camps and the deputies in the LA County Jail system use pepper spray or, more precisely, OC (Oleoresin Capsicum) spray.
---
WHICH WAY WILL SCOTUS RULE ON IMMIGRATION LAW?
Next week, the Supreme Court is expected to rule on Arizona's immigration law–the second most prohibitive in the US (after Alabama).
Washington Post's Pamela Constable has the story. Here's a clip:
Hispanic and pro-immigrant groups say they are preparing for a major disappointment from the high court, which they believe is likely to uphold the right of state and local police to question and detain suspected illegal immigrants. But they also plan to use the expected blow to rally immigrant communities to defend their rights, seek legal assistance and sign up to vote.

"Arizona will become hotter now, and this will give permission to other states to pursue their own laws, but we are already working to ensure it makes the Latino community stronger and more engaged," said Ben Monterrosa, executive director of Mi Familia Vota, a civic-action group based in Phoenix that is co-organizing public forums and media messages across the state in anticipation of the ruling.

"We have only just begun to fight," said Justin Cox, a lawyer in Atlanta with the American Civil Liberties Union, which filed a lawsuit last year against laws in Arizona and five other states that allow police to check the status of suspected illegal immigrants and mandate other sanctions that may conflict with federal law. Cox said legal opponents will now challenge the laws on other grounds, including due process and civil rights.

On the other side of the divide, sponsors and supporters of get-tough laws against illegal immigrants say that if the high court upholds Arizona's statute — which makes it a crime to be in the United States illegally and allows the state to use police as immigration-law enforcers — lawmakers who have been rebuffed in more cautious states will leap into the fray and push for similar crackdowns.
---
FORMER PROP. 8 BACKER NOW SUPPORTS GAY UNIONS
A once major advocate of Prop. 8, David Blankenhorn, recanted his opposition to gay marriage via the NY Times. Blankenhorn said the debate has become less about marriage and parenthood than about equal rights for gays.
The Chicago Tribune's (Reuters, C) Alex Dobuzinskis has the story. Here's a clip:
In 2010, Blankenhorn was the final witness called to defend California's ban on gay marriage, which was passed by voters in the state in 2008 in a ballot measure called Proposition 8. Six states and the District of Columbia now allow same-sex marriage. Blankenhorn began his testimony by asserting that the best environment for children is to live in a house led by a man and a woman.

But in a surprise to observers of the trial, Blankenhorn seemed to concede certain points to gay marriage advocates under persistent cross-examination from veteran litigator David Boies, who helped launch the legal challenge to Proposition 8.

Blankenhorn said on the witness stand he believed "adopting same-sex marriage would be likely to improve the well-being of gay and lesbian households and their children."

In his New York Times opinion piece, Blankenhorn maintained gay marriage "has become a significant contributor to marriage's continuing deinstitutionalization."

"I have written these things in my book and said them in my testimony, and I believe them today," he wrote in the piece. "I am not recanting any of it."

But Blankenhorn went on to argue that he has changed his view due in part to the public's coming to believe gay marriage is about accepting gays and lesbians "as equal citizens."
You can read David Blankenhorn's op-ed for the NY Times here. Here's a clip:
I had hoped that the gay marriage debate would be mostly about marriage's relationship to parenthood. But it hasn't been. Or perhaps it's fairer to say that I and others have made that argument, and that we have largely failed to persuade. In the mind of today's public, gay marriage is almost entirely about accepting lesbians and gay men as equal citizens. And to my deep regret, much of the opposition to gay marriage seems to stem, at least in part, from an underlying anti-gay animus. To me, a Southerner by birth whose formative moral experience was the civil rights movement, this fact is profoundly disturbing.

I had also hoped that debating gay marriage might help to lead heterosexual America to a broader and more positive recommitment to marriage as an institution. But it hasn't happened. With each passing year, we see higher and higher levels of unwed childbearing, nonmarital cohabitation and family fragmentation among heterosexuals. Perhaps some of this can be attributed to the reconceptualization of marriage as a private ordering that is so central to the idea of gay marriage. But either way, if fighting gay marriage was going to help marriage over all, I think we'd have seen some signs of it by now.

So my intention is to try something new. Instead of fighting gay marriage, I'd like to help build new coalitions bringing together gays who want to strengthen marriage with straight people who want to do the same.