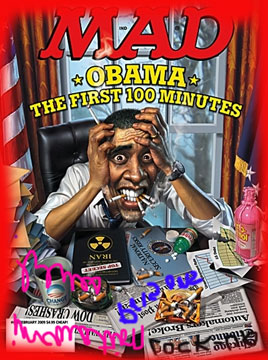 Everyone is busy setting goals and agendas for Barack Obama. (And there will likely be some coming from here too.)
The newest would-be addition to Barack's First 100 days To Do list is the winner of the American Bar Association Journal's yearly Ross Essay Contest. (The contest was established in the 1930's by the late LA Judge Erskine Ross.)
As this year's topic the ABA asked its contestants to "…write an open letter to the new president and Congress describing the most important priority for improving the U.S. justice system."
The winning essay, which appears in the February issue of the ABA Journal, was written by Ben Trachtenberg, a visiting assistant professor of law at Brooklyn Law School. It talks about what might be done to shrink our exploding prison population, which Trachtenberg says (and I agree), has gotten to the point that it is compromising the U.S. justice system itself.
The essay is comparatively short, and contains no flashy prose. It is simply smart, clear minded….and right.
Here's how it opens:
At midyear 2007, U.S. prisons and jails held 2,299,116 inmates, meaning more than 1 percent of American adults were incarcerated. We top the world in per capita imprisonment, increasing our lead every year. Since 2000, while the total U.S. population increased by 7 percent, our prison population has grown by 19 percent. Our massive imprisonment costs needless billions and, perversely, hinders effective crime control. We need to re­duce our prison population.

Few dispute the value of imprisonment in fighting crime. Especially with repeat violent offenders, prison may be the only way to prevent a dangerous criminal from hurting more innocent victims. But many instances of incarceration transparently fail to serve any serious preventive purpose, especially given the costs.

Consider nonviolent convicts sentenced for drug possession. Or septuagenarians who, sent away for decades under a "three strikes" law, now receive geriatric care from prison infirmaries. Unthinking overreliance on imprisonment simply drains public treasuries without providing any future benefit. California recently predicted that, by 2012, its prisons would cost more annually than its state university system. A starker illustration of our misplaced priorities is difficult to imagine. Al­ready, the state's yearly prison budget exceeds $10 billion. Cali­fornia, not alone in its catastrophic embrace of imprisonment, exemplifies national trends of rising prison populations and uncontrollable prison costs.

These outrageous expenses might be tolerable as a necessary evil if we had no better options. Yet often, nonincarceration alternatives, such as drug treatment for addicts and community service for small-time thieves, cost less and reduce misery across the board.
Read the rest here.
So, Barack. I know you have your hands sorta full right now, what with the melting economy, the melting polar ice caps, undoing the damage wreaked in the last eight years in IIAPG. (No, that's not another bankrupt lending institution, that's Iraq, Iran, Afghanistan, Pakistan and Gaza.) But this ABA guy has some really good ideas, I promise. So please take a look, okay?