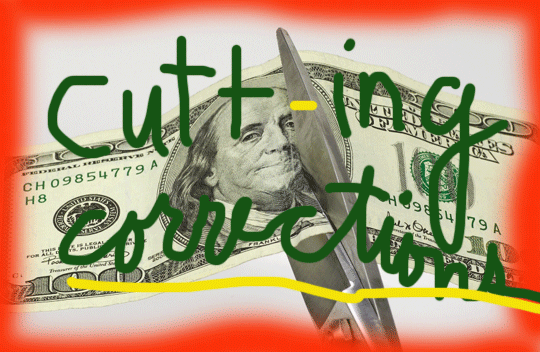 There was much quarreling in the past two weeks about the proposed $1.2 billion dollars that is slated to come out of California's corrections budget. The implication has been that the proposed cuts would drastically impair public safety, triggering a virtual crime wave.
The fighting has amped up considerably in the wake of the murder of Lily Burk.
First of all, what many people may not realize is that, at this point, the argument is no longer about if that $1.2 billion will be cut. That number is part of the budget that the governor signed yesterday.

The question at hand is what will be cut from where––all of which will not be decided until the legislature returns in mid-to-late August.
Earlier in the week, I spent an hour on the phone with the California legislative analyst's office talking about the latest corrections cuts proposal—and what it means.
(A copy of the broad strokes of the suggested cuts may be found after the jump).
It was an instructive conversation. For one thing, analyst Paul Golaszewski told me that while there is some talk of early release for certain inmates under certain prescribed circumstances, no one is talking about releasing 27,000 prisoners. "We never saw a proposal like that," he said. "Nothing even close."
In other words, there will be no inmate dump, okay? So let us stop talking in those terms, shall we?

(I noted that Ron Kaye was still marching out the 27,000 figure as recently as yesterday. He did it, as many have done this week, in reference to the alleged murderer of Lily Burk, Charlie Samuel:

"Well, there are going to be 27,000 just like him!" announced Kaye. "[Samuel] is someone who shot, kidnapped and…" And Kaye's fact-free recitation went on from there.
Instead, why don't we look at what is actually is on the table.

PART I – REDUCING THE ADP
One of the lynch pins of the governor's proposed CDCR budget cuts, has to do with reducing by 19,000 inmates what is called the ADP—or average daily population. This will supposedly produced a savings of $400,000—or around $21,000 per person per year.

(Whether that savings is close to accurate is something that has been convincingly questioned by my former prison warden friend, David Winett. But we'll yank apart the numbers on another day.)
Again—and I want to make sure this is clear—that does NOT mean that 19,000 people will be slated for early release.
Instead, the governor hopes to make that population reduction in the following ways:

1. ADP reduction strategy #1: changing certain property crimes from felonies to misdemeanors.
These felony-to-misdemeanor reductions would include things like writing bad checks, and receiving stolen goods. The point is, as misdemeanors they would be punished by jail time and/or probation instead of swelling the prison population. (You can see the entire list below.)
This part of the strategy doesn't mean letting people out. It means not putting them in prison in the first place—yet still demanding that they be sanctioned for their actions.

2. ADP reduction strategy #2 – Using "alternative custody options" for lower-risk offenders.
Okay, here's where the early release piece of the puzzle kicks in.
The governor would like to make certain inmates eligible to serve the last 12 months of their sentence under house arrest with GPS monitoring. The prisoners who might qualify are those low-level offenders with 12 months or less left on their sentence, elderly inmates, and very, very sick inmates.
However the proposal stipulates that the inmates would be chosen only with input from law enforcement, victims groups and other concerned citizens.
Yes, this means that certain people would get months, or even a year, shaved off of their sentences. But, instead of being warehoused in an overcrowded, violent facility that offers little opportunity to better oneself and every possibility of becoming further criminalized, with GPS monitoring and many of these inmates would be eligible to receive drug treatment and other services or training programs, that might better help them to succeed on the outside and not return to prison. Remember, all these people—every single one— will be getting out in 12 months or less anyway. Would you rather they were released from supervision in slightly better shape than when they went in? Or only further damaged—and then dumped in the community with zero preparation or transitional supervision? Just a question.
*****************************************************************************************************************
UPDATE: Here's a report that KPCC's Frank Stoltz did today (Friday) that has some additional details on this part of the proposal, plus Frank has some interesting takes on the matter from several who work in law enforcements—not all of whom agree with each other.
******************************************************************************************************************
FYI: had the alleged killer of Lily Burk been released early from prison under such a program (Which he wasn't. He served 80 percent of his sentence for petty burglary as is required for second time offenders) that means he would have had on a GPS ankle bracelet so that when he AWOLed from his "escort" last Friday, the guy who was to be with him during his afternoon away from the half way house where he was assigned by the court, the cops could have been immediately alerted and could have picked picked him up right away.

3. ADP reduction strategy # 3 – Commutation of the sentences of "Select Deportable Criminal Aliens"
At his discretion, the governor can commute the sentences of undocumented prisoners who are going to be deported the minute they leave lock up anyway. That way they can be transferred forthwith to the Feds who will deport them to their country of origin and we can stop paying the tens of thousands of dollars to act as their hoteliers. (The Lege Analyst told me that it costs either $49,000 or $23,000 a year to house one of our prisoners—depending upon what expenses you count when you do the math. Don't ask. It's way too confusing.)

Again, the only people eligible for this commutation thing will be low level, nonviolent offenders. The petty drug dealer/user guys and the like. Anybody who has committed a serious crime will stay put.

PART 2: THE REST….
There are a number of other parts to the plan.
1. One of them is reducing the number of people on parole by focusing on higher risk people, and increasing those parolee's supervision by lessening caseloads for parole officers. This is basically a good idea that those who have studied California parole structure have long recommended. Instituting it now will cut the budget and also mean closer supervision for the high risk people who need it most.
2. The worst of new cuts is the proposal to snip out nearly all non-court-ordered rehabilitative programs from the prisons—such as substance abuse counseling, vocational training, and educational programs—for a savings of $175 million.

While there are some vague notes about replacing these programs with "distance learning" and "inmate tutors." this part of the budget cutting would seem to be penny wise and pound foolish in the extreme. With a 67 percent recidivism rate in the state, yanking the only programs that give people a shot at being better prepared to succeed in the non prison wold would seem….not smart. Better to cut anything else, and beef those up so that the people whom you parole every day, week month, year, are at least slightly less likely to return. If we want to cut the prison population, instituting proven methods to slow down the revolving door would seem like the best, the safest and most cost effective way to do so.
So take a look. This is only the beginning of the discussion. We will surely not agree about everything.

But as those who knew her continue to cope with the heartbreak of Lily Burk's murder—-and the rest of use read of the other horror of the week: the beating death of six-year old Dae'von Bailey, allegedly by his step-father—it would be a good thing if the pain of both those tragedies served to push us beyond our entrenched positions and knee-jerk political biases in order to engage in a reasoned discussion for the good of our troubled state.
*************************************************************************************************************
HERE'S THE OFFICIAL PROPOSAL

Prison Population and Budget Reduction Package


July 2009

The Administration has proposed the following budget reduction package in response to the state's fiscal crisis. It is estimated to save up to $1.2 billion if adopted by the Legislature in time to be fully implemented in the 2009-10 fiscal year.

New Population and Budget Reduction Proposals — The following proposals provide an outline for a new administrative and legislative budget package designed to reduce population and associated costs depending on the details and timing of implementation. Through these proposals, the Administration aims to reduce Average Daily Population (ADP) by 19,000, and costs by an estimated $400 million:

• Adjusting Property Crime Thresholds and/or Changing Crimes to Misdemeanors: The Administration proposes to change four misdemeanor/felonies, or "wobblers," punishable by either imprisonment in state prison or in county jail, to straight misdemeanors. These crimes include two types of petty theft, receiving stolen property and writing bad checks. In addition, the Administration proposes updating the monetary threshold that determines whether the crime is a misdemeanor or felony from $400 to $2,500. For vehicle theft where there is no monetary threshold specified a $2,500 threshold would be added. A summary of changes:

o Writing Bad Checks.

o Petty theft crimes (currently punishable as a felony if the person has a prior petty theft conviction; proposal would make all petty thefts punishable as misdemeanors).

o Receiving stolen property crimes.

o Grand theft crimes raised to $2,500. Vehicle theft crimes establish $2,500 threshold.

• Alternative Custody Options for Lower-Risk Offenders*: The Administration proposes alternative custody options for lower-risk offenders to reduce costs and strain on the state prison system. Certain offenders would be eligible to serve the last 12 months of their sentence under house arrest with GPS monitoring. House arrest may include placement in a residence, local program, hospital or treatment center. Detailed criteria will be established through the regulatory process, thereby taking full advantage of input by law enforcement, victims groups and other concerned citizens. Statutorily eligible inmates include:

o Inmates with 12 months or less remaining to serve
o Elderly inmates
o Medically infirm inmates

• Commutation of Select Deportable Criminal Aliens: The California Constitution provides the Governor the authority to commute prison sentences. For inmates who have been convicted of two or more felonies, the Governor's commutation must be supported by the California Supreme Court. This plan involves those inmates who are currently serving prison sentences but who have been identified by federal Immigrations and Customs Enforcement officials for deportation from the United States upon their release from state prison. If their sentences were commuted, these inmates would be taken into federal custody to be deported to their country of origin. The Governor and Secretary would review these on a case-by-case basis starting with lowest level offenders. The first group to be considered will by those inmates who have never committed a violent or sex offense and who have only felony in their entire adult criminal history.

Program Funding Reduction — The Administration is proposing to eliminate funding for some inmate and parole programs that are not court-ordered. These proposals are estimated to reduce costs by over $175 million. Impacted programs include a range of rehabilitative services, such as substance abuse counseling, vocational training, and educational programs. However, the Department is taking several innovative approaches to mitigate the reduction in funding. For example, CDCR will utilize a validated risk/needs assessment tool to focus resources on the inmates with the greatest risk to recidivate. This tool will also allow CDCR to place the right inmate in the needed program for only the prescribed period of time. In addition, CDCR will utilize distance learning, inmate tutors and fully-licensed inmate substance abuse counselors to greatly reduce the cost of providing education and substance abuse counseling.

Previous Budget Reduction Proposals — In April CDCR developed legislative proposals to address an unallocated cut to the agency budget ordered in the 2009-10 Budget Act. They could reduce CDCR's Average Daily Population by 8,000 inmates through a shift of funds from parole supervision of low level offenders to those who are serious and violent, and other cost savings. The combination of the following general components are estimated to result in $410 million in savings in 2009-10.

• Risk-Based Parole Supervision and Lower Agent Caseloads*: Active parole supervision would be targeted to offenders with a serious or violent commitment history, sex offenders, and those assessed as high risk. The remaining offenders, largely low and moderate risk, nonviolent felons, would be placed on administrative or "banked" parole, but would continue to be subject to warrantless search and seizure by local police . CDCR will reduce parole caseload ratios from 70-1 to 45-1. This will improve supervision and services for those with the highest risk of reoffending. There will also be additional parole resources directed toward Fugitive Apprehension Teams and gang suppression units, and an increase of GPS units on high risk parolees in order to increase supervision.

• Staff Efficiencies through Elimination of Positions at DJJ and Headquarters: The Division of Juvenile Justice (DJJ) will streamline and eliminate positions in 2009-10, with a comprehensive staffing analysis expected to allow for the elimination of more positions in coming budget years. Positions will also be reduced at CDCR headquarters in Sacramento through increasing efficiencies.

• Positive Behavior and Rehabilitation Program Credit Enhancements*: Inmates who participate in and complete rehabilitation programs such as GED, college degrees, and vocational training, will be allowed to earn additional sentence credits. Credits will also be increased for discipline-free time served in county jail, during parole violations, or while waiting for programs to become available.

• Using GPS as Alternative Sanction: Parolees who commit certain parole violations will be eligible for placement on GPS supervision as an alternative to returning them to prison.

Additional Operational Savings — In addition to the new and previous budget and population reduction plans, the Administration will ask CDCR to come up with $100 million in unspecified operational savings, along with $48 million in savings by eliminating the Special Repairs Budget, $20 million by shifting AB 900 funds to existing capital outlays and $50 million in reductions to the contract medical budget.